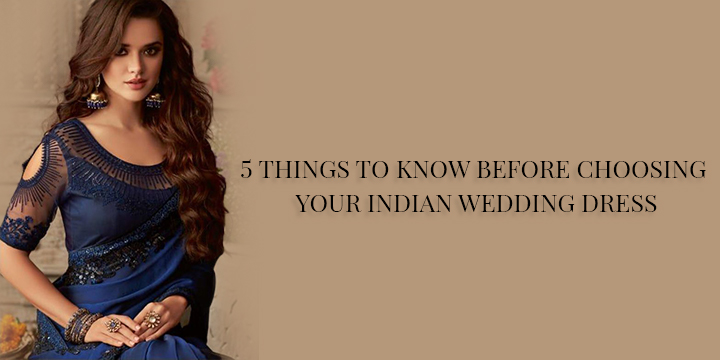 5 THINGS TO KNOW BEFORE CHOOSING YOUR INDIAN WEDDING DRESS
5 THINGS TO KNOW BEFORE CHOOSING YOUR INDIAN WEDDING DRESS
Indian wedding is one of the most exquisite moments to behold. Surrounded by gleaming radiance, appetizing meals, and delightful gatherings, it is something everyone should attend at least once in their lifetime. It varies according to the region, and each of them has its own charm and uniqueness. Indian weddings are by far the most vibrant, culturally dynamic, and lively function. One of the prime factors to consider in a wedding is the bridal outfit, as there are plenty of expectations attached to it. It doesn't end at what the guests would anticipate, there are a lot of things to consider before selecting a bridal outfit, out of which five supreme factors are as follows;   
1. BODY TYPE
If it's not complementing your framework, it's simply not your type. Having a basic understanding of what elements will accentuate your curves and what will de-emphasize them is fundamental. Color theories, designing principles, draping styles, and so forth have got all their strings attached to the sizes. Creating a robust balance is the key. If you're straight and petite, go for the elements that will give an illusion of curves such as extra gathers, puff sleeves, and close necklines whereas, if you're curvaceous, pick out vertical embellishments, basic sleeves, and open necklines. Give proper attention to silhouettes as they define the frame of your overall finery. 
    Read More:-   HOW TO CHOOSE BRIDAL LEHENGA ACCORDING TO YOUR BODY-TYPE
2. COLOR
Color should be a salient factor in your purchasing decisions. Colors have the ability to overtone and undertone your ensemble. The idea is to narrow down those hues that will keep the look neutral, or at most, emphasize your assets while playing down considerable areas. Listed below are a few major aspects you should ponder upon;
Scrutinize the tone of your skin. If you've purple or blue veins, then you have a warm skin tone so, go for coral shades and other warm earth tones, whereas if your veins are green in color, you have a cool skin tone. For this skin tone, It's best to avoid oranges and yellows and select something in pastels like rose or even cool tones like emerald and violet. In case, you've got both shades, you're in the neutral section and almost every tone will complement you.
Match the shade of your attire with the color of your eyes. For instance, if you're blue or green eyes, try wearing shades that will pop up in those tones.
Choose pigments according to your body type. Dark colors such as maroon will make you appear slimmer, while on the contrary, light colors like blush pink will make you appear wider.
3. EMBELLISHMENTS
Embellishments refer to the added detailing and adornments to your lehenga. Bridal outfits are anticipated to be heavily elaborated. Embroideries, namely zardozi, cut dana, sequins, mirror work, and, stonework are sought-after in bridal lehengas. The threads of zari and Resham, are well desired as well as admired. You can integrate manifold embroideries to make your lehenga heavier. Embellishments also include decorative trims to beautify your outfits, like tassels and laces. Tassels or latkans are loaded with variety. They have the power to make a statement just by being friskily tucked, whilst laces are more or less, a functional accessory for dupattas. Try to create unity in your garb by hand-picking lightly-embroidered dupattas for hefty lehengas and vice versa.
4. FABRIC
Fabric is the ultimate base of the garment. It's the supreme factor that should never strike a balance in terms of its quality and finish. You're going to wear it for hours so, it should have the strength of taking the weight of protruding embroideries while giving you enough comfort. Here are some elements you should contemplate before selecting a fabric;
Season: If it's a winter wedding, go for brocade or velvet, whereas if it's a summer wedding, pick out fluid materials like net and chiffon.
Body Structure: For a lean and slender body, it's best to choose thicker fabrics like organza or brocade that can add volume to your curves, otherwise go for lighter fabrics like georgette and nets to get those gentle drapes.
Budget: Quality fabrics don't come cheap. If you have a tight budget, negotiate a bit on the embellishments rather than the fabrics. While nets are cost-effective, silks might make you go out of your estimated expense.
5. DESIGN
Fabrics and colors won't alone do justice if the design of the outfit is compromised. Hence, stay no stranger to the trends and forecasts in fashion. Presently, double dupattas, feather-light embroideries, dramatic sleeves, deep v-neck styles, pastel shades, and hybrid silhouettes are in vogue. Get inspired by India's rich cultural heritage. From magnificent monuments to the beautiful finesse of local artisans, all are worth being imprinted or sewn on your lehenga-choli. Furthermore, such alternatives would be economical enough to not burn a hole in your pocket. If you've your jewelry already decided, then try to find the complementing necklines and get your fabric embroidered in accordance with its heft and design.
Related Articles:-
Categories: Festival Season, Indian Wedding Jewellery Articles, Indian Wedding Lehenga Choli Articles, Indian Wedding Outfits Articles, Indian Wedding Season Articles, Indian Wedding Shopping Tips Articles, Lehenga Choli for Weddings & Parties Articles, Traditional Indian Dresses Articles, Uncategorized
Sorry, comments are closed for this item.