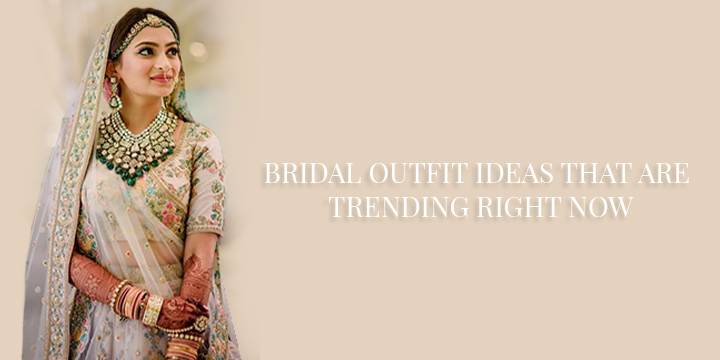 BRIDAL OUTFIT IDEAS THAT ARE TRENDING RIGHT NOW
Indian weddings are one of the most vibrant and lively ceremonies in the whole world. The predominant factor behind this is the wedding attire which holds a tight grip on the creativity through which the entire day turns out to be so colorful and eye-catching. It's not just the boundless colors, India also has diversified indigenous fabrics to choose from. Considering the numerous ceremonies, Indian weddings give you a bountiful opportunity to weave in your ethnic flair and make the most out of it. Now, bridal wedding garb is not just limited to conventional red lehenga, it has widened the scope by stretching itself to different color palettes. With the new contemporary silhouettes and configurations, even red lehengas are becoming more and more innovative.
Listed below are some bridal outfit ideas that will make you dive into the trends in your wedding;
1. TWO-TONED LEHENGAS
An amalgamation of two contrasting shades or two tones of the one hue set together can really pop up the overall look. Colors can either blend or discrete into layers parted by embroidered borders. There are ample ways to synchronize two tones into a lehenga. You can pick out stunning color combinations such as orange with red, red with beige, or violet with blush pink. It's better to keep the embroidery a shred lighter when there are two or more colors in a lehenga to maintain the harmony of the ensemble.
2. RED ON RED LEHENGAS
Timeless red lehengas are now getting embellished with red thread embroidery with a tinge of sequins or stonework. Fabrics like georgette and net complement similar hued threads of Resham. If you are into exclusive and distinct shaded lehengas, this one will definitely assist you, as red embellishes on the red lehenga will have an alluring minimalist appearance. You can match it with contrasting hefty jewelry for a complete bridal look.
3. BANARASI SILK LEHENGAS
The fabric which will give you comfort, as well as the rich taste of Indian traditional art and craft is banarasi silk. It is an exquisite variant of silk that originated from Varanasi, state of Uttar Pradesh. The fabric is woven with the fine golden threads of zari. If you are having a palatial wedding, then a banarasi silk lehenga set together with a beautifully accentuated blouse and a vibrant dupatta would be a delightful and well-fitted option.
4. STATEMENT-SLEEVED LEHENGAS
Bridal wear blouses are usually restricted to basic sleeves and open necklines, but if you're a fashion enthusiast bride who wants to make a statement, then switching sleeves would be your best bet. Where extra puffed sleeves can be a bit too much, double frilled sleeves would look astonishing. Other than sleeves, you can make a statement by getting some gathers attached to the hem of your blouse or with the help of highly adorned tassels.
5. VELVET GRADED LEHENGAS
Gradation is one of the principles of design. It is a pattern referring to the gradual change in color, size, or shape in the outfit. The gradation method is quite popular in lehenga cholis as circular silhouettes blend really well with the size and color conversion. Apart from being aesthetically please, it also has a psychological impact on the viewers by making you appear elongated and slimmer. There are two stunning ways on how to use this method in bridal wear lehengas; (a) Use the monochrome scheme for color gradation. For instance, if you're choosing the red tones, start from the tints like coral and gradually increase it to the shades like burgundy or vice versa. (b) If you don't want to play with colors, go for shape gradation and let the embroidery does some work for you.
6. RADIANT PASTEL LEHENGAS
We all know how much pastel lehengas are trending right now. All thanks to our Bollywood trendsetters who normalized light-toned lehenga cholis for the brides who are not into highly saturated hues. To pop up the pastel-based lehengas, Resham threads are generally used as they are very vibrant and striking. If embroidery isn't your tang, then pick out intricate prints that would go with the base color. You can also do a little contrasting with the dupatta if it's coming out to be too subtle for you.
Related Articles:-
Categories: Festival Season, Indian Wedding Collection Articles, Indian Wedding Jewellery Articles, Indian Wedding Lehenga Choli Articles, Indian Wedding Outfits Articles, Indian Wedding Season Articles, Indian Wedding Shopping Tips Articles, Indo western clothing, Lehenga Choli for Weddings & Parties Articles
Sorry, comments are closed for this item.