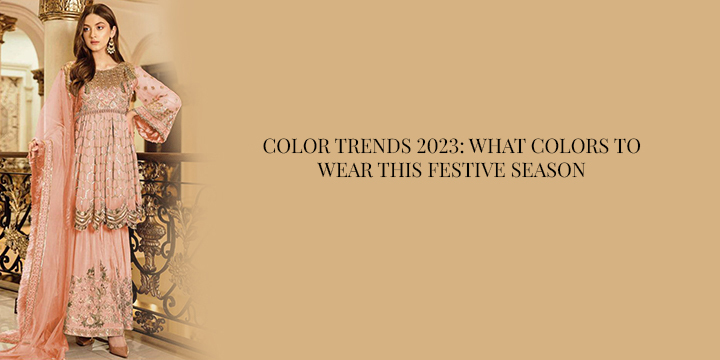 COLOR TRENDS 2023: WHAT COLORS TO WEAR THIS FESTIVE SEASON
COLOR TRENDS 2023: WHAT COLORS TO WEAR THIS FESTIVE SEASON
Colors play a huge role in informing the viewer what they should feel. Identifying color trends before setting your heart on one would be a wise decision as it is the first thing that a beholder perceives. With the festive season around the corner, it's best to get your color investigation cap on. Few hues are utterly timeless when it comes to Indian festivals, such as pinks, violets, and maroons that became popular due to their low color value or high vibrancy, which is extremely preferable in India. Few color styles turned out to be fads like ombré and neons. For the festive season 2023, we have assembled some of the most delightful and captivating colors that are trending to the fullest and deserve our utmost attention.
1. THE SUBTLE TINTS OF PINK
The tints of pink never lose their charm. The color pink communicates femininity, love, and youth. Conventionally, pink is associated with everything girly but with time, the meaning has been modified and changed to a certain point. The best tints that you can handpick from the pink color palette are lavender pink, carnation pink, cotton candy pink, baby pink, and any other pastel pink. Enjoy your festivities to the fullest, but these colors together with the alluring set of embroideries. Anarkali suits, sharara suits, and Patiala suits will be amazing festive fits. You can pair it with light jewelry and makeup.
2. THE NEUTRAL PEACHES 
Peach was not a favored choice for festive occasions because people were utterly into bright and striking hues, but now, with the growing popularity of light tints, peach has also found its place in the festive color palette. The color peach evokes a feeling of calmness and comfort. You can combine this tint with other related shades of peach to give a monochrome effect or put it with contrasting shades like mint blue and gold. Peach blends beautifully with satin and silk texture, hence dhoti pants with a peplum top, Anarkali suits, and other garments with ample folds should be preferred. The modesty and innocence that this color brings to the table are impeccable.
3. THE VIBRANCY OF BLUES
The shades of blue are quite popular in the traditional color palette. It belongs to the cupboard of calmness and tranquillity. For beholders, it evokes a sense of serenity. Primary blues like royal and navy never goes out of style as the majority of Indians see themselves in dark tones. With such shades, zari embroidery looks at its best. There are some tints of the blue like powder, mint, and dusty blue that are capturing the Indian market. Even something as simple as straight-cut pants and a-line Kurtis can get elevated with such a rich shade. You can embellish it more by opting for complementary-colored embroideries.
4. THE REGAL CHAMPAGNE HUE
Champagne hue has been taken out from the popular beverage named champagne that is served at parties and events. The name thus automatically brings the emotion of joy and celebration. It is a very luxurious and classy color that is majorly adopted in foreign countries. India is also revamping its festive tray by adding colors like champagne and its other forms. To ace this shade, you have to go for fabrics that will justify its elegance, such as satins and silks. These fabrics are glossy that will amplify shades like beige, champagne, and rose gold. Go for a plain champagne satin saree or silk Anarkali suit and pair them with pearl ivory jewelry to get those heads turned.
5. THE COMBINATION OF WHITE AND GOLD
White is not the first color that comes into our minds when we hear the word festival because of its relation to Indian funerals. Although, the refinement and sophistication that it enters with changes the whole mindset. As white is the lightest color and also an achromatic one with zero hues, there are a dozen ways how to accentuate it. The best way to embellish it is by combining it with gold. The composition of white and gold will appear impeccably alluring to the eyes as both of these colors have similar attributes. Both of them look rich and advanced. To make it a bewitching festive fit, go for Anarkali paneled suits, subtle palazzo pantsuits, or indo-western suits.
Related Articles:-
Categories: Decorative Jewellery, Diwali Collection, Festival Season, Indian Wedding Collection Articles, Indian Wedding Jewellery Articles, Indian Wedding Lehenga Choli Articles, Indian Wedding Outfits Articles, Indian Wedding Season Articles, Indian Wedding Shopping Tips Articles, Indo western clothing, Lehenga Choli for Weddings & Parties Articles, Mehendi Dresses Articles, Newarrival Sarees Articles, Pakistani dresses Articles, Pakistani Wedding Outfits Aricles, Printed Anarkali, Salwar Kameez Articles, Sharara suits Articles, Silk Sarees Online Articles, Traditional Sarees Articles, Uncategorized
Sorry, comments are closed for this item.