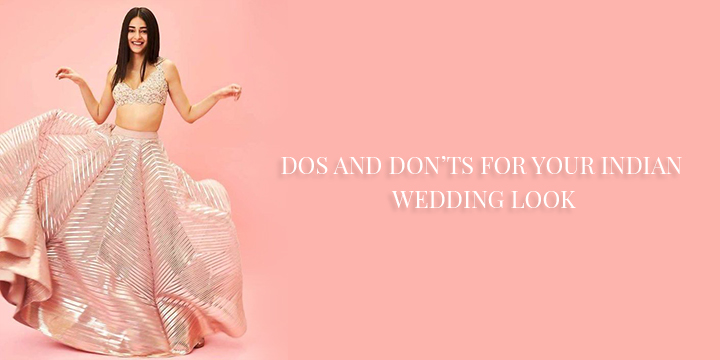 DOs AND DON'Ts FOR YOUR INDIAN WEDDING LOOK
It's your big day, and most likely, all your thoughts are whirling around what you would look like with the heavy jewelry, loaded makeup, and, extra heavy lehenga. All the attention will be on you, so you obviously want to look your best. The fear of giving it all and ending up overdoing yourself, or keeping abreast with the calm and ending up under doing instead is creating panic which is absolutely normal for all the brides. To help you with that, here are some dos and don'ts that you should take into consideration to get a quintessential ensemble of perfectly toned makeup, flawless hairstyle, and magnificently fitted attire.
      DOs
1. Always Prioritize Your Fitting Day
The first and foremost thing that everyone will put their eyes on is your wedding garb so, never take it for granted. As alterations can take some time, it's best to give your lehenga for any modifications a few weeks before your wedding day to ensure a well-sculpted and fitted attire.
2. Eat Before You Start Getting Ready
Being full is important as you might not get much time to eat afterward so, you need tons of energy to get through the day. Moreover, you can't afford to spill anything once you're all dressed up.
3. Be Prepared to Sit for A While During Your Makeup-Sesh
Getting bridal makeup is quite tiresome and even more laborious for makeup artists. To steer clear of beauty glitches, it's better to start the session as soon as possible for a stress-free flawless look. Hire the utmost professional makeup artist, and alongside, you would also need a basic understanding of makeup. If you are unaware of what kind of makeup you want and what things you should be keeping an eye on during the period, here are some quick and easy tips for you to recall;
Keep it in accordance with the season. If your wedding is during the summers, light and smooth makeup would be well-fitted, whereas winters call for long-lasting, pigmented makeup.
Exfoliate your skin before the makeup session. Start by washing your face thoroughly, then apply the toner to help with your open pores, followed by a moisturizer that would absorb easily.
Pick out the foundation according to your skin type and tone. Lighter as well as darker shades would not fail to tell that your makeup is overdone. The foundation should be able to blend with your natural skin tone.
Choose the pigments according to your lehenga choli. The camera captures everything so, go for the shades (eye-shadow, lip-shade, and blush) that would complement your attire.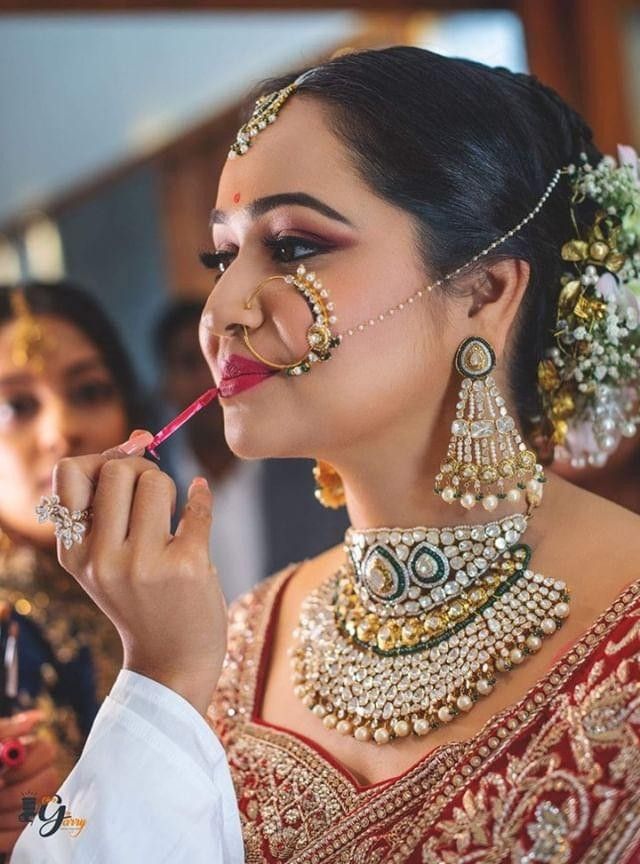 4. Check If Your Outfit Is Fully Ironed or Not
If you've chosen a wrinkle-resistant material for your lehenga choli, then you don't have to worry about creasing but, in case the fabric gets wrinkled easily, then you have to check on it every hour. The last thing you want is to show up in a roughly ironed outfit.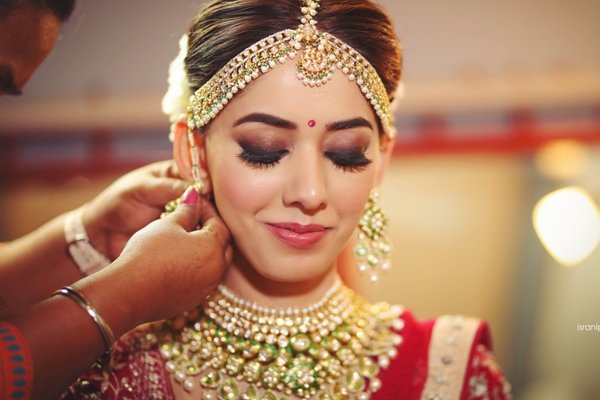 5. Try To Keep the Room Light and Breezy
It can be stressful and frustrating when you've so much to manage and look forward to but don't forget it's your wedding day. Put on some soft and soothing music to relax your body. You might not have all your loved ones together in one room after this day so, spend some quality time with them. Keep possession of such precious memories by capturing them. Stay positive and pragmatic. Furthermore, try to remain light-headed and content to get a natural glow.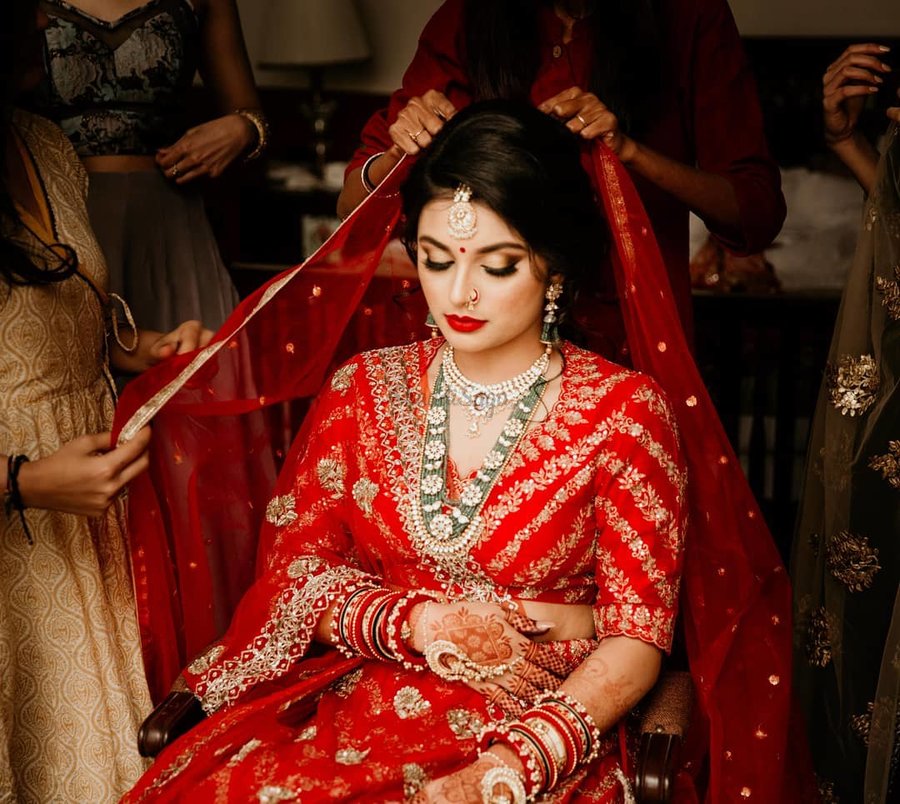 DON'Ts
1. Don't Wash Your Hair Just Before the Hair Session
It's better to wash your hair a day before the wedding day instead of doing it an hour or so before the hairstylists arrive as it might complicate things for them. If they feel that your hair needs cleansing, let them do it on their own.
2. Don't Welcome Too Many People in Your Room
Keep the environment stress-free by having only those people around whom you really need. You will be able to concentrate more on your hair and makeup when encircled by few people.
3. Don't Put Dazzling Light to Get Your Makeup Done
Lighting should neither be too bright nor too dim as there is a good chance that you'll end up with an unnatural look. Fluorescent lighting, for instance, is not a good fit. Focus on the amount, direction, and hue of the light before installing it.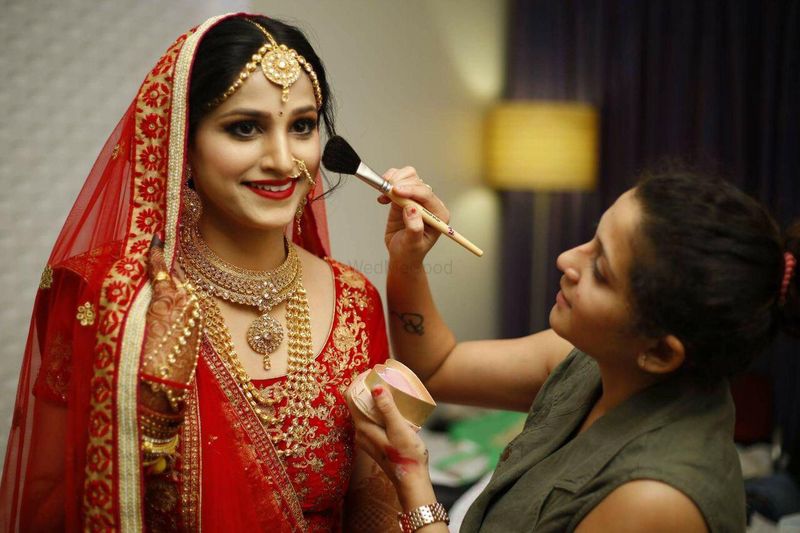 Related Articles:-
Categories: Bridal Makeup, Indian Wedding Collection Articles, Indian Wedding Jewellery Articles, Indian Wedding Lehenga Choli Articles, Indian Wedding Outfits Articles, Indian Wedding Season Articles, Indian Wedding Shopping Tips Articles, Lehenga Choli for Weddings & Parties Articles
Sorry, comments are closed for this item.