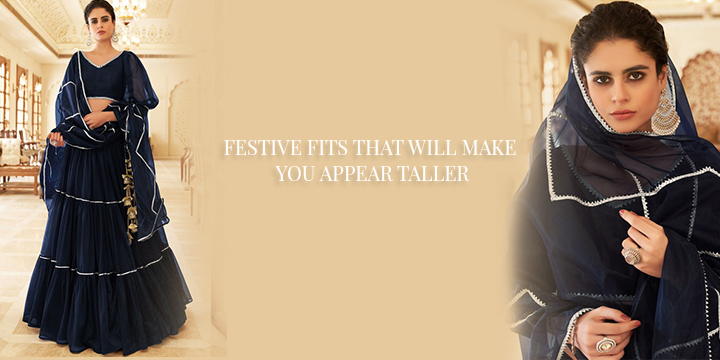 FESTIVE FITS THAT WILL MAKE YOU APPEAR TALLER
FESTIVE FITS THAT WILL MAKE YOU APPEAR TALLER
The year-end time is always bombarded with pep and preps, vivacity, and of course, love because it is all about people getting hitched and distinct families uniting together. It's wedding o'clock on our calendars as well and can we keep calm about this? Absolutely not. One prime reason why Indian folks get so enthusiastic about wedlocks is owing to the fact that they will get to don alluring finery and ostentatious jewelry. Traditional Indian wedding is not just a holy matrimonial knot between two beings, it binds two different family trees together, and isn't that the most beautiful thing about our country?
According to the National Institute of Nutrition, the average height of Indian women is 5 feet 3 inches or 162 centimeters. The majority of women want to overemphasize their heights to look leaner as well as taller in wedding wear. Relying upon trial-and-error practice is a highly time-consuming and cumbersome task so, to rescue you from that lassitude, we have assembled and collated some of the most effective silhouette ideas as well as tricks that will glorify your shopping experience.
1. SAY NOT TO EXAGGERATE WORK
Most fashion theories suggest that garments with too much-embroidered work or prints will magnify the body structure hence, making you look shorter. It's best to go for a festive fit that is simple and elegant. The finest part about unembellished garbs is that they always leave some room for you to put on your creative hat and elevate them. For instance, you can put on a subtly ornamented dupatta, or dainty jewelry, or do a heavy makeover to create balance. The garment does not have to be utterly plain either. Some eye-catchy emphasis on sleeves and neckline will make it wedding-friendly and square with the overall vibe. You can go for a complimentary fabric to achieve a sophisticated look, like a pastel palette would fit astonishingly with shiny satins or white, the epitome of elegance will bring glory to the ensemble.
2. SAY NO TO SHORT LENGTH KURTIS
You must have noticed that before as well that calf-length to floor-length suits elongate the height impressively. Imagine yourself in Patiala salwar paired with above-knee-length Kurti and then churidar paired with ankle-length Kurti. The distinction is quite vivid. Even if you decide on wearing skin-fitted trousers with short-length Kurti, the result will be disastrous, firstly because it will be absolutely off-fashion or outmoded, and second, due to the striking partition that will anyway make you look stubby. Straight-cut long Kurtis is the most feasible, attractive, and efficacious way of adding a few inches to your height and, furthermore, concealing those curves. Win-win, right?
3. SAY NO TO CLOSED NECKLINES
Let me keep it straight and clear. Closed necklines will make your torso appear wider, while deep necklines will make your torso appear extended. Now, let's discuss why it actually happens so, it makes more sense to you. Closed necklines like a turtle neck, crew neck, and boat neck add volume to your neck. If you are an apple-shaped woman with a round face and a short neck, steer clear of such neck styles but don't lose hope because there are plenty of fish in the fashion sea as well. Deeper necklines like V, scoop, sweetheart, and plunge will flatter your size by giving an illusion of a prolonged torso.
4. SAY NO TO HORIZONTAL NECKLINES
Vertical lines are your best friends if you want to wear printed or embroidered garments. Vertical lines, motifs set vertically, patterns parted with vertical slits, and other such ways will draw the beholder's eyes up to down, creating an illusion of taller height. It does not end here. The thickness of such lines matters too. Broad lines will bring attention to themselves, while thin ones will do the opposite. Opt for the latter one as the thinner the lines are, the thinner you will look as well.
5. SAY NO TO EXTRA FLOUNCE
Leave frills and ruffles for the women who want to appear wider and shorter. Extra flounce in your outfit means extra flounce adding on you. Why am I putting the word extra before the flounce? That is because some ethnic wear garments will go extinct without that flare. Lehengas and Anarkali suits are the best examples of that as they are known for their exquisite flares. Anarkali suit, regardless of its flounce, will give you a few inches due to its floor-length silhouette. You can build a sense of elongation wearing a lehenga by setting it together with a fitted upper-waist choli or lehenga blouse and draping your dupatta on one shoulder. Do not go for extra-flared or layered garments, and let the gentle, single drapes surprise you with their beauty.
6. SAY NO TO STIFF FABRICS
Let's bring you to that imaginary world again. Envision yourself in a pure silk banarasi saree with a broad border and then in a satin saree. It goes without saying that the way satin saree would cling to your body will not only look mesmerizing but also make your look taller, whereas, stiff fabrics like brocade and even cotton will provide you with a bulkier effect. Even the way you wrap your saree matters. Let the blouse be upper-waist, and start draping your saree from below the midriff. This will let your torso steal the limelight by appearing longer. Moreover, go for a fishtail-cut petticoat to get a flattering result.
Related Articles:-
Categories: Decorative Jewellery, Different prints, Festival Season, Indian Wedding Collection Articles, Indian Wedding Jewellery Articles, Indian Wedding Outfits Articles, Indo western clothing, Kurtis & Tunis for Girls & Women Articles, Newarrival Sarees Articles, Oxidized Jewelry, Pakistani dresses Articles, Pakistani Wedding Outfits Aricles, Partywear Sarees Articles, Printed Anarkali, Salwar Kameez Articles, Sharara suits Articles, Traditional Indian Dresses Articles, Traditional Sarees Articles
Sorry, comments are closed for this item.