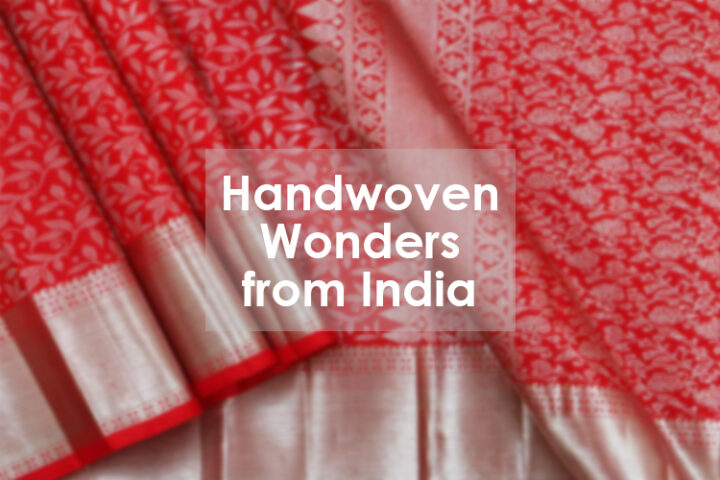 Handwoven Sarees From India
Saree is an expression of Indian cultures and traditions. Its elegance is unparalleled, which is why we all adore this one-of-a-kind garment. The timeless piece is in various styles. The standard nine yards of drape can be modeled and styled in multiple ways depending on India's different types of sarees.
Check out five famous Hand-Woven Sarees from India! 
1. KANJIVARAM SAREE FROM TAMIL NADU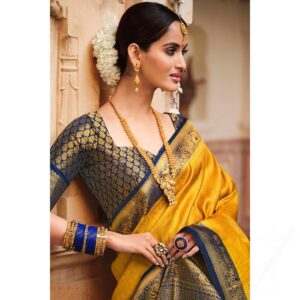 Kanjeevaram or Kanchipuram Saree has an ornate aura due to its vibrant colors, royal borders, and rich silk. It is a traditional bridal saree from Tamil Nadu that has been adopted all over the country for special occasions. Pure Mulberry Silk is used to create these sarees and has inherent elegance and grace. The sarees have a signature gold tint to enhance their appearance.
Kanjeevaram also creates religious motifs based on temples and mythological stories. A Kanjeevaram saree's pallu is usually a contrasting color that adds flavor to the drape's texture.
Style tip: Many Bollywood Actresses have donned their Kanjeevarams for Red Carpet Events. The saree is often paired with gold jewelry to compliment the regal appearance of the saree.
2. BANDHANI SAREE FROM GUJRAT
Tie and dye Bandhani printed sarees are Gujrat's most adorned Saree Pieces.
Bandhani Sarees are available in different colors and patterns, but the same age-old belief holds. It brings the bride a bright future and good fortune.
Making a Bandhani Saree is laborious, with dying done by hand. Bandhani is a vibrant, ethnic saree conjuring up fantastic images of Gujarati and Rajasthani culture.
Bandhani sarees are made with a delicate fabric. Store it with great care.
Style tip: Pair this stunning silhouette with oxidized silver jewelry to jazz up the look. For added glam, use a potli bag.
3. BANARASI SAREE FROM VARANASI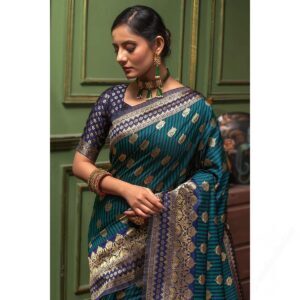 Among the various types of sarees from different states, the Banarsi saree is one of the most popular. These silk sarees, all the way from Varanasi, are famous for their patterns and motifs.
Initially, the Banarsi saree was only made for royalty. It is woven with genuine gold and silver threads. Many variations of the Banarsi make up some of the best sarees in India today, but its elegance has not drifted away.
Due to its crafted finesse, many Bollywood actresses have worn Banarasi Sarees on essential occasions.
Style Tip: Kundan jewelry looks ethereal with these sarees, and this saree's hairstyle is a high bun tucked with a couple of roses.
4. CHIKANKARI SAREE FROM LUCKNOW
Chikankari is a sophisticated fabric stitched in the Nawabi city of Lucknow.
The simple answer is that Chikankari sarees are beautiful, but the intricate designs are so much more. With heavy embroidery in soothing colors, anyone can pull off this saree any day, time, or occasion. Trust the elegant Chikankari to catch everyone's attention and your Confidence to light the Garment up.
Style Tip: You can style Timeless Chikankari Pieces with Straightened Open Hair to add flow and jhumkas.
5. CHANDERI SAREES FROM MADHYA PRADESH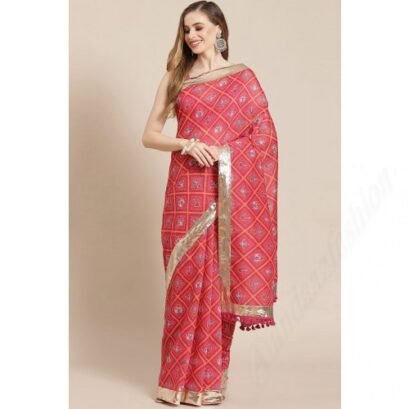 The pristine shine of this Stunning silhouette from Madhya Pradesh is exquisite.
The silk and zari are woven with cotton to create a fabric as light as air. The saree's luxurious feel makes it appropriate for festivities and celebrations.
There are various ways to wear a saree, and the luminance of Chanderi remains constant in all of them. This handloom weave has a delicious texture, and this drape would steal the show at any wedding reception.
Style Tip: Wear Chanderi Saree with a slick back hairstyle and Kundan jewelry.
Categories: Silk Sarees for Wedding Articles, Traditional Sarees Articles, Uncategorized
Sorry, comments are closed for this item.