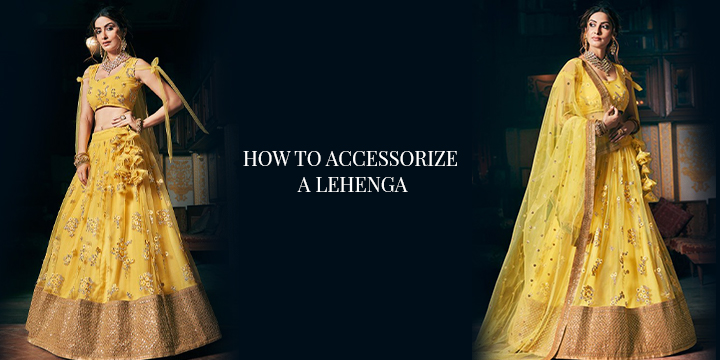 HOW TO ACCESSORIZE A LEHENGA
HOW TO ACCESSORIZE A LEHENGA
Lehenga choli is one of the most preferred as well as admired Indian wedding ensembles. The exquisite trio does wonders with its utmost versatility and prepossessing drapery. It is highly flexible, as a conventional lehenga choli set comes with a flared skirt, an upper-waist blouse, and lastly, a dupatta. With the notable growth of flawless craftsmanship and innovative designers in India, now there are myriad silhouettes and styles when it comes to traditional lehenga-choli. Consequently, Indian markets are invaded with dozens of unique cuts and color compositions. Having a basic lehenga and accessorizing it with the assistance of your own creativity has its own fun. Putting your individual flair can bring out an offbeat amalgam. So, to help you with that, down below are some tips and tricks that would help in taking your lehenga up by a notch.
1. ADD AN EXTRA DUPATTA
A dupatta is more than just a long scarf. It has its own way of embellishing a subtle garment. While there are a number of ways to wrap a dupatta, you can double the fun by adding one more to the composition. Listed below are a few ways to style two dupattas like a pro;
Take two contrasting dupattas, for instance, one in net fabric and the latter one in velvet. Wrap one around the body and put the other one over the head for an elegant compilation.
Play with the colors by choosing a contrasting hue for one of both the dupattas. The outcome should look mesmerizing, not exaggerated.
For a beautiful eccentric ensemble, go for traditional prints like bandhani and ajrakh for either of the two.
2. DECORATE IT WITH STATEMENT TRIMS
There are two types of trims in fashion, namely, (a) Functional Trims and (b) Decorative Trims. The most economical way to upraise your subtle lehenga is through the assistance of decorative trims. The sole purpose of decorative trims is that they are used to highlight the functionality of the garment. The most commonly used trims are as follows;
Dangling Tassels: Tassels are loosely-fitted threads or embellished spherules attached to a cord. When affixed with a lehenga waistband or blouse, they elevate the outfit exquisitely.
Dainty Laces: The rates of laces differ as per the design and quality. Laces made out of golden-beaded cut-work and sequins fabrics can notch up the lehenga in a prepossessing manner.
Vibrant Motifs: Motifs are used in appliqué work technique in which they are sewn to fabric through neat needlework. You can level up the undecorated lehenga with the help of patchwork by sewing intricate patterns to the blouse hem or lehenga skirt.
     
3. A UNIQUE SET OF JEWELRY FOR YOUR UNIQUE-SELF 
Beauty is who you are. Jewelry is simply the icing on the cake.
Jewelry is a much-needed wedding staple. It's the most effortless way of glorifying the lehenga elegantly, but that does not make it absolutely unchallenging. There are some attributes that you should keep in mind before you set your heart on a piece of jewelry.
Neckline: The neckline or neck style of the blouse plays a salient role in determining the shape and length of jewelry that you go for. For instance, if the blouse has a high neck, then you should pick out a long layered necklace followed by dainty studs, whereas short and princess-cut jewelry would look best with a plunge and V-neck.
Color Of The Lehenga: There are myriad ways to choose a set of jewelry on the basis of color. You can play a contrasting game or just go monochrome. Either way, the outcome should look like it's part of one single ensemble.
Dupatta: Most of the time, dupattas are ignored while hand-picking the jewelry, which is not the right approach. In the selection process, factors like the hue of the dupatta and how you are going to drape it should also be considered.
4. LAYER IT AWAY
Layering is undoubtedly an art. It is a method of highlighting the garment by adding another clothing item to the composition in a way that the upshot or final result looks as if each detached piece complements the other and communicates unity. To get that desired outcome, here are some rules that you should not miss out on;
Balance: Take your design as a scale and disperse the visual weight of it. The end conclusion should neither appear exaggerated nor dull.
Color: Color is the first and foremost thing that people would notice in your garment. Remember to not overdo it by whisking way too many hues together. Besides that, do not understate it as well by adding multiple muted tones.
Proportion: The proportion is mostly ruled by the prints and silhouettes that the garment has. It's best to not pair loose or dramatic silhouettes together. Also, putting together extremely basic silhouettes won't do justice to the wedding ensemble.
Related Articles:-
Categories: Decorative Jewellery, Diwali Collection, Festival Season, Indian Wedding Collection Articles, Indian Wedding Lehenga Choli Articles, Indian Wedding Outfits Articles, Indian Wedding Shopping Tips Articles, Lehenga Choli for Weddings & Parties Articles, Oxidized Jewelry, Traditional Indian Dresses Articles
Sorry, comments are closed for this item.