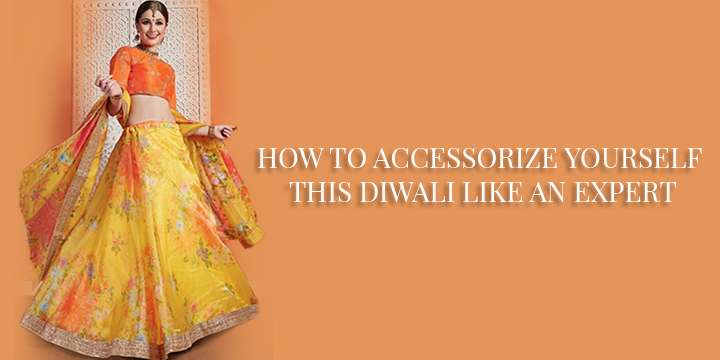 HOW TO ACCESSORIZE YOURSELF THIS DIWALI LIKE AN EXPERT
HOW TO ACCESSORIZE YOURSELF THIS DIWALI LIKE AN EXPERT
Diwali is the most delightful festival celebrated in India. The festival of lights brings to you immense pleasure and excitement. From effervescent neighborhoods to joyful get-togethers, the celebrations are ecstatic and give you a plausible explanation of why you should doll up. It is that time of the year when you can self-pamper yourself with beautiful attires for the lined-up festivities and parties. So, the accord that closet with an ethnic makeover and charm everyone with your graceful, traditional ensemble.
An indispensable part of the festival wear is accessories. Your garb is incomplete without the felicitous set of jewelry and embellished add-ons. If you desire to make a statement, play with the versatility of Indian outfits, and do that flawlessly, here are some tips and tricks for you to ponder upon.
1. MATCH YOUR CONTEMPORARY OUTFITS WITH HEFTY JEWELRY
If you are also drooling over sustainable off-the-peg clothing as much as everyone else then this will definitely assist you. Trick everyone this Diwali by keeping your finest jewelry parallel to comfortable sets of cotton, linen, or chiffon. As Diwali comes in the winter season, layering would be a shrewd approach. Listed below are some ways how to achieve this look;
Synchronize long pastel Kurti with manifold neck chains and complement the pair with a calf-length jacket.
Drape a plain satin saree in an unconventional means and accessorize it with Kamar bandh, bangles, and a nose ring.
Pair your whites with whites followed by vibrant, heavily embellished ornaments.
Carry your flared floor-touch skirts in a maxi dress and layer them with a heavy shawl and jewels.
2. CLUB YOUR ATTIRE WITH A CONTRASTING FOOTWEAR
Following the same shade for such a lively occasion is a monotonous approach. Give your ethnic outfits the right concluding touch with the help of unique and appealing footwear. It's best to opt for something that will provide you with both, a style upgrade and comfort.
If it's a cozy get-together involving a lot of sedentary then pick out adorned pumps or chic stilettos for your silk gowns.
If you got a lavish jamboree invite, then pair your rich and graceful attire with block sandals or even juttis to get that extra bling.
Kolhapuris would be a great fit for those who are into minimalist fashion and avoid being an ostentatious dresser.
3. DO NOT FORGET THOSE PERKY EMBELLISHED BITS
Less is indeed more. A little touch of glitter can take you a long way. Accessories like nose rings, bindi, anklets, rings, and so forth can astonishingly reform your fashion.
People usually let their feet go unattended instead of putting a dainty glamour on them. So, next time when you wear open-toed footwear to a function, recall those fancy toe-rings and complement your feet with refined anklets.
Accessorizing your hands is way too salient and, there are a variety of gems you can adorn them with. Jewels like bracelets, rings, and bangles with perfectly painted nails can notch up your flair.
To get more spotlight on your face, go for a little bindi and a nose ring and let it make you utterly traditional.
Coming over to the hair accessories, from classic gajra to alluring maangtika, there is a profusion of items you can use to enhance your style.
4. DIY YOUR CONVENTIONAL GARB
Upcycle those dreary garments just by using some pearls and stones. If wearing too much jewelry makes you feel sheltered and leaden then this will act as a quintessential method of compensation. You have to invest in trims to pull off some astounding DIY techniques. There are predominantly two categories in which trims are divided;
Functional Trims: Must-have items such as sewing threads, Velcro, linings, and so forth come in this category.
Decorative Trims: As the name suggests, trims that do not have a significant purpose but are there as a trinket comes in this category. For instance; ribbons, laces, tassels, and many more.
Here are some ways how to enhance your garment through trims;
Magnify your plain Kurti or gown with the help of beads or pearls by sewing them on its neck, hem, and cuffs.
You can use the dangling part of your jhumkas to stitch it in the middle of your neckline or side slits.
If you're into embroidery, you can elaborate your outfits by making floral or intricate motifs with the help of silk threads.
Tack an exquisite lace to your monotonous dupatta and finish it by adding admirable tassels on its edges.
Let your creativity make you go the extra mile because DIY is one amazing way to tackle lackluster outfits.
Related Articles:-
Categories: Decorative Jewellery, Diwali Collection, Festival Season, Footwears Articles, Lehenga Choli for Weddings & Parties Articles, Punjabi Salwar Kameez Articles, Sharara suits Articles, Traditional Indian Dresses Articles, Uncategorized
Sorry, comments are closed for this item.