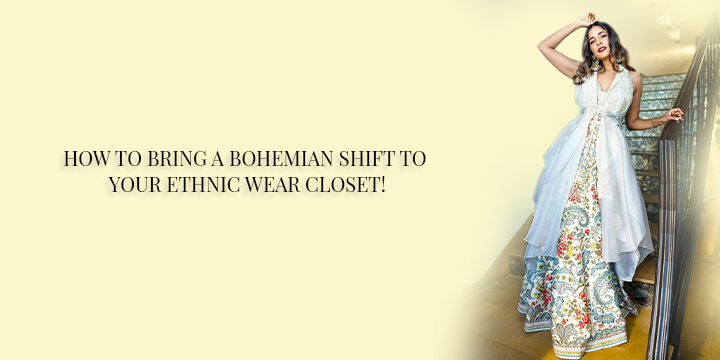 HOW TO BRING A BOHEMIAN SHIFT TO YOUR ETHNIC WEAR CLOSET!
HOW TO BRING A BOHEMIAN SHIFT TO YOUR ETHNIC WEAR CLOSET!
BOHEMIAN FASHION IN A NUTSHELL
Bohemian fashion should not be comprehended as a mere ongoing trend. It's a separate culture, known by the name Hippie Culture, which originated in the 60s and the 70s when hippies started following the offbeat and unconventional way of dressing and turned away from the mainstream and accustomed fashion. The bohemian color palette mainly involves a set of 12 shades which are; white, gray, black, powder blue, burnt red, Persian green, cornflower blue, Prussian blue, dusty yellow, mustard yellow, caramel brown, and chocolate brown. The materials used in the making of bohemian garments are organic, like silk, jute, linen, and cotton. Coming to the silhouettes, layered skirts, vintage jewelry, signature accessories, crochet blouses, and maxi dresses are very common in bohemian style.
SETTING TOGETHER BOHO AESTHETIC WITH INDIAN TRADITIONAL WEAR
Bohemian Fashion has conquered the Indian market with its comfort styling, divine vibrancy, and retro patterns. An ideal boho-chic look is an exquisite blend of intricate prints with feel-good textiles. You will always see a tinge of western, defined seamlessly in the cuts and silhouettes of bohemian finery. This portion of fashion is getting immense love from people across the globe. Started becoming notable for its indo-western composition, boho garb is now fitting well with traditional weddings as well. It's quite fun to make a bohemian ensemble with the clothes available in our closets. To ace that mix & match and to elevate your traditional attires appropriately, listed below are a few stunning bohemian outfit ideas that would bedazzle everyone;
1. THE EMBROIDERED EMBELLISHMENT THROUGH APPLIQUE WORK
Applique work is the easiest way to switch to bohemian. There are myriad ways to use the applique work technique to get the desired results. You can pick something baggy out of your closet to achieve this look. Kaftans, for instance, are really popular in bohemian culture as they are loose-fitted which makes them easy enough to carry, and the cut is beautifully eccentric. If you don't have a Kaftan then any flared above-knee kurta would work just right. As it is applique work, you would need some waste fabrics that came out of embroidered textiles that you might find in nearby boutiques. If it's around half a meter, you can make a neckline or bodice patch and cuffs out of it. For extra exaggeration, you can put a 3-inch border on the hem, but for that, you would need more than just a waste material. An economical choice would be to buy an Indian traditional dupatta. Conclude the ensemble with lace-up slippers and dark-toned lipstick.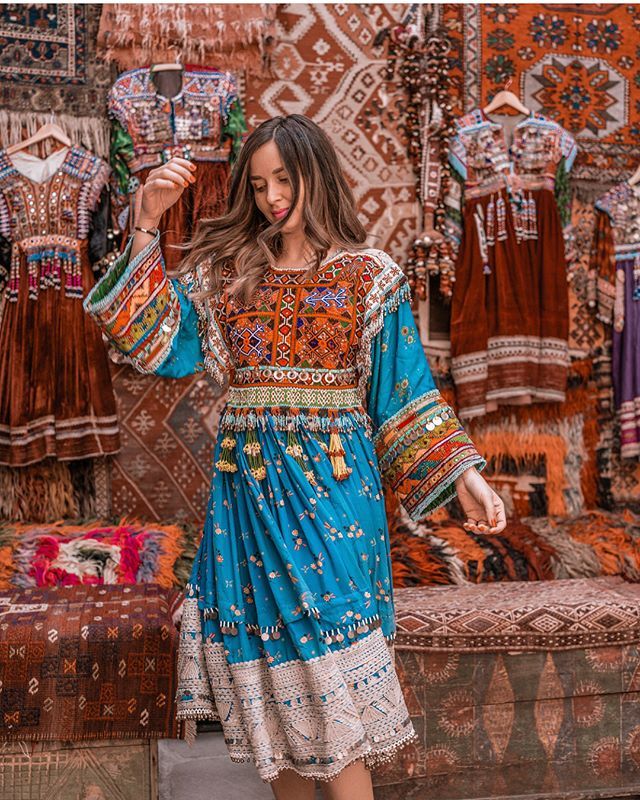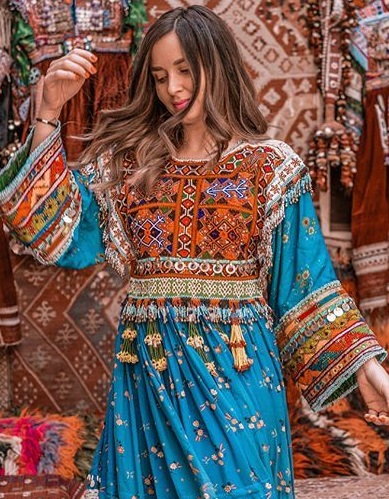 2. AMALGAMATION OF WESTERN AND INDIAN PRINTS
If you're looking for an off-center or avant-garde muster, this is for you. Take print-on-print fashion to another level by whisking together contrasting patterns. For western prints, you can use stripes, geometrics, plaids, and so forth, whereas for Indian prints like bagh, ajrakh, and ikkat would work impeccably. As these two categories are utterly opposite, it might take a while to get a balanced and proportionated result. The best approach would be to combine a detailed print with a comparatively less intricate print. For instance, stripes with paisleys and geometrics with ikkat. To balance the prints, choose colors wisely. The more the colors, the more complex it will get. So, pick the palette according to how offbeat you want your outfit to be.
3. MODERN ACCESSORIZATION OF A CASUAL ANARKALI
Play down your traditional Anarkali suits with the assistance of western accessories like leather belts, sunglasses, tote bags, cowboy boots, fedora, braided belts, and many more. All the mentioned accessories will help you in turning an ethnic Anarkali into a casual printed maxi. Hand-pick intricate and visually appealing prints like kalamkari, ajrakh, and batik for a prepossessing outcome. For the Anarkalis with empire line, match them with sunglasses, a sling bag, and ankle-strap heels. If it's a flared gown from the top with no fitted seam, use a belt to tuck those flares. If the Anarkali is below-knee or calf-length, leather boots are your best bet.
4. A SPLASH OF PASTELS WITH OXIDIZED JEWELRY
If you want to keep the taste of India's heritage intact with embroideries as well as silhouettes, then play with colors. As mentioned below, there is a set of 12 colors that are affixed with the bohemian capsule. With the utter traditional ensemble, shades like white, powder blue, and gray will give a bohemian shift to the overall look. The prime choice will be to ditch traditional jewelry for oxidized and vintage ones, as nothing speaks more boho than the tribal silver dangling earrings and chokers.
5. CONTEMPORARY WHITE AND THE INDIGENOUS PRINTS
The indigenous prints of India are already more than enough to bring bohemian into the view. You can modernize it with the help of solid achromatic colors, like white. White can play down the vibrancy of prints with utmost elegance and refinement. You can go for white shrugs, beaded bralettes, and cowl neck blouses in net, crochet, and satin fabrics respectively.
Related Articles:-
Categories: AJRAKH PRINT, Festival Season, Indian Wedding Lehenga Choli Articles, Indian Wedding Outfits Articles, Indian Wedding Shopping Tips Articles, Indo western clothing, Kurtis & Tunis for Girls & Women Articles, Lehenga Choli for Weddings & Parties Articles, Party Gowns Articles, Printed Anarkali, Printed Clothing
Sorry, comments are closed for this item.