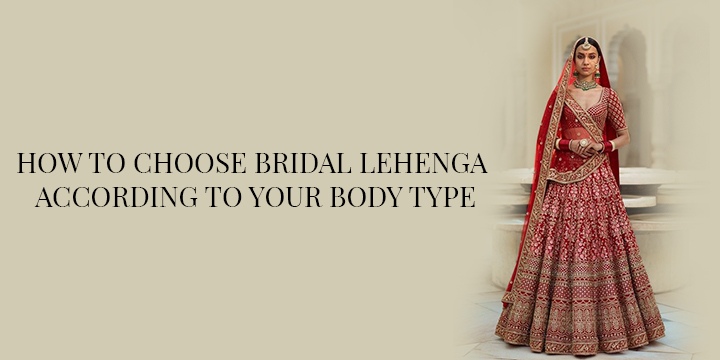 HOW TO CHOOSE BRIDAL LEHENGA ACCORDING TO YOUR BODY TYPE
There is an immense dilemma when it comes to what you should be wearing for your wedding. Selecting a lehenga that will suit your body should be a prime concern. Even If you're hyped about certain lehengas from celebrities' weddings, you should always make them alter according to your body type and shape. This is a guide on how to hand-pick silhouettes and styles which will flatter your body type.
1. HOURGLASS BODY TYPE
Hourglass is an X-shaped body type. If you have an hourglass body type then you have a defined waist with almost equal bust and hip size. The best part about being hourglass is that more or less everything will look good on you since you already got the curves. Your chief concern should be to choose a lehenga that will flatter those curves.
Lehenga Style: Go for the fabrics and silhouettes which will complement the curve going down from the waist. A-line and mermaid cuts will definitely make a statement. Choose soft fluid and lightweight fabrics like velvet and georgette.
Choli Style: Show off your perfectly defined waist by going for upper-waist short sleeveless blouses with V or closed necks.
Here are some bridal lehengas that will absolutely flatter an hourglass body type;
2. STRAIGHT BODY TYPE
A straight or rectangle is an H-shaped body type. In this, your bust, waist, and hip measurements would be nearly the same. Those who have an athletic or slim-shaped body without prominent curves have a straight body type. Any silhouette that would add volume and give an illusion of curves will be well best suited here.
Lehenga Style: If you have a straight body type then you should go for stiff fabrics like raw silk and brocade followed by nets. You can also amplify your lehenga by adding more inner linings to plump it thus, making your look more curvaceous.
Choli Style: To make your upper half look broader, pick out blouses with a plunge or V neckline. As far as sleeves are concerned, go for a puff or flared sleeve to make your shoulders appear wider. Embroidery around the neck will also help in creating balance.
Here are some bridal lehengas that will complement straight body type;
3. PEAR BODY TYPE
Pear is an A-shaped body type. In this, your shoulders will be narrower and the bottom half will be wider. Indian women most commonly have this body type. To proportionate a pear-shaped body both silhouettes and hues should be considered. Moreover, you'll have a thin waist for you to embrace.
Lehenga Style: The best way to balance a pear body type is by picking out lehengas with gentle drapes and minimal gathers. Choose darker shades like deep red and maroon for your bottom half as dark hues to make you look slimmer. Avoid heavy embroidery on your lehenga and try to keep it somewhat plain and flowy.
Choli Style: Do the exact opposite of what you did for lehenga while selecting a blouse. Go for light-hued blouses with heavy noticeable embroidery to get some spotlight over to your top half. Necklines with off-shoulder and boat cuts will look spectacular on you.
Here are some bridal lehengas that will look good on pear body-type;
4. APPLE BODY TYPE
Apple is a V-shaped body type. In this, you have an ample bust and mid-section followed by slimmer hips and legs. The idea is to disguise the shoulders, bust, and tummy region assisted by flattering cuts. The best way to hide it is through layering and unique dupatta draping. Avoid going heavy on the upper half to make your body structure seem proportionate.
Lehenga Style: Always pick soft, sheer, and flowy fabrics for your lehenga. Go for bold prints and striking embroidery to take some limelight away from the upper half and giving it to the lower half. Flare it away by adding linings and giving it enough volume to get a curve down from your waist.
Choli Style: Closer the neckline, the wider you'll appear. On that note, choose necklines that are open like scoop and sweetheart with basic full or 3/4th length sleeves. Steer clear of light-hued blouses with vivid detailing. You can always go for a jacket-style lehenga to hide your midriff. Keep your blouse simple and elementary.
Here are some bridal lehengas that will complement an apple body type;
5. ROUND BODY TYPE
Round or Oval or Diamond is an O-shaped body type. In this, most of the fat will be around the mid-section of your body. Your waist size will be wider than your bust and hip size. The right way to style this body type is by going for the styles which will hide your midriff elegantly. By picking out the appropriate elements, you can make your body look visually rhythmic.
Lehenga Style: The best approach to hide your midriff is by opting for high-waisted panel lehengas. The vertical lines formed by panels will make you appear taller and slimmer. Avoid fully embellished lehengas. Keep it plain especially on the top half of the lehenga to not exaggerate the protruding midriff. You can also go for saree-style lehengas if you don't feel like hiding your tummy entirely.
Choli Style: Notch up your wedding outfit by going for long cholis. Long cholis with an empire line is also a good idea as the flare whirling your waist will hide your tummy in a more fashionable and effective way. Make sure to keep yourself away from heavy embroidery.
Here are some bridal lehengas that flatter round body types;
You can showcase your bridal lehenga just by being comfortable in it. Silhouettes and colors that will suit your body will also keep you pleasant and satisfied. All sizes are beautiful and by learning to distinguish the right styles from the wrong for your body type, you can always enchant everyone with great confidence.
Related Articles:-
Categories: Indian Wedding Collection Articles, Indian Wedding Lehenga Choli Articles, Indian Wedding Outfits Articles, Indian Wedding Season Articles, Indian Wedding Shopping Tips Articles, Lehenga Choli for Weddings & Parties Articles
Sorry, comments are closed for this item.