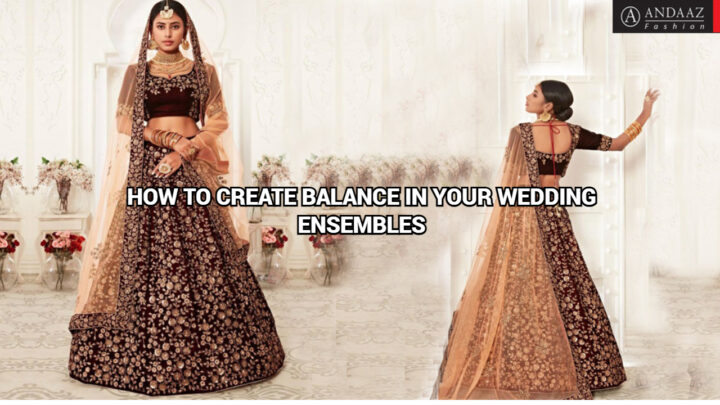 HOW TO CREATE BALANCE IN YOUR WEDDING ENSEMBLES
HOW TO CREATE BALANCE IN YOUR WEDDING ENSEMBLES
Balance is a salient principle of design. It signifies framework, volume, and equilibrium in the dynamics of fashion. With balance comes the composition of perfectly distributed textures, colors, cuts, and silhouettes. The idea of this principle is to aesthetically and sublimely segregate the visual load of an outfit. Balance is a prime factor in the field of fashion because it harmonizes and unites the other factors of design. Indian wedding garb is a quintessential way of explaining how this theory works as ethnic attires hold a bit of everything. Here, you will learn about how to build parallelism in your garments by retaining just a few factual concepts;
1. BALANCED SILHOUETTES
The silhouette is the basic outline of the garment. Balance in silhouette means that the structure of your outfit should complement and blend perfectly with the structure of your body. Some people have a great height, and nevertheless, the clothes they pick out make them look shorter in front of the beholders. The core reason is that our bodies per se are divided into upper halves and lower halves. Symmetry in both halves is rare however, you can visually observe which section is the dominant one. As an Indian bride, you should certainly hand-pick lehengas or gowns that would suit your body type. If you have a long torso followed by shorter legs, go for silhouettes that would enhance and elongate your legs like high-waist, A-line, Sheath, and so forth paired with upper-waist open-neck blouses, whereas choose flared, paneled, and layered cuts to make your legs appear shorter.
2. BALANCED PROPORTIONS
Proportion in design is the perfect configuration of objects available in the outfit. It is an act of harmonizing parts, colors, textures, and patterns of the ensemble. For this, the volume of each fragment of the clothing is considered. Two garments that are intricately detailed and emphasized won't be an ideal fit for each other as they are equally commanding and striking which thereby can make you look overdressed. That is when the "opposites attract each other" theory enters. An authoritative or a statement piece should always be set with a malleable half to forge unity. The design should communicate cohesiveness and convey one single design at a time. In the case of Indian wedding attires, keep a thorough check on embroidery and prints. If you're apple-shaped, get more work done on the lehenga rather than the blouse. On the contrary, pear-shaped bodies would look better proportionate in heavily embroidered blouses paired with feather-embroidered lehengas.
3. BALANCED COLORS
Colors play a huge role in creating balance in garments. You don't have to master the entire color theory, just gain the basic understanding of hues, and you're all set. There are a few color schemes you should keep in mind before having fun and frolicking with your closet. (a) Monochrome: "Mono" stands for single, and "chrome" stands for hue. Therefore, outfits whirling around the family of one color make it a monochrome outfit. (b) Complementary: When two oscillated hues i.e, colors that are opposite from each other in the color wheel, are set together, then that's a complementary color scheme. (c) Analogous: Two colors that are adjacent to each other in the color wheel, when put together, make an analogous color scheme. Coming to the Indian wedding attires, "less is more" would be your best bet. The monochrome shades of red, pastels, and gold are timeless. If you are into contrasting, go for a complementary color scheme. Here are some options for you; Pink with pale yellow, Teal blue with gold, and Baby pink with forest green, whereas if your heart is set on analogous, choose blue with orange, orange with red, and violet with pink.
4. BALANCED ACCESSORIES
The wedding ensemble is incomplete without accessories. Let's suppose that you've created the perfectly balanced attire for your wedding but will it remain balanced if you pair it with a set of jewelry that is unparalleled and completely different from it? No. Accessories have the power to disbalance and de-emphasize the overall look, but if you pick out the right jewels, they can highlight it just as much. Start with the necklines. Open and high necklines blend well with chokers and add-on chains, while V and plunge necks go well with princess-cut jewelry. Next, observe how voluminous the embroidery is. Light embellishments call for heavy jewelry. Contrariwise, Heavily-embellished garments amalgamate stunningly with small and elegant, bijou jewels.
Related Articles:-
Categories: Festival Season, Indian Wedding Collection Articles, Indian Wedding Jewellery Articles, Indian Wedding Lehenga Choli Articles, Indian Wedding Outfits Articles, Indian Wedding Season Articles, Indian Wedding Shopping Tips Articles, Lehenga Choli for Weddings & Parties Articles, Sangeet Gowns, Traditional Indian Dresses Articles
Sorry, comments are closed for this item.