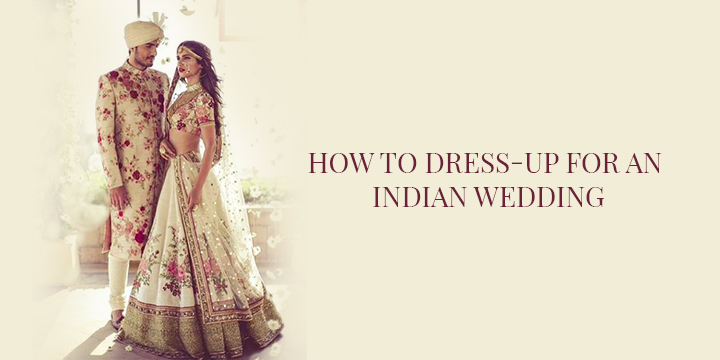 HOW TO DRESS-UP FOR AN INDIAN WEDDING
HOW TO DRESS UP FOR AN INDIAN WEDDING
India is the most pious and ethically diverse country, and the richness in its culture can always be directed by the kinds of weddings it possesses. Indian weddings in themselves contain several ceremonies followed by peals of laughter, enthusiasm, and most importantly, highly embellished vibrant outfits. Along with the delight of attending an Indian wedding, there is always a quandary about what to wear for all the lined-up ceremonies. So, here's a guide on how to jazz up for an Indian wedding.
WHAT TO WEAR FOR AN INDIAN WEDDING
The first and foremost thing you should decide is what you want to wear. With aesthetically pleasing abilities, your outfit should also provide you with some ease as you'll be wearing it for hours.
SAREE: Saree is a poise of an Indian woman. It holds great significance in Indian culture. A saree is most commonly ranged between 6 to 9 yards and it can be draped around the body according to your style. It conventionally comes with a blouse and underskirt and both can be urbanized as per your flair.
SALWAR SUIT: Traditionally, a salwar suit or salwar kameez is a Punjabi grace whereas a salwar is a loose-fitted trouser, and the kameez is usually a straight-cut basic kurta. The salwar is pleated from the waist and cuffed from the ankles. It's mainly segregated into patialas and semi-patialas, and the only difference is that Patiala suits will have more pleats. Salwar Kameez is coordinated with a dupatta, a 5 meters fabric normally wrapped around the neck.
ANARKALI SUITS: Anarkali suit consists of a long ankle-length or floor-length heavily gathered top with a skin-fitted bottom, mostly a churidar. Anarkali is usually parted by an empire line with a yoke in the upper half and a flared skirt in the lower half.
4. LEHENGA CHOLI: Lehenga Choli is a three-piece ethnic outfit. It's parted from the midriff and predominantly consists of a blouse, floor-touch Indian skirt, and a dupatta. Lehengas are divided into many styles like front-slit lehengas, saree-style lehengas, cap-style lehengas, and many more.
INDIAN OUTFITS ACCORDING TO WEDDING CEREMONIES
1. HALDI CEREMONY
The Haldi ceremony is a ritual of smearing turmeric mush onto the skin of the bride and groom. It's a very joyful and somewhat smudgy ceremony. Make sure to pick your haldi outfit meticulously. It shouldn't be very expensive as it most probably will get stained and grubbed. It's best to go for the outfits in the shades of yellow so, you can blend with the theme of it. Floral printed sarees, indo-western palazzo-jacket sets, and flared skirts in comfortable and fluid fabrics will look delightful. The most trendy way to accessorize your outfit is by putting it together with floral artificial jewelry.
2. MEHENDI CEREMONY
Mehendi is yet another cheerful ceremony where Mehendi, also known as henna which is a paste made out of dried ground henna leaves is intricately and beautifully applied to the hands and/or feet of the bride. Henna is believed to be associated with positive spirits that promote fertility and attract good energy for a soon-to-be wedded couple. Mehendi ceremonies are very lively and colorful. The most common color scheme revolves around shades of green, yellow, pink, and pastel. Floral and paisley prints, ruffles, angrakha cuts, and designer yokes synchronized with Anarkali and sharara suits will be an exemplary choice. You can go all monochrome by selecting the same shaded jewelry or give your overall look a glimpse of gold.
3. SANGEET CEREMONY
Sangeet is a chance for both families to get together and know each other. It's a musical and dazzling evening full of enthusiastic dance performances and laughter.
You should always pick something fancy and ornamented for this occasion. From indo-western sequined suits to embroidered sarees, everything fits here. Couple your outfit with a refined set of jewelry and you're good to go.
4. RING CEREMONY
Ring ceremony is a western concept adapted by Indians where the bride and groom exchange rings. This is when the bride can show off her beautiful well-adorned gown or lehenga. As a guest or a relative, you can choose elegant fabrics like satin and silk in rose-gold shades for your saree or trouser suit and pair it with statement diamond or silver earrings. 
5. WEDDING CEREMONY
The Indian wed-lock ceremony is one of the most beautiful moments to behold. The traditions symbolize mutual love and respect between both families. The bride and groom exchange floral garlands that reflect their acceptance of one another.
All the exaggerated shimmer and bling get saved for this occasion but, it's best to avoid western silhouettes and red-shaded garments. All the heavy jewelry and ostentatious outfits will be well-fitted for this ceremony.
6. RECEPTION
Reception is an official post-wedding party where all the relatives and friends get together to bless the newlywed couple. An amalgamation of flares and pearls will look good for this occasion. Be it embroidered blouse with dramatic sleeves put together with a raw silk palazzo or a princess line ruched bodice paired with an embellished tiered skirt, every dazzled party-wear outfit will go with it.
Related Articles:-
Categories: Indian Wedding Collection Articles, Indian Wedding Outfits Articles, Indian Wedding Season Articles, Indian Wedding Shopping Tips Articles
Sorry, comments are closed for this item.