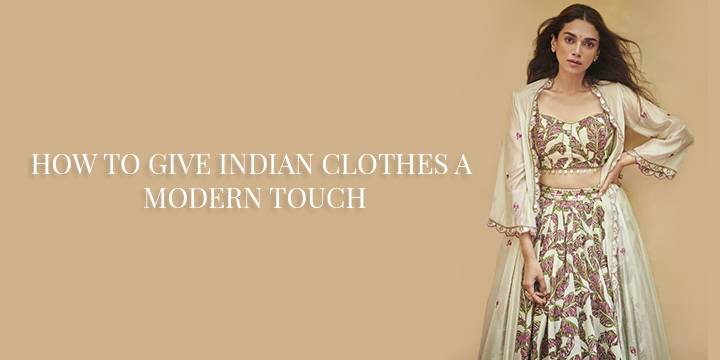 HOW TO GIVE INDIAN CLOTHES A MODERN TOUCH
Fashion is something that evolves every day. The trends in fashion can onset from established designers, celebrities, bloggers, and even from the streets. Indo western clothing is catering to the needs of people by retaining the prime keys of fashion that are comfortability, wearability, and of course, style. Fusion clothing takes place when contemporary garments are paired with Indian wear. You are utterly independent when it comes to indo-western garb as it is supposed to be unique and discrete. The amalgamation of two opposite edges of fashion can call attention to your personality in a distinct way. It can range from all denim with indigenous print applique work to intricately printed Kurti paired with a white shirt, thereby becoming budget-friendly as you won't have to spend thousands on heavily embroidered lehengas, just unlatch your wardrobe and upcycle your old clothes by putting in some creativity. Jewelry plays a gigantic role in this section of fashion. It can change the comprehensive frame of contemporary clothing just by being present around the neck or dangling on it. Indo-western wear has gained immense hype in the past few years, and it's definitely staying for a perpetual period. Keep reading to know some effective as well as efficient ways on how to put modern and Indian attires together like a pro.
1. GET INSPIRED BY THE STREETS
Besides hoarding on tips and tricks provided by celebrity stylists and well-known designers, look out for the people who are changing the game of fashion just by walking on the streets wearing how they, as an individual, perceive fashion. Started from the late 1970s, streetwear clothing holds a pronounced grip on upcoming trends, and this is known to be a trickle-up effect in the field of fashion. The Trickle-up theory is when fashion starts from the streets and goes upward to high-end classes. It is not just restricted to casual clothing now, people are now aware of bohemian flair too. Bohemian clothing is one artistic example of how fashion emerged from the lower class. Originated after the French revolution, it decided to skip mainstream trends and stick around with artistry and romance.
It's the best way to give a modern touch to your Indian attires. There are two supreme keys to look out for if you want to incline towards this segment of indo-western;
Indian Prints: Prints that transpired from India are intricately and beautifully designed. Prints such as ajrakh, leheriya, sanganeri, and so forth are well-fitted for bohemian culture. Moreover, they match admirably with the pastel-colored western garments.
Oxidized Jewelry: Oxidized jewelry has an antique and rusty appearance because of the black patina, which is used to decolorize superlative silver. It gives fashion an ancient turn with its period pieces. Wearing it with a white shirt, denim, and warm earth tones can give an inventive and expressive effect to the viewers.
2. CHOOSE GARMENTS WITH BALANCED EMBROIDERY
Balance is an important factor in the elements of design. To get a stable outcome, one has to visually distribute the weight of fragments present in the layout. To focus on the gist, embroidery should be divided in a way that it can settle in deftly with contemporary frills. Dense and heavy embroidery will make the garment seem heftier, whereas small scattered embroidery will make it appear lighter. To give a modern touch, start by deciding what portion of garment you want a glimpse of western in. If it's the lower half, go for an embroidered blouse and embellished skirt belt. Additionally, If it's the top half, kutch mirror embroidery on the trousers, collar, and cuffs will accentuate the parameters of Indian and western.
A traditional phulkari or Gujarati dupatta draped in a contemporary style can also provide rhythm to the garment. Modern dupatta drapes like jacket-style, one-shoulder style, and cowl style can pop up a subtle and monotonous attire.
3. MIX INDIAN PRINTS WITH WESTERN SILHOUETTES
Fusion of modern cuts with beautiful Indian art and craft is yet another way to appear seamlessly up to date with indo-western fashion. Indian prints are undoubtedly, very appealing and intricacy formed just by taking the help of lines and shapes is fascinating to gaze at. Western cuts such as A-line dresses, collar-necklines, and straight-cut trousers blended with maze-like prints are quintessential fits. Mentioned below are some of the most appealing prints of India;
Ajrakh Print: Ajrakh print is done by block printing technique. It has two dominant colors, blue and red, that create the design, followed by white and black, which define the design.
Bandhini Print: Bandhini print is carried out with the help of the tie-and-dye technique. The fabric is tied in different ways to get different results. Tied fabrics are immersed in a dye solution involving different hues to meld two or more colors onto one material.
Kalamkari Print: Kalamkari, as the name suggests, is a kind of printing technique that is done by kalam, which means pen. It's either hand-printed or block-printed on the cotton fabrics.
Paisley Print: It's a kind of motif, shaped like a droplet or a mango. The floral detailing is done inside and around the paisleys to make it more explicate.
4. BELIEVE IN THE POWER OF ACCESSORIZATION
Accessorization holds a tight grip on indo-western ensembles. Like oxidized jewelry can change the tangent of western wear, contemporary add-ons like belts, boots, sling bags, and pendant chains can give the same effect to your ethnic garb.
Few quick and easy ways to accessorize your traditional wear are;
Drape your saree in a western way and add a belt around for an extra modern touch.
Complement your calf-length cotton flared anarkalis with leather boots and a fedora.
Pair your regular kurta-palazzo set with envelope wallets or sling bags.
Put on a gold pendant chain with open neck suits.
Put on chic sunglasses for a fine modern touch.
Related Articles:-
Categories: Decorative Jewellery, Festival Season, Footwears Articles, Indian Wedding Collection Articles, Indian Wedding Jewellery Articles, Indo western clothing, Kurtis & Tunis for Girls & Women Articles, Lehenga Choli for Weddings & Parties Articles, Oxidized Jewelry
Sorry, comments are closed for this item.