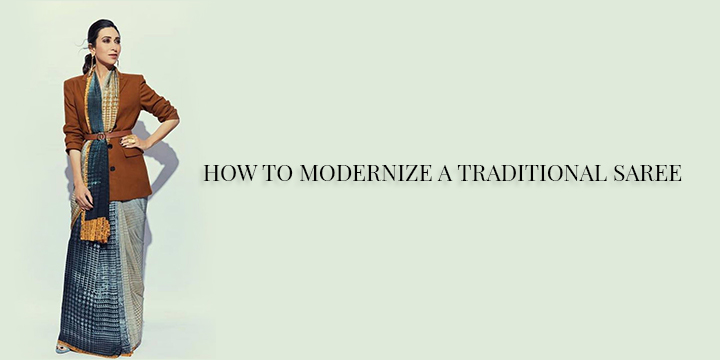 HOW TO MODERNIZE A TRADITIONAL SAREE
Saree is an utmost traditional wardrobe staple. It's an unstitched piece of clothing which makes it compatible with all the fabrics, prints, and embroideries. With every fabric rouse a distinct style, for instance, banarasi sarees that are mostly passed on to us from previous generations gives an antique and rich look, while modern net sarees with sequins or beadwork brings out a fancy vibe. However, with time changes fashion, and this decade is all about women giving contemporary shift to conventional silhouettes and drapes. There are now myriad ways to modernize a traditional saree, out of which some of the impeccable ones are listed below;
1. PAIR IT WITH TROUSER PANTS
Do away with your basic petticoats because trouser pants are invading the closets now. Western cuts with Indian prints are really in vogue these days. There are dozens of drapes that come along with trouser pants, and each drape is spiffier than the latter ones. Trouser pants when paired with a 6 to 9-yard fabric do wonders as it appears smart as well as contemporary. Down below are few stunning trouser pant types you should definitely check upon;
Straight-cut Pants: As the name suggests, these pants are cut straight from the top to the ankle. A little flare in crepe or georgette material matched with a fancy saree looks drop-dead gorgeous.
Cigarette Pants: These are slim-fit tight trousers. They complement well with soft as well as stiff sarees. Cigarette pants in banarasi silk fabric or any other traditional material would be a top-notch choice.
Palazzo Pants: Palazzo pants have relatively more flare than straight-cut pants. With belts or Kamar bandh, these pants can look astonishing with sarees in fluid fabrics and upper-waist blouses.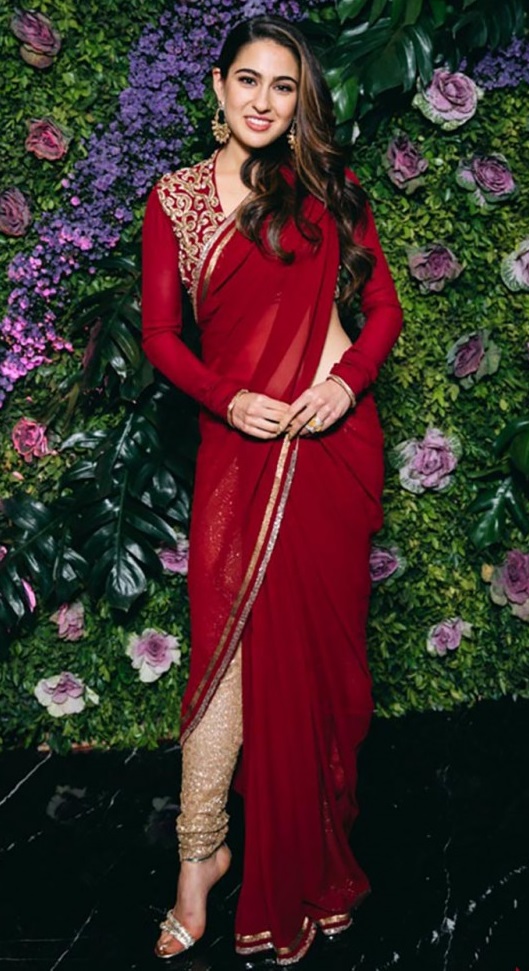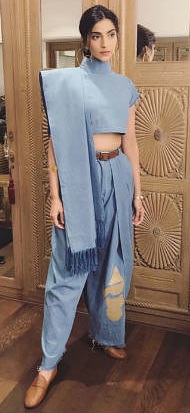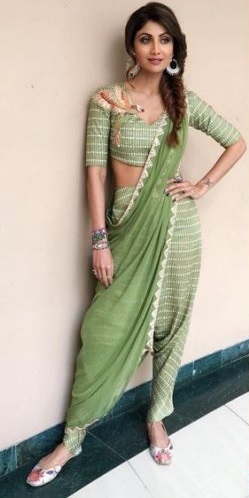 2. GO FOR UNCONVENTIONAL DRAPES
Discover new forms of drapery instead of sticking to conventional sunray pleating and pressed folds. Social media takes a humongous division of everyone's day now, so make the most out of it by exploring new ways of fashion with emerging influencers, creative trendsetters, and popular celebrities. Here are few unique drapes that are modern together with elegance.
One-Side Drape: In this, pleat the first few meters of the saree and tuck it in the center of your front side. After the first step is complete, take the rest of the fabric to whirl it around your waist, till the center, and lastly, put it on your shoulder. This drape looks best with trousers pants.
Dhoti-Pant Drape: The procedure is the same as that of a one-side drape, except in the first step, pleats are supposed to tuck in the side of your waist instead of the center. As the name suggests, it's paired with dhoti-pants. Peplum or waist-length blouses fit amazingly with this drape style.
Neck-Wrap Drape: In this style, you can start by doing the conventional drape. The only minor change is that the pallu has to get wrapped around the neck which thereby will alter the entire traditional look. You can place it with urban tops to modernize it even more.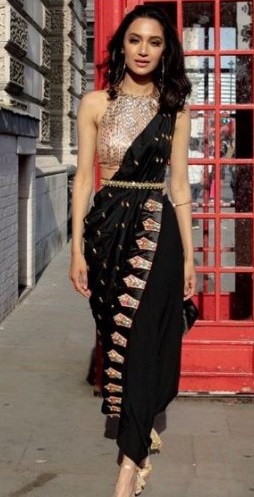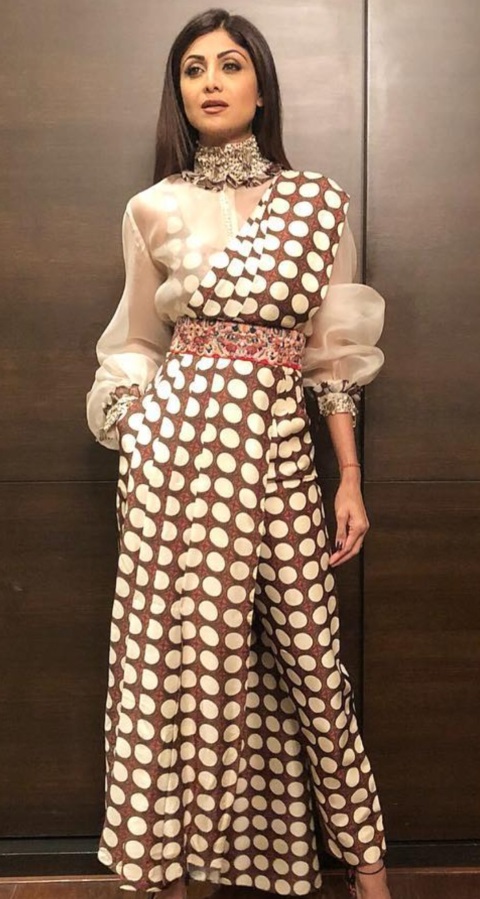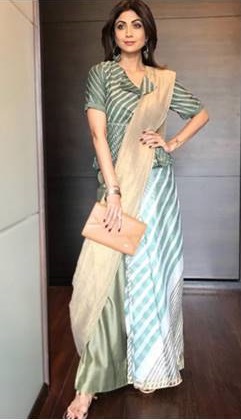 3. SET IT TOGETHER WITH WESTERN BLOUSES
There are innumerable alternatives to a standard blouse. You can make a beautiful composition of indo-western by amalgamating above drapes with western tops. With distinct silhouettes and cuts, you can upraise a traditional as well as a monotonous saree. For a bohemian touch, conclude the ensemble with black ankle-length leather boots and oxidized jewelry. Listed down are some exquisite blouse substitutes for you.
Corset: Corset is a body-fitted support garment. It's traditionally an undergarment, but nowadays, women are styling it as fancy top wear. There are tons of corset silhouettes in the market, out of which Victorian cut full-cup corset would suit best with traditional sarees.
Bishop-Sleeved Tops: Bishop-sleeved garment is yet another style inspired by the Victorian era. They are also known as balloon and peasant sleeves. Such tops in Indian prints would work best with silk and satin sarees.
Basic Crop Tops: Basic crop tops in solid shades is the safest substitute for Indian blouses. You can style them with cotton, linen, or khadi sarees in indigenous prints like Ikkat, bandhani, or batik.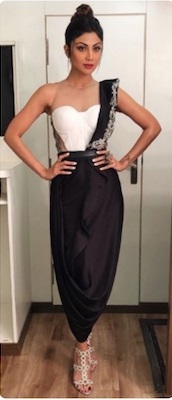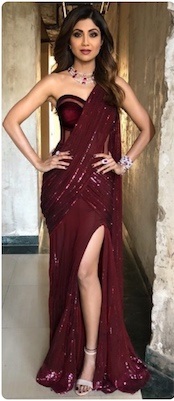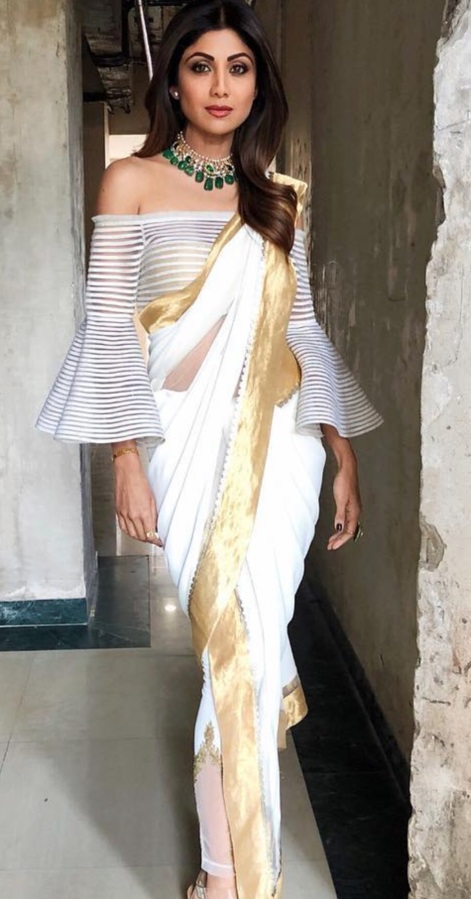 4. LAYER IT WITH A STATEMENT BLAZER/JACKET
If you want to make your traditional sarees fit for the office, blazers and jackets can assist you in turning them into an executive fit. There are numerous options when it comes to blazer or jacket styles and cuts, for instance, cape blazer, printed blazer, single-breasted blazer, sleeveless blazer, and so forth. Here are some of the offbeat blazer styles you can pair with your sarees;
Floral Satin Blazers: Floral prints in satin material are your best bet if you want a vibrant ensemble. Balance the fusion with basic, solid-shaded sarees.
Ankle-Length Jackets: Ankle-length jackets have varied kinds such as angrakha, asymmetrical, empire-line cut, and many more. They suit stunningly with silk sarees and ornamented belts. 
Basic Notch-Collared Blazers: For an utter executive look, western office-wear blazers in Raymond and tweed fabric are perfect for winters.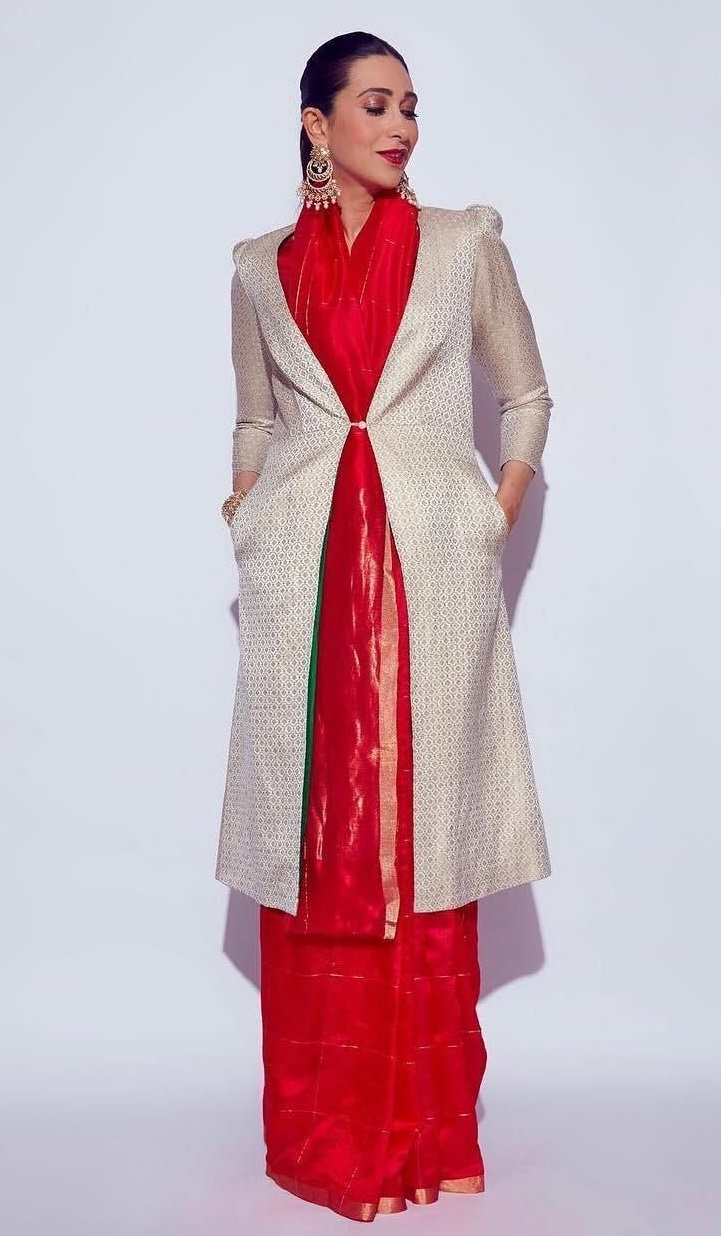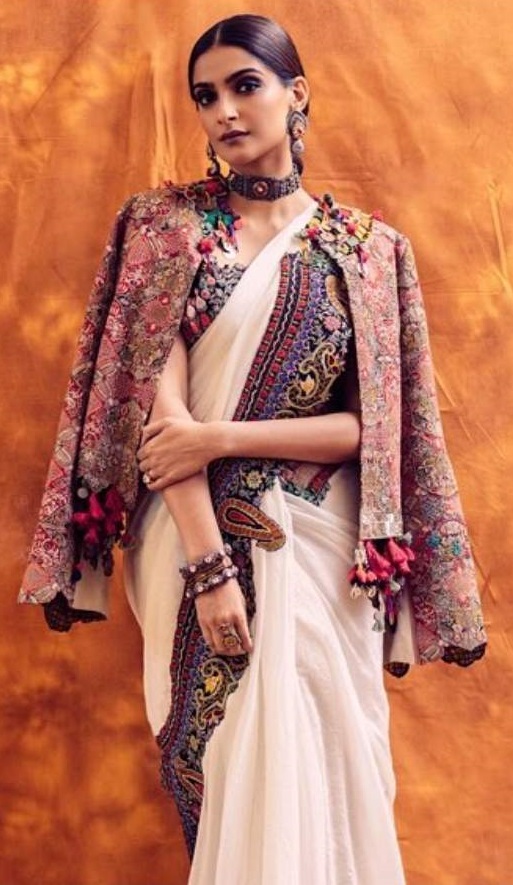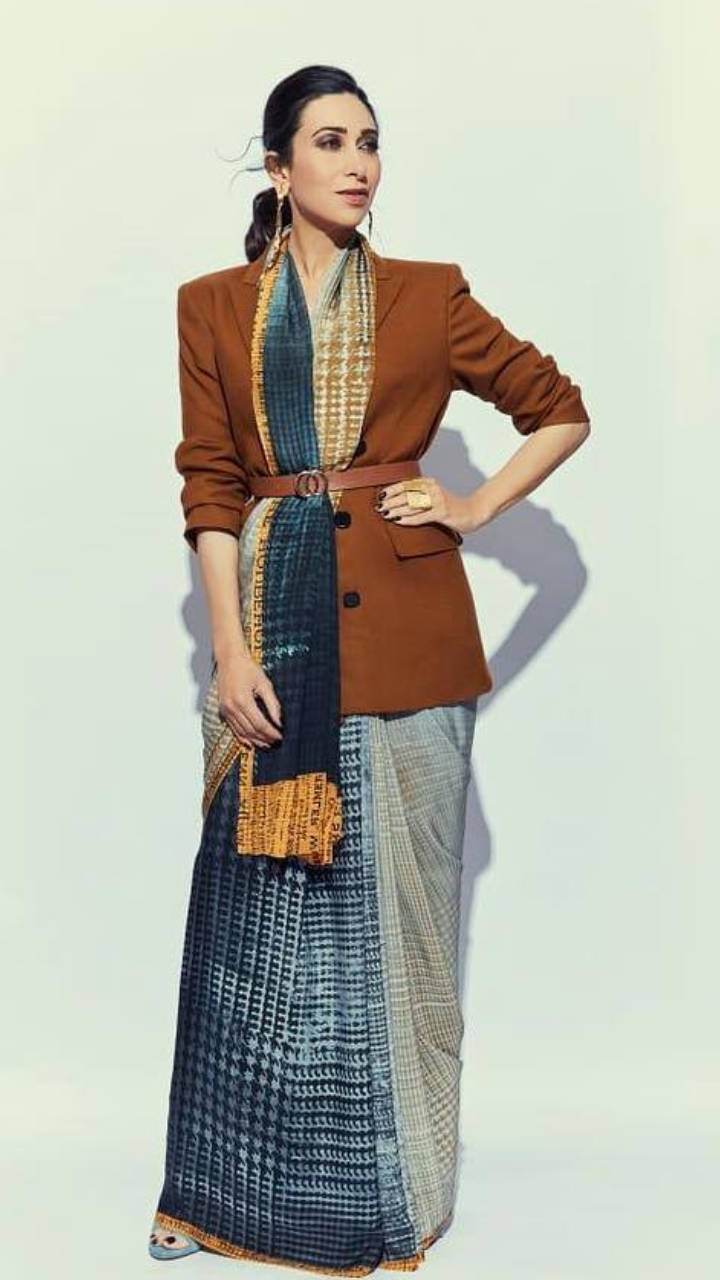 Related Article:-
Categories: Indo western clothing, New Year Celebration Articles, Newarrival Sarees Articles, Oxidized Jewelry, Pakistani dresses Articles, Pakistani Wedding Collection, Partywear Sarees Articles, Saree Drapping Style Articles, Sari Collection Online Articles, Shilpa Shetty Bollywood Dresses Articles, Silk Sarees for Wedding Articles, Silk Sarees Online Articles, Traditional Indian Dresses Articles, Traditional Sarees Articles
Sorry, comments are closed for this item.