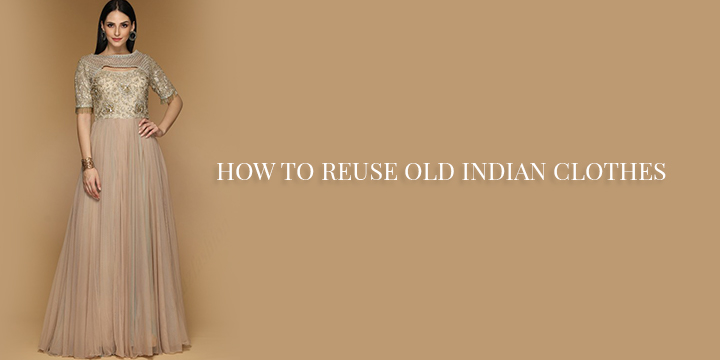 HOW TO REUSE OLD INDIAN CLOTHES
HOW TO REUSE OLD INDIAN CLOTHES
It's quite a humdrum to organize your wardrobe when your old, worn-out clothes have taken up more than half of the space, and you are left oscillated between whether you should keep those garments for "just-in-cases" or donate them right away. While there are some prints or basics that are better off given to charity cases, others are so close to our hearts that we won't mind keeping them forever. The best way to retain the latter half is to put it into creative reuse, which in other words is known as upcycling. Repurposing old clothes, especially Indian attires, is a top-tier approach towards better quality closet as ethnic wear takes around a minimum of 3 meters of fabric and goes up to 9 meters which give ample options for you to create something new out of it. Refashioning old clothes does not only assist you in meeting the ongoing trends but also keeps your savings intact. Listed below are some economical as well trending ideas on how to reuse old Indian clothes.
1. OUT OF A SAREE
A Flared Anarkali Gown: That's the most popular and viable option when it comes to reusing a saree. There are dozens of Anarkali styles that can come out of a saree. The major advantage of repurposing a saree is that it is an unstitched piece of clothing that takes the load off from unfastening or undoing the stitches. You can go for an empire line banarasi Anarkali suit with box pleats assuming that your mom possesses tons of those which neither she is wearing nor anybody else. If you have unused net sarees, you can make a gathered-style Anarkali and add a decorative lace for an added embellishment.
A Traditional Lehenga Skirt: 
A lehenga skirt would be stitched just like the Anarkali, except for the bodice part. If the saree is in fluid material like georgette and net, go for gathering or wrinkle pleating. For stiff fabrics like brocade and tussar silk, choose a box or inverted box pleating method, and lastly, for lustrous fabrics like satin and rayon, make a knife or accordion pleats.
An indo-Western Fit: 
Fusion wear is invading the markets right now because of its offbeat drapes and comfortable styling. If conventional drapery does not fit with your flair, you can always hand-pick a suitable wrap for yourself. To drive into a brand-new indo-western fit, you can go for dhoti-pants with crop-top, jacket-styled trousers suit, tulip pants with a peplum top, and so forth.
2. OUT OF AN ANARKALI
An Effortless Lehenga Choli:
A lehenga choli is the easiest and safest option to reuse an Anarkali gown. If it's an Anarkali that is fastened at or around the midsection, just undo the stitches from that area, whereas if there is no partition then you have to part it yourself. Fasten both the hems with lace for a quality finish.
The Hint of Decorative Trims:
 Decorative items are items that do not have a functional purpose yet are quite important. They help in elevating the monotonous garments and bring a sort of shine and vibrancy to the ensemble. For an Anarkali, you can use plenty of unique and dainty trims that would upraise the attire. For instance, you can redo the back and affix some humongous tassels to it for a statement piece; laces can assist a lot in embellishing an Anarkali like you can stitch it on panels, hemlines, cuffs, and princess lines. You can even use gold-plated chains to use it as an accessory.
The Power of Trending Silhouettes:
 If you're bored of featureless and wearisome structures, then turn them into something eccentric. Currently, high-low cuts, front-slits, and button-down fronts are trending the most. Apart from that, you can scrap old sleeves and replace them with the ones that lean more towards contemporary like balloons and capes in materials like tulle net and organza.
3. OUT OF A LEHENGA CHOLI
The Art of Mix and Match: 
You can make a whole new trio just by doing mix and match. It's a clever way of building a unique composition of balanced fashion and distinct styles. Balanced fashion is an important factor to keep in mind while doing the mix and match. There is always a theory involved be it while choosing the colors for the ensemble or the textures so that it does not interfere with the rhythm of the outfit.
            Reference Article; HOW TO CREATE BALANCE IN YOUR INDIAN ENSEMBLE
The Exquisite Saree-Style: 
A saree-style wrap can impeccably transform the entire look. Be it a fish-tail silhouette or a paneled one, a saree drape always brings out the cultural beauty of the garment. To accomplish this style, make pleats out of your dupatta and tuck it at the back, gently lead it forward and pin it on your shoulder. The cowls that will form on one side will stunningly upraise the attire.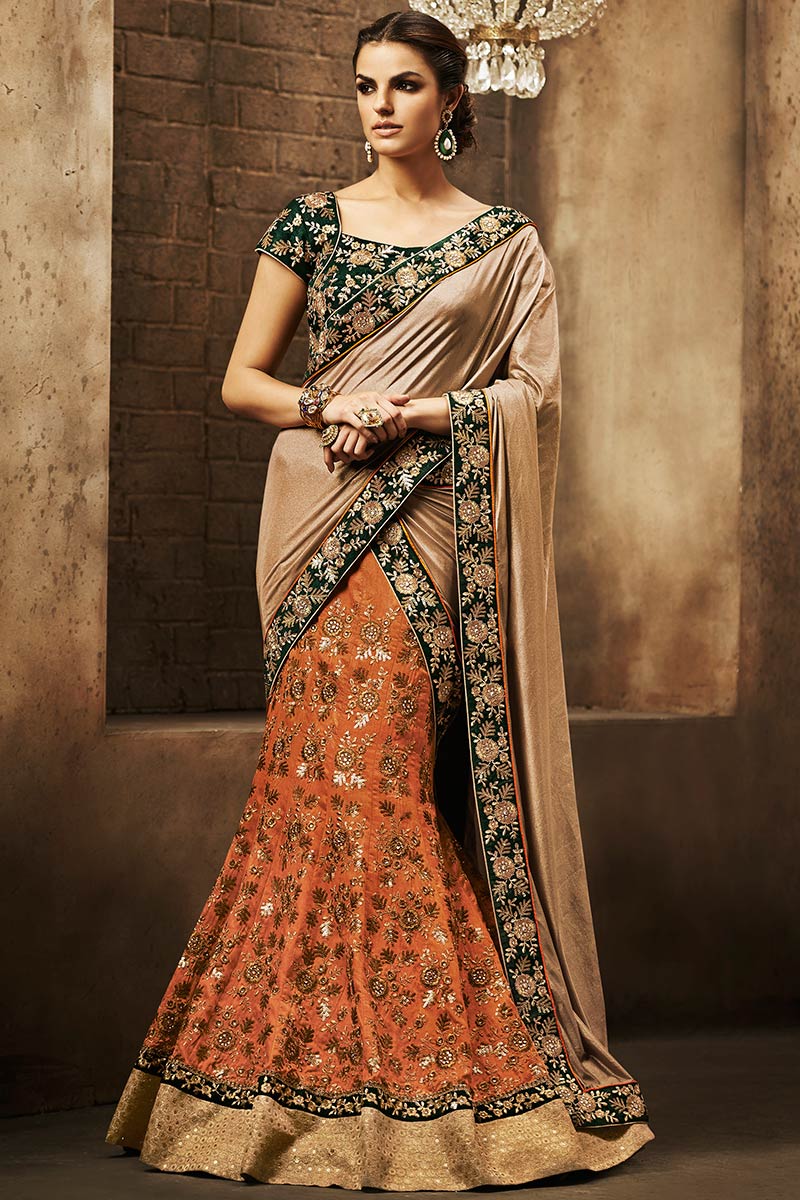 Make It An Anarkali:
 It's exactly the opposite of how Anarkali turns into a lehenga choli. You just have to fasten your blouse to the lehenga skirt, and you're ready to go!
Related Articles:-
Categories: Bridal Makeup, Decorative Jewellery, Diwali Collection, Festival Season, Indian Wedding Collection Articles, Indian Wedding Jewellery Articles, Indian Wedding Lehenga Choli Articles, Indian Wedding Outfits Articles, Indian Wedding Season Articles, Indo western clothing, Lehenga Choli for Weddings & Parties Articles, Newarrival Sarees Articles, Party Gowns Articles, Partywear Sarees Articles, Saree Drapping Style Articles, Sharara suits Articles, Traditional Indian Dresses Articles, Traditional Sarees Articles
Sorry, comments are closed for this item.