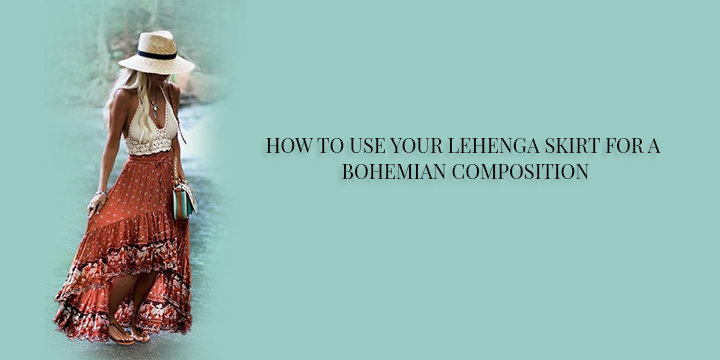 HOW TO USE YOUR LEHENGA SKIRT FOR A BOHEMIAN COMPOSITION
HOW TO USE YOUR LEHENGA SKIRT FOR A BOHEMIAN COMPOSITION
We all know how much we spend on heavy ethnic ensembles, especially the fully-fledged embroidered lehenga cholis that are worth every penny although, once we wear it to a function, we don't feel like wearing it again. One reason can be because we followed a fad and the trend is gone now, the second can be due to our shopaholic-self, who is finding their way to go hunting for a wardrobe refresh. Besides how much we crush on celebrity finery and online hot sellers, we are always restricted by budget, aren't we? This is when bohemian fashion enters. Bohemian clothing is always affordable and chic. It's a way of refashioning old garments with the mode of mix and match, accessorization, drapery, and so forth. The best part is that it will not burn a hole in your pocket. You can invest your utmost creativity and make something brand new and contemporary out of it.
The Lehenga skirt is not just a glamorous one-time wear garment, it is highly versatile and flexible. With the bohemian approach, there are myriad ways to reuse your cast-off lehenga skirts. You can tune it with ongoing trends and admirable shades to get the desired result. Listed below are a few stunning ways how to give a bohemian drift to your traditional lehenga skirt.
1. GIVE IT A DENIM TWIST
Pairing your ethnic wear with denim is the most used and favorable style. You can pick out a heavy vibrant lehenga and pair it with a denim jacket. There are plenty of options available when it comes to denim jackets, for instance, oversized denim jackets that would complement well with white cami tops, waist-length jackets, jackets with appliqué work, and so on. If you don't want to layer your lehenga, go for denim dresses. Noodle-strapped form-fitted dress would couple astonishingly with multi-colored lehengas. As it is bohemian, the outfit won't be completed without the heavy oxidized jewelry. Oxidized chokers and dangling jhumkas will conclude the look perfectly.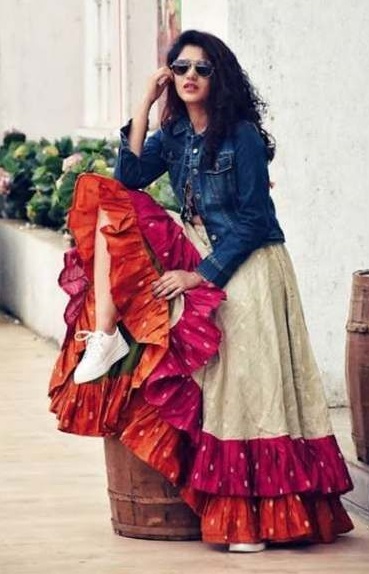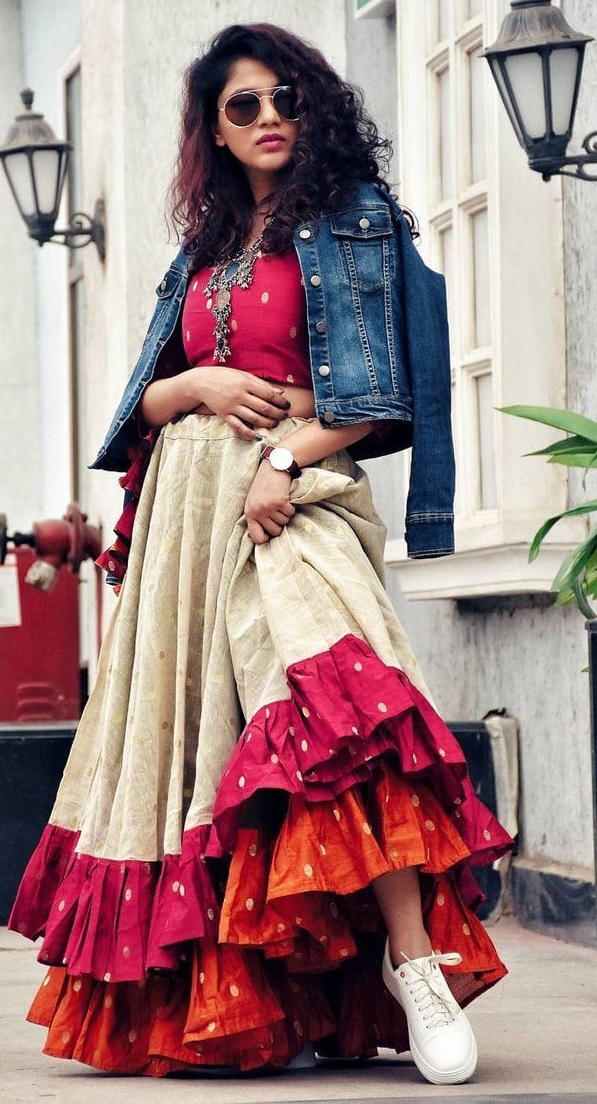 2. GO A BIT DRAMATIC
Bohemian fashion is all about choosing eccentric styles over the accustomed. The amalgamation of unconventional embellishments with the usual silhouettes or vice versa is what makes the boho style so noteworthy. To "bohofy" your lehenga skirt, pair it with a satin or silk shirt. Don't make it monotonous by just adding a formal shirt, a bit of pop-up embroidery, or highlighted beading on the collar, cuffs, or the placket would accentuate the look really well. You can also discard basic or regular shirt sleeves and get exaggerated sleeves tailor-sewed. As the shirt would be three quarterly plain, couple it with a heavily embroidered lehenga skirt to create balance.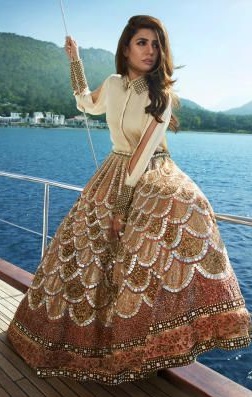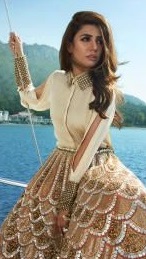 3. SLIT IT AWAY
If you don't want to use your lehenga skirt as it is, then grab your scissors and start chopping! There are tons of ways how you can repurpose your lehenga. One prepossessing method is to give it a slit. Slash and spread according to your comfort and flair and see how a single slit can uplift your outfit. If slits are not included in your style bucket, then you can add multiple slashes with equal gaping and at last, affix a complementary material underneath it. To provide rhythm to your design, pair your brand new skirt with a less revealing blouse. Furthermore, go for print-on-print to create vibrancy and lively energy.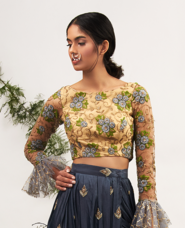 4. CASUAL TEE FOR A TEA MEET
Looking for ways to wear your lehenga skirt on your next date? This is for you. Donning lehengas casually is not that simple. You have to filter the type of lehengas that would go with it. Materials like banarasi silk, brocade, or anything heavily embroidered are a massive negative. Keep your eyes open for the prints and patterns. Soft florals or other botanical prints would go with both festive occasions as well as a casual events. To make it more casual, set it together with casual and regular tees. Add a western belt, leather boots or canvas shoes, fedora, and hoop earrings to make the ensemble more modern and contemporary. Graphic or text t-shirts are really in these days. So, go ahead and buy those budget-friendly tees to astonish everyone around you.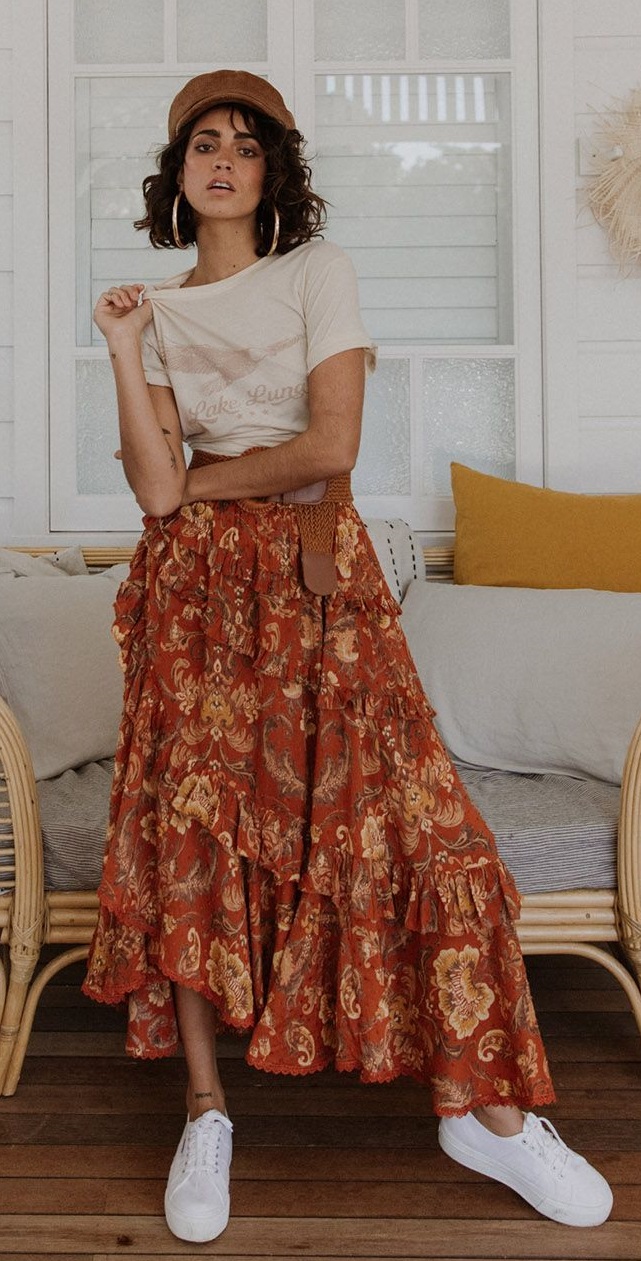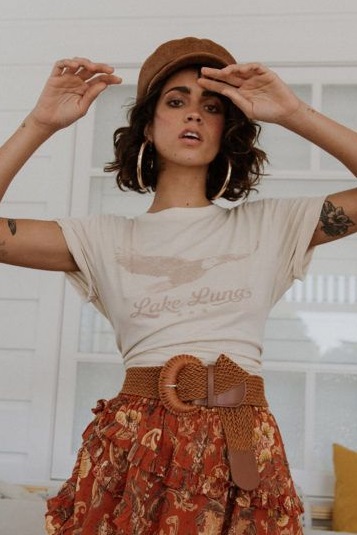 5. THE PRINT-CROCHET DUO
Now that we have already dived into prints, here is another gorgeous way to pair your printed lehengas. You will find several crochet designs put together with detailed printed skirts when you will search for bohemian designs. Boho and crochet somehow go hand in hand. The level at which crochet tops transform the entire look is impeccable. They even compliment perfectly all kinds of Indian prints. To accentuate the outfit, invest in pastel and white beaded oxidized jewelry. Chains with a feather or moon pendants will also look astounding. If you want to play with the lehenga skirt, here are a few suggestions for you to ponder upon. (a) An asymmetrical hem would bring out a gorgeous trail cut. (b) You can paste mirrors to elevate it. (c)Tassels dangling from the waistline will invite extra beauty.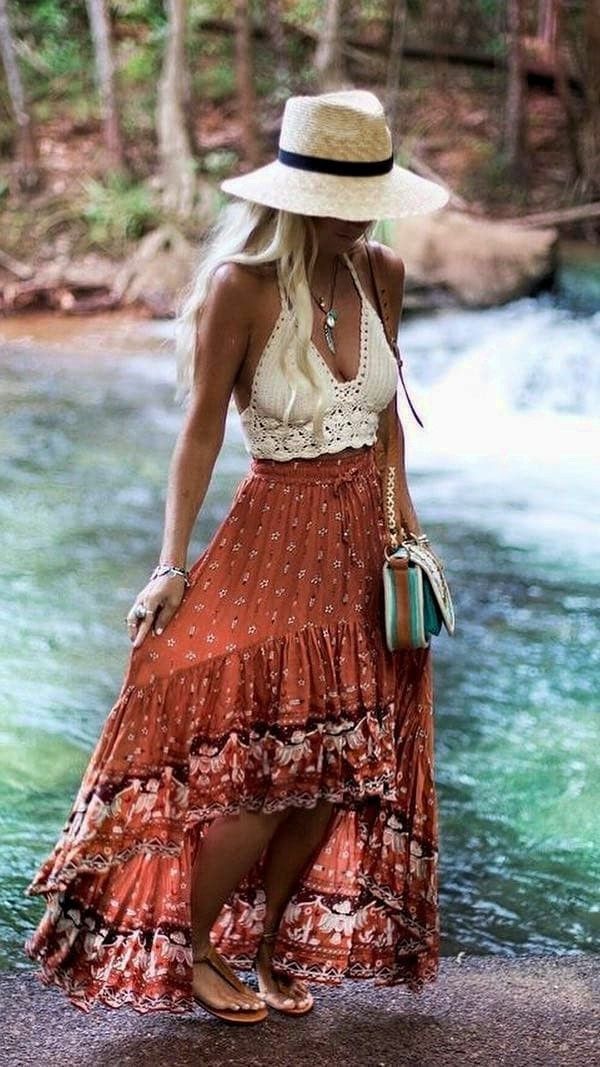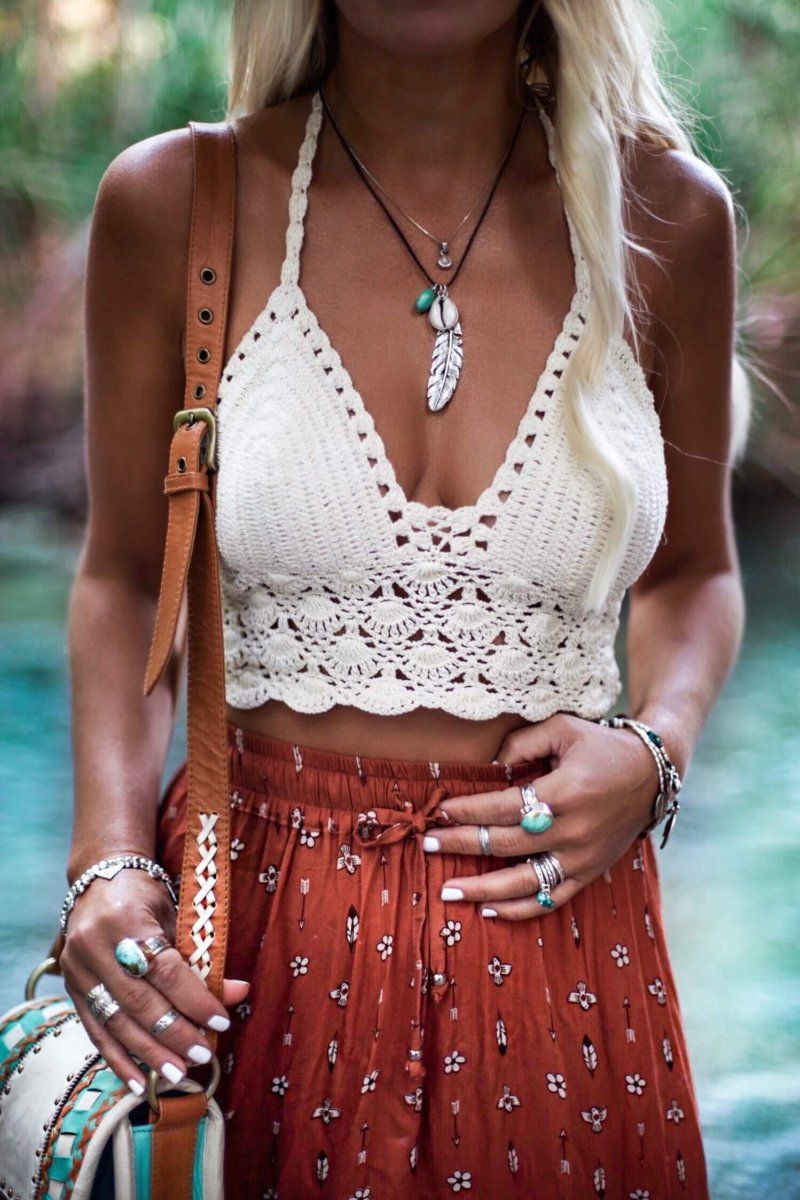 Related Articles:-
Categories: Decorative Jewellery, Different prints, Diwali Collection, Festival Season, Indo western clothing, Oxidized Jewelry, Printed Clothing, Printed lehengas, Traditional Indian Dresses Articles
Sorry, comments are closed for this item.