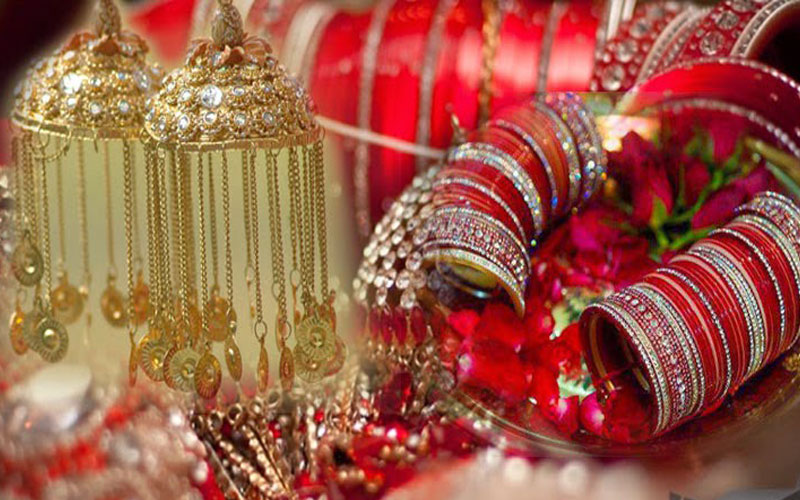 Indian Wedding Dresses – Tips for Bride
At the moments, when you have chosen your life partner and you both have chosen a date to get married. What is left? Nothing, you must be on cloud nine, thinking that you are the luckiest person in the world to have all this. So, now when you have done with all the important things, let us ping you up with some more essential choices you still left to make.
Have you decided about the dresses you are going to wear on the marriage or which color it has to be. You must have decided the venue, the destination, because women plans four years before what they are going to do, women must planned the venue of their marriage no matter if they have not find their partners. But, what would be the wedding wear dress according to the destination.

Andaaz Fashion has always lived up to your expectation while selling wedding wear sarees, wedding bridal sarees, wedding wear salwar kameez, bridal salwar kameez and these wedding outfits can be wore by every bride, punjabi, gujarati, Bengali and all. We even have collection for Punjabi bridal salwar kameez, bengali wedding sarees and many more.
On this collection is very exclusive, and based on Indian wedding dresses, where we have included sikh weddings dresses, Bengali wedding dresses, Gujarati wedding dresses, Muslim wedding dresses, also, Christian wedding dresses, we also have wedding wear lehenga choli, bridal special lehenga choli. And the most exotic part of this collection is, it is just not about wedding dresses, we have got some bridal tips, special trips how to manage this wedding week, what to wear what to not, something about health too.
A complete tips book for brides of this year. So, first of all just look for the option, we have got some really beautiful lehenga, with heavy work, like kasab embroidery, brasso work in all over the lehenga, and we know some of you posses to wear salwar kameez and some of you posses to wear sarees, so we have the same fabric and same work, and designs on different n things, so that non e of you regrets on their own decision.
We most attracting thing is today gowns, we have a numerous number of gowns, which all women love to wear in the official reception or cocktails and family reception too. So, look for the options, show these collections to your friends and family then decide what would suit the best, never worry of size, we have always provided the best sizes, what suits whom.
Request a call to us, and we would tell you the best what size, what color, and what fabric would suit you the best after acknowledging your preferences. So, hurry up, see these thousands of option and order online. And before you leave, as we have made a commitment we would give the best tips for brides, these tips are inspired by then famous marriage planner, make artist and all.

1. If you preferring bright colors like orange, maroon, yellow or red on your wedding outfit, the contrast with these colors should be golden, golden brightens these colors and make everyone beautiful, whether it is you jewelries, or eye shadow or other things should be in golden only.

2. If you are preferring dark colors like blue, magenta, purple or move on your wedding dress whether lehenga, or gown or sarees the contrast with these colors should be silver, with these colors silver suits the best.

3. Jewelries are always been important to us whether it was anyone's marriage or our marriage. So, we should wear ornaments matching toy our dress. Also, if you are wearing heavy neck-piece the size of earring should be little small, if you are wearing light neck-piece, heavy and tangle earrings would look best with them,

So, that all, we will be back with new bridal collections and some happy tips about brides, till then keep shopping Andaaz Fashion and be glorious. Thank you for visiting our sites.
CLICK HERE TO SEE MORE COLLECTION @ INDIAN WEDDING CLOTHES ONLINE STORE USA, AUSTRALIA, UAE, CANADA
Categories: Indian Wedding Outfits Articles