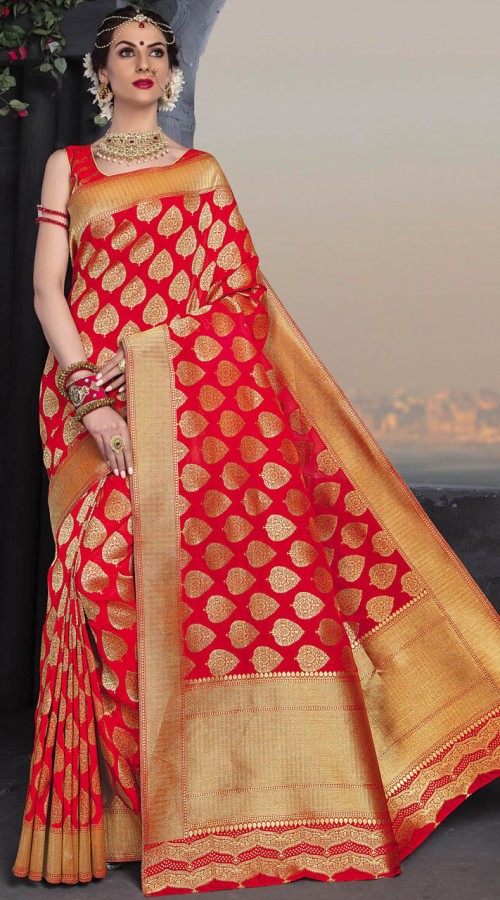 Latest Karwa Chauth Saree Collection
Latest Karwa Chauth Saree Collection Online
In India, festivals are known for their tradition and beautiful attires. Karwa Chauth is one of the principal Hindu festivals. It is a pious fasting ritual performed by all Hindu married women who seek their husbands' longevity, prosperity, and well-being. Every married Hindu woman celebrates this day with great dedication.
This is very famous in northern and western parts of India, mainly in Punjab, Haryana, Gujarat, Rajasthan, and Uttar Pradesh. On this day, women adorn bridal makeup and dress up beautifully, mostly in bridal colors. So, it is obvious to look extremely beautiful on this day. Women also need to ensure that their appearance is perfect from head to toe.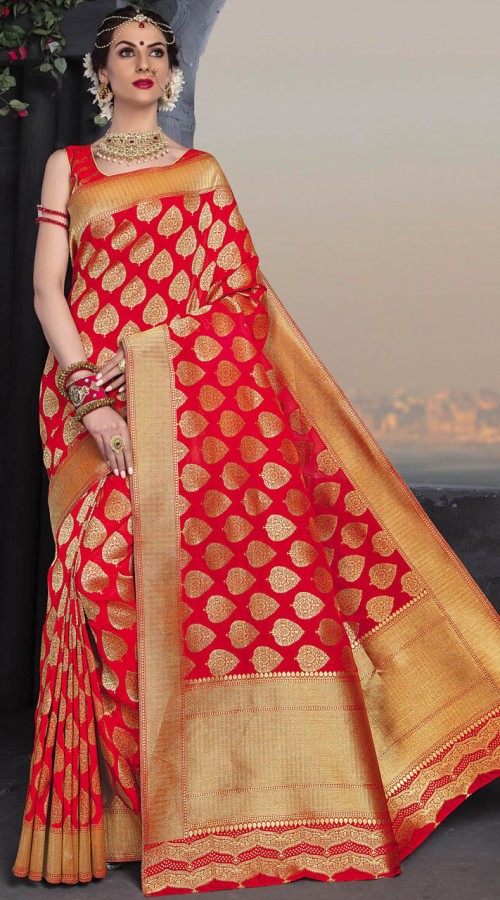 I know, ladies; you are so confused about what to wear that will make you look lovely as a bride. Karwa Chauth is all about looking and feeling good. So, it is essential to pick out your outfit with proper accessories. On Karwa Chauth, most women prefer to wear a saree, and the saree must be extraordinary that has the potential to make you look like a beautiful bride.
The traditional saree will work perfectly with your look on this auspicious day. So ladies, make this year's Karwa Chauth more special by choosing an innovative saree and color combination. Here are some ideas that will make your Karwa Chauth extremely special.

At Andaaz Fashion, you can find an exclusive range of Karwa Chauth sarees. We have included traditional and bridal sarees in various colors, including yellow, red, maroon, green, etc. we have brought designer sarees in different fabric materials such as Georgette, art silk, chiffon, crepe, net, etc. You can experience here stress-free shopping.
These sarees are heavily embellished with zari, stones, sequins, and beads which adds to their beauty. You can further accessorize them with the latest designer jewelry and clutch purses. Our Andaaz Team ensures you the best quality of the products.
Karwa Chauth is an auspicious occasion for an Indian married woman, and on this particular day, she yearns to look incredibly gorgeous. I am here to share some tips to look exceptionally beautiful and stunning.

Traditional colors are essential for Karwachauth. Give your conventional red a new style by blending it with a glittery saree. This will help you retain your classic quest and become the star of the day.
Pick out a saree with heavy work that will give you a shimmery and rich look.

Make a good combination, such as red or pink. Pink makes you pretty, while red keeps the suhagan charm going on. These two colors together never go wrong and make you look elegant.
Avoid the traditional colors such as red and maroon this year; choose the trending colors presently. You can try different colors such as hot pink, glacier grey, aquamarine blue, Lucite green, toasty almond, peach, orange, baby pink, or bright yellow.

Do experiments with colors so that you can look different from others. A cream saree with pink can do wonders. A saree like this will make you look like a diva.
Choose a pure net saree. No matter what color you choose, you will steal the show.
Choose an exquisite embroidered saree, wear it with pearl jewelry, and avoid too many accessories. A navy blue saree will do magic to your appearance pair it with beautiful accessories.

Saree is the most sensual attire of a woman, which makes her look blissfully beautiful. Some sarees are specially designed for special occasions, such as Karwa Chauth. The first one is Banarasi Saree. Banarasi saree is the favorite of every Indian woman. It gives you a rich and regal look. Banarasi saree is famous in Bollywood also.
The next one is the most ravishing Bhagalpuri silk saree. There is no denying that bhagalpuri sarees are always in demand and appreciated by women of all ages due to their graceful appearance. Nothing beats the glamour and style that a bhagalpuri saree can bring. If you plan to wear a banarasi saree this Karwa Chauth, then Andaaz online store is the perfect destination to show the best in you.
Next but not least is the net saree. It is considered the most fascinating saree. A net saree always looks stylish and good. If you want a modern and elegant look at this Karwa Chauth, then a net saree is perfect. You can wear a kosa saree this Karwa Chauth. A kosa saree gives you a rich and lavish look. A Chiffon saree is known as the most elegant saree among women. Chiffon sarees come in various colors and patterns. It is easy to handle and light in weight.
We are celebrating Karwa Chauth with you and making the best of you. So ladies, pick the best one from Andaaz Fashion and look exceptionally beautiful this Karwa Chauth. To further accessorize them, you can find the latest designer jewelry and add an extra charm to your beauty. Pick the best saree and accessories and make this Karwa Chauth unforgettable for you. Enjoy the best deals and discounts at Andaaz Fashion, and get ready to look like a queen at this Karwa Chauth festival.
CHECK OUT OUR LATEST COLLECTION @ KARWA CHAUTH SAREES ONLINE STORE USA, AUSTRALIA, UAE, CANADA
Categories: Uncategorized