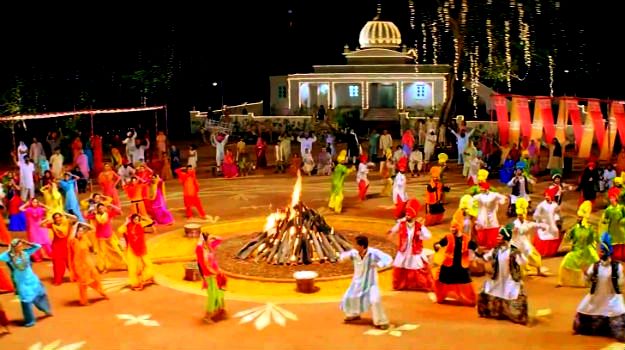 Lohri celebration in India
In India, there is a festival for everything and Lohri is one of them. Lohri is particularly an agricultural festival of Punjabis. Lohri festival is filled with merry making and celebrated by Punjabis with a great enthusiasm and gusto. Lohri is the most celebrated festival in Punjab which comes on 13th of January every year.
Lohri is also celebrated in the Canada which have a predominant Punjabi population. Lohri festival denotes the last of the coldest days of winter. After Lohri festival, the temperature starts gradually rising. Lohri festival is celebrated outdoor. A bonfire is lit and friends and relatives gather out. If there is a new birth of a baby or a marriage then Lohri festival is celebrated with a great passion and gusto.
Singing and dancing is an indispensable part of the occasion. People wear vibrant outfits mainly Patiala Salwar suit. Patiala Salwar Suits are famous for its rich fabrics and colors. Women love to wear bright colored Patiala Salwar Suits on the Lohri festival. People dance the 'Bhangra' and 'Gidda' to the beat of Dhol.
The main delicacies for the Lohri festival are Sarson ka saag with Makki di roti, Gajak and moongfali. On this day, people lit a bonfire and after so much dance and sing, everyone eats the delicious dinner together. During this time the farmers undergoes for a rest period as the main crop Wheat is sown in October and harvested in March or April. A prayer is also made to the Agni and Prasad is contributed.
The Prasad includes gajak, gur, moongfali, and popcorn. Lohri is celebrated in throughout the country as a harvest but in various forms. It is celebrated in South as Pongal, in Andhra Pradesh as Bhogi, in central parts of the country as Sankranti. But the motive behind celebrating this festival throughout the country is same i.e. end of winter and harvesting festival.

As we see, Patiala Salwar Kameez is a typical Lohri outfit and you can find an exclusive range of Punjabi Suit with latest designer jewelry. Patiala Salwar Suits comes in very vibrant colors and beautiful handiwork. Patiala Salwar Kameez is very comfortable to wear and great to own. So a Patiala Suit is an ideal dress for upcoming Lohri Party.
Lehenga and long kurti are also preferred by women for Lohri celebration. Newlyweds are advised to wear some bright hues to be the center of attraction. The most striking accessory that every Punjabi girl wants to flaunt is 'Paranda'. It is a colorful hair accessory and makes you look more beautiful. The women wear a Paranda when they plait their hair. To finish the overall look pair up the beautiful Patiala Salwar Suit with a striking Paranda and latest designer Jhumkas. You are all set to spread the Ethno style this Lohri.
CLICK HERE TO SEE MORE COLLECTION @ PATIALA SUIT ONLINE STORE USA, AUSTRALIA, UAE, CANADA
Categories: Lohri Celebration Articles