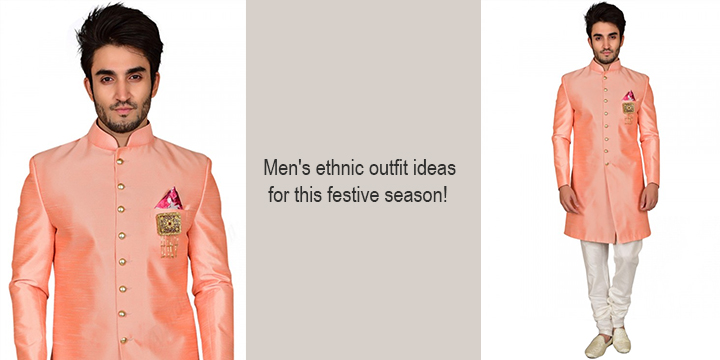 Men's ethnic outfit ideas for this festive season!  
Men's ethnic outfit ideas for this festive season!
With the festive season being around the globe, it can be a pretty busy time for not only women but also men. There are several options in women's clothing, but men's clothing is comparatively less versatile, making their shopping experience more complex. With the changing trends, the opportunities in men's attire are increasing. Many styles are coming back in trend, and new ones are making their way, which means that you can quickly go for different embellishments according to your preference or the event and function you will attend. A little confused with all the choices? Let us tell you that men in recent years are going for Nehru Jackets, Kurta Pajama, Achkan kurtas, and many various styles. Let's have a look at it.
ACHKAN STYLE KURTA
Several options are now available in the market, but the classic achkan style is still our favorite. It has been a timeless classic in trend and style since early times. Achkan-style kurtas are usually closed from the center and similar to sherwanis look-wise. We typically wear Achkan with only churidar or dhoti. We can wear these for formal as well as informal events. You can go for the type of work depending on the event you are attending. You can go for plain achkan-style kurtas with contrasting or matching churidar for ethnic-themed parties. In contrast, you can wear achkan kurtas with heavy detailing and intricate designs to your wedding and Eid celebrations. You can finish it up by pairing it with matching jutties and you are all set.
BANDHGALA WAISTCOAT
Another one that is a part of timeless fashion is Bandhgala waistcoats. Bandhgala kurta is trendy, but recently we have seen an increase in Bandhgala style waistcoats. These coats are similar to Nehru jackets and have been in trend. They usually have a front opening and a closed collar, the reason why it's called 'bandhgala.' You can pair these waistcoats with a simple kurta and churidar while going for a heavily embroidered waistcoat. To finish the look you can go for kolapuri jutties as well.
ANGARKHA STYLE KURTA
Angarkha style kurta is a form of long dress that men and women wear. It has a side opening tied with strings that give the kurta a unique look while being comfortable. We can wear these kurtas casually or informally rather than formally. They usually one in different patterns as well as simple designs. Generally, these kurtas have a left pocket traditionally styled with a broach to accessorize the outfit. These styles of kurtas go best with dhoti or straight Churidars, and jutties help enhance the entire look altogether.
PATHANI SUITS
Pathani suits, if we wear them correctly, are one of the most unique and intelligent-looking outfits for men. These suits are very similar to our standard kurta pajamas. The only significant difference is that the lower (salwar) has more folds, whereas pajamas are with a straight fit. These suits are famous for notable men in formal wear, and they are also wearing them on special occasions such as some major festivals and marriages. They also have small pockets to add to the look. They look really well-coordinated with a pair of Patiala jutties Doesn't it look great?
Related Articles:-
Categories: Diwali Collection, Festival Season, Indian Wedding Collection Articles, Indian Wedding Outfits Articles, Indian Wedding Season Articles, Indian Wedding Shopping Tips Articles, Kurta Payjama for Men Articles, Men's Kurta Payjama Articles, Mens Traditional Wear Articles, Traditional Indian Dresses Articles
Sorry, comments are closed for this item.