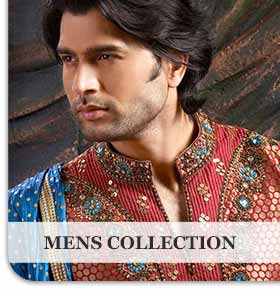 Men's Kurta Pajama
Fashion is not only associated with women only but also men. We say men have nothing to do with fashion and style but this is a myth. Men are also so choosy like women. As we know, Indian dresses are associated with Indian rich culture and tradition. Indian outfits are famous around the world for its rich fabric and embellishment. So, Indian outfits have an important position among men and women.

Today, fashion provides many options to modern men to dress in a fashionable way to look tall, dark and sharp. Kurta Pajama is considered as an important part of men's attire without which no dressing attire can be imagined. Kurta Pajama is generally full sleeves and a light embroidered outfit of men. Kurta Pajama is known as the most comfortable outfit of men.
A kurta Pajama is generally made with very comfortable fabric such as, cotton, silk, terracotta, etc. which add extra comforts to men. Kurta pajama suits on every body type and age. You can wear it on any festival, wedding, party and in college or work places. In short, a kurta Pajama is all in one outfit for men that offer them and is perfect for both formal and informal occasion. You can wear a kurta with jeans, trouser, cargo, etc to look different.
Today, men wear kurta on various official meetings and interviews. Men's kurta is usually is a long and loose shirt almost reaching the knees with either heavy or light embroidery with a Pajama, a light weighted loose trouser. A kurta Pajama gives a comfortable and ethnic look to the wearer and is generally worn during ceremonies and festivals.

Designers are experimenting a lot with men's kurta Pajama in terms of fabrics, design and color these days. Earlier, kurta Pajama was considered as old or very traditional outfit but with the numerous interventions and experiments of designers, kurta Pajama is now is worn not only in India but also in abroad. With the rapid increase of the globalization, indo western style is getting very popular these days.
The influence of contemporary world fashion on the Indian ethnic attire is so tremendous that many people across the world have developed liking for this ethnic voguish style. Bandi sets and pathani set style are getting so popular these days. Bandi set and pathani style kurta Pajama add to the elegance of the young men and perfect for wedding ceremonies and festival celebration.
When it comes to men's ethnic outfit then it is impossible not to mention sherwani. Sherwani is another version of kurta Pajama and known as the most luxurious men's ethnic outfit. A Sherwani has an extravagant embroidery and embellishment of zari, sequins, stones, beads, etc. a sherwani gives the wearer a rich and regal look on the special occasion.
Sherwani is usually worn by groom in Indian wedding. Nehru jacket style kurta Pajama also has an essential space in Indian men's ethnic wear. Nehru jacket style kurta Pajama is generally worn on a formal occasion as it has that stately appeal which suits perfectly the purpose of occasion. Kurta Pajama is not only popular among Indian men but also foreigners. Westerns who visit India for tourism love to carry kurta Pajama with them.
Men can make style statement by pairing kurta with denims and a blazer for a casual look or a churidar pajama for a traditional look. Kurta can be paired with Nehru jacket and waist coat. You can pair up it with some accessories such as a gold bracelet, gold chain and kolhapuri footwear for a handsome look. Simple matches of trousers with these kurta for men look elegant and stylish. Kurta Pajama gives traditional as well as rich look to the wearer. We have seen many bollywood celebrities wear these kurta Pajama on the festive occasion as well as in their movies.

At Andaaz fashion, we have an exclusive range from traditional simple kurta Pajama to the embellished one. If you are convinced with the sheer richness of the kurta Pajama then the best options for you are available at one and only Andaaz fashion where you can get an enormous variety of elegant kurta Pajama. Here, you can choose from various fabrics, colors, patterns and designs. Add fabulous and outstanding ethnic wear collection to your stylish wardrobe.
At Andaaz fashion, we have a wide collection of men's ethnic kurta Pajama perfect for formal occasion such as office gathering or an interview and informal occasion such as festival, wedding, pooja ceremony, etc. At Andaaz fashion, you can get an elegant kurta Pajama for you and the whole family at very exciting prices. We ensure the best quality of the product and a qualitative shopping experience

Categories: Kurta Payjama for Men Articles, Men's Kurta Payjama Articles