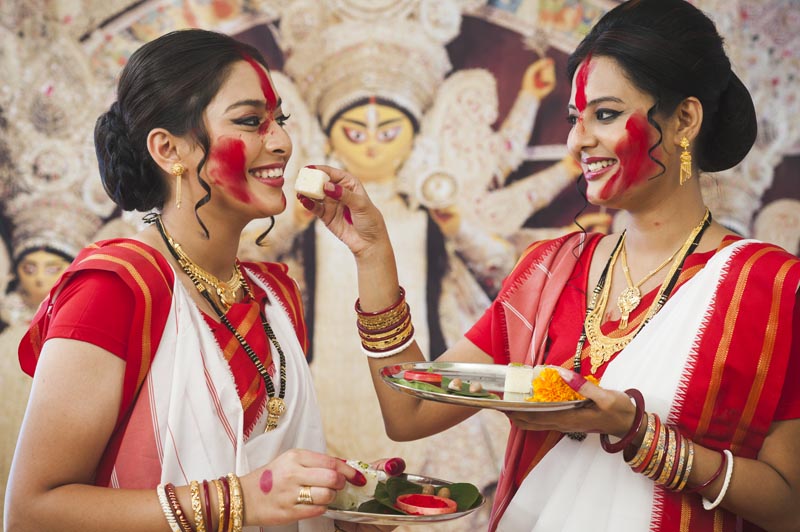 Navratri Dresses – Enjoy this durga pooja with decent collection 2021
Navratri or durga puja is the same thing, and most important festival among worldwide, as we all know India is such a diverse country no matter which festival comes under which religion we all live to celebrate them with so our heart. Since Bengali is the most sixth speaking language all over the world, people intend to believe in Bengali lovers in the worldwide waited for this durga puja occasion.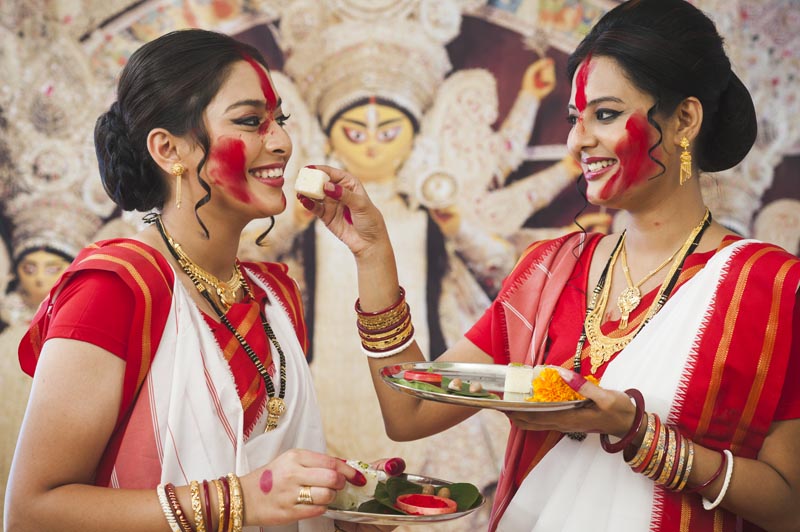 So, the preparation of navratri and durga puja must be very obvious, what to wear, where to go. We have made this collection with respect to every rituals and traditions. For navratri celebrators we have ghagra choli, gujarati lehenga, and many perfect attires for navratri, when it is comes traditions we do not want compromise with anything, whether it is color or it style, considering all these we have got this lovely navratri and durga puja celebration, wearing red during these event are very aspiring.
Durga puja sarees with red borders and red puffed blouse is the most common and important warring of this festival. But, this common and important desired has turned by our experts permanently.
We have worked on these navratri sarees, navratri lehenga choli, navratri salwar kameez, Bengali saree in such a way that these attires are rooted with culture and tradition. This is the season where everyone would want to.
Look more pretty, updated to fashion, everyone wants to make their this festive season memorable as you want to. But how you want to make your events and occasion more special is up to you. And that up to you is by sensibly choosing us.
We do not only offer ethnic wears or authentic sarees and salwar suits or lehenga we have also arranged the best Anglo-Indian dresses which goes with the tradition as well as the new fashion.
You must have seen how big star like bipasha basu, kajol, rani mukerji and many other big stars celebrating durga puja, they are the best example of modernity and traditional.
Don't just let these festival days go like ordinary days. Try to be innovative, enjoy yourself your money and time on and for yourself too. Festivals are been made for this only, airbag no matter people are how much busy, no matter where have they been they will come home, meet friends and family and explore your life.
To live a better lifestyle, clothing is the most and first important thing to do. So, don't miss these type of bumper sales and offering of women outfits.

So don't think so much, just look for the choices and place multiple orders of these lovely durga puja and navratri special women outfits which includes banarasi sarees, Bengali silk sarees, gujarati ghagra cholis, south Indian silk sarees, tasar salwar suit, brasso work salwar, sarees and many many other outfits, so just have a look and enjoy wearing Andaaz Fashion and be glorious.
CHECK OUT OUR LATEST COLLECTION @ NAVRATRI DRESSES ONLINE STORE USA, AUSTRALIA, UAE, CANADA
Categories: Uncategorized