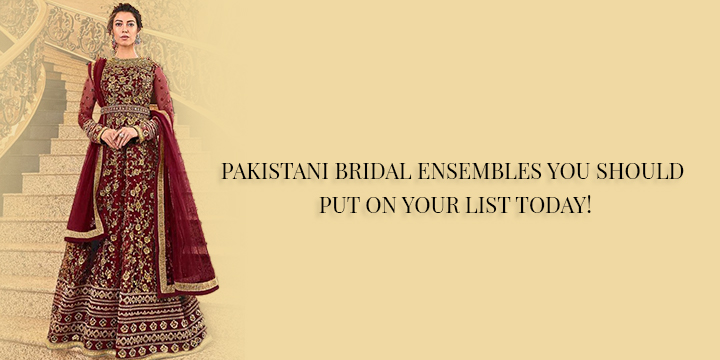 PAKISTANI BRIDAL ENSEMBLES YOU SHOULD PUT ON YOUR LIST TODAY!
PAKISTANI BRIDAL ENSEMBLES YOU SHOULD PUT ON YOUR LIST TODAY!
Pakistan bridal ensembles are a top-tier inspiration for every bride-to-be all over the globe. The country is a possessor of most heavenly silhouettes, followed by heartwarming color palettes and a regal set of jewelry. As a bride, there is always a dilemma regarding which style to hand-pick from oodles of elegant and bewitching attires. It's not just about the flair, there are certainly other factors to consider before having your heart set on one outfit, some of which are;
Body Type: All the elements of the outfit you pick should flatter your body type. For instance, if you're petite, choose open necklines, flared sleeves, and exaggerated gathers.
Reference Link: HOW TO CHOOSE BRIDAL LEHENGA ACCORDING TO YOUR BODY TYPE
Trends: Stay abreast with the colors, cuts, and styles that are trending at that moment.
Season: It's indispensable to look out for the season your wedlock falls in as you must put your comfort in the high-priority section as well.
Listed below are some of the best Pakistani bridal picks that you should definitely check out for myriad oh-so-good jiffs;
1. BOLD RED ANARKALI ENSEMBLE
Anarkali suits are an amazing way to get an out-and-out twirl. It's quite eathful, and there is end number of ways to customize it, like to get an extreme flare, going for layered or empire-line Anarkali suits would be a good case in point.  For a regal appearance, pleat and tuck your dupatta on one shoulder. You can also add an embroidered belt for a contemporary touch to your traditional mix. If necklaces aren't your thing, then keep the neckline heavily adorned and pair the outfit with hefty earrings. Set the whole outfit-jewelry duo with high definition bridal makeup, which would involve utter glitz and glamour for a divine composition.
2. FRILLED SHARARA ENSEMBLE
Sharara suits can be just as suitable for a bride. They are a versatile three-piece set of clothing that includes a dupatta for a gentle drape, a kurta whose length is usually above the knees, and wide-leg gathered pants that are usually made out of a fluid fabric like georgette. If you're into dark tones, burgundy and blue would be the perfect choices, whereas if your heart reaches out for the light hues, then plump for pastels like carnation pink, mint green, sky blue, and so forth. Two dramatic fashion elements cannot work well together. For example, if the sleeves are frilled, then go for the basic necklines, and with regular necklines, pick out heavy neckpieces. Coming to the makeup, as the outfit is already quite exaggerated, complementing it with a natural dewy look would help in creating balance.
3. TWO-TONED LEHENGA ENSEMBLE
Two-toned lehengas are truly in vogue these days. They know how to attract utmost attraction with their dual vibrancy.  The arduous part is to pick out those two hues that would match each other just right and keep up with the harmony of the attire as well. To do that, you can either go for contrasts like orange with pink and red with beige, or monochromes such as turquoise with mint, and creamy with bubblegum. It's better to change the embroidery in accordance with the color for a fetching effect. Try to downplay the saturation of the ensemble with light jewelry and natural makeup.
4. PASTEL LEHENGA ENSEMBLE
Pastel colors, especially for bridal lehenga cholis, are way too trending right now. They fall in the category of pale colors that don't possess a high amount of saturation. Pastels forge a feminine touch through their soothing effect on the beholders. As a bride, if you're going for a light color palette, then go heavy on the embellishment segment. Embroideries such as zari and gotta Patti will enhance the outfit with their golden charm. To elevate it a bit more, hand-pick statement dangling tassels or a vibrant set of jewelry. At last, conclude the ensemble with smokey eyes and nude lips.
5. WHITE FLORAL LEHENGA ENSEMBLE
White is an unblended symbolism of elegance and sophistication, whereas flowers represent eternal love and purity. The amalgamation of such strong imageries can bring out a beguiling outcome. That's probably the reason why brides sough-after white floral lehengas. For a pure minimalist look, you can choose ivory white lace material and pair it with the gold jewelry, while on the contrary, you can pop up the white base with the assistance of colorful silk threads. Boost the entire outfit with a non-white dupatta or statement jewelry followed by traditional bridal makeup.
6. RICH BRIDAL SAREE ENSEMBLE
Saree is the most timeless and traditional piece of clothing out of all. There are shed-load ways on how to drape a saree. As a bride, you can anytime go for traditional broad-border zari weaved with the beautiful golden threads of zari. If you are picking out a lightweight saree, then it's best to set it together with heavy ornaments like long pearl chains and other contrasting necklaces. Complete the ensemble with the help of regular bold bridal makeup and that extremely contagious smile. 
Related Articles:-
Categories: Decorative Jewellery, Festival Season, Lehenga Choli for Weddings & Parties Articles, Pakistani dresses Articles, Pakistani Wedding Collection, Pakistani Wedding Outfits Aricles, Partywear Sarees Articles, Sangeet Dresses Articles, Sharara suits Articles, Traditional Sarees Articles
Sorry, comments are closed for this item.