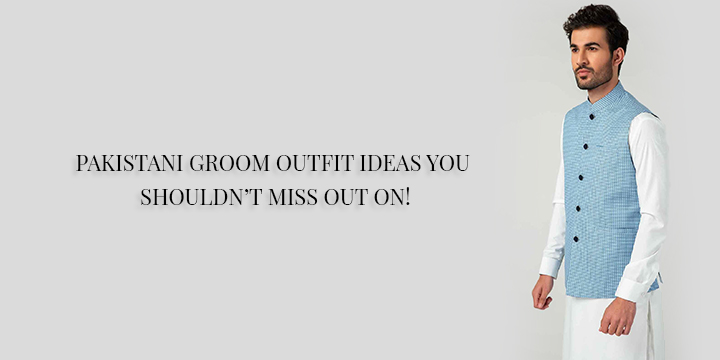 PAKISTANI GROOM OUTFIT IDEAS YOU SHOULDN'T MISS OUT ON!
PAKISTANI GROOM OUTFIT IDEAS YOU SHOULDN'T MISS OUT ON!
Pakistani weddings are one of the most sophisticated and elegant ceremonies one can captivate. It is a beautiful realm with a unique composition of ostentatious jewelry and soft drapery. There are ample silhouette variants and color combinations you can see in bridal attires, but when it comes to the groom's finery, you don't get as many choices. Although, with new cuts coming out now and then, there is always a drawer stored for modifications and customization. So, keeping abreast with what is revolving around the fashion industry would be a good call. Listed below are some stunning groom attires that are not only trending but also capturing tons of hearts;
1. KURTAS WITH A TINGE OF WESTERN
Western culture is undoubtedly entering the traditional markets. They bring with them not just comfort but also an unordinary change in the conventional approach. So, if sherwanis seem to be too traditional and hefty for you, go for noteworthy wedding wear kurtas with a dainty flavor of urbanity. To not appear inordinately casual, you can go for heavy material like raw silk. There are certain accessories or decorative trims that can go with your kurta just right, such as magnificent buttons, traditional pocket squares, or cufflinks. Given below are some ways how to westernize the look;
Change the Silhouette: Instead of rooting for straight-cut hemlines, choose contemporary cuts such as asymmetrical, cowl, or high-low.
Change the Pattern: Traditional patterns like Ajrak are highly detailed, whereas western patterns such as chevron and checkered are noncomplex. So, if intricacy isn't your flair, then start researching basic western patterns. You can also combine two or more patterns to get those heads to turn.
Change the Style: Styles like shoulder pleats, cowl drapes, sunray pleats, and so forth can give a modish shift to your traditional ensemble.
2. STATEMENT STOLES TO POP UP THE LOOK
Going for a statement stole is a very clever way to elevate your attire. It's the most convenient and creative approach to enhancing the wedding garb. If your sherwani is subtle and doesn't quite whisk with the wedlock theme, it's time that you should invest in some extraordinary stoles. You can choose jacquard material for the sherwani as the gold zari weave would be more comfortable than the heavy protruding embroidered texture. Moreover, decorate it with quirky buttons and a pocket square to take it up a notch. Coming back to the stoles, here are some of the types that would capture the attention;
Contrasting Stoles: Pick out stoles with a color that does not go parallel with sherwani's hue. As most of the grooms prefer sherwanis in cream, beige and off-white shades, matching them with completely opposite shades such as reds and burgundies can amplify the look really well.
Embellished Stoles: if you're not up for highly adorned sherwanis, then hand-pick embroidered stoles to make the attire a bit heavy and striking. Embroideries like gotta Patti and zardozi would be a beautiful addition to your wedding garb.
Printed Stoles: This is a great way to make your outfit appear heavier than it already is. Vibrant and intricate motifs imprinted on quality fabrics would be an astounding idea to notch up the groom's finery.
3. IMPECCABLE PRINTED SHERWANIS
For a summer destination wedding, printed sherwanis are the best. They add a touch of refinement and grace to the overall theme. Prints such as florals and paisleys blend exquisitely with the destination wedding décor. Furthermore, summer prints complement flawlessly with pastel colors as pastels provide a pale yet appealing base that helps in bringing out the motifs stunningly well. Some of the shades that would work best with groom sherwanis are mint green, carnation pink, powder blue, and lavender. Do not overemphasize the prints. For instance, if the sherwani is already modified by juxtaposing two fabrics, then the prime fabric should be printed, while the latter one can stay plain. It's all about building a harmonious ensemble. For a summer outdoor wedding, botanical or floral prints would look delightful, whereas paisleys and ajrak would give utter justice to the nocturnal indoor wedding.
4. ELEGANT ROYAL SHERWANIS
If you want to get decked up in rich and regal attire, then royal Pakistani sherwanis would be your best bet. They are below-knee length, straight fitted sherwanis that work quintessentially with churidar pants. These sherwanis immediately give out the royal charm with their subtle finish and embroidered mandarin collar. Set it together with a long beaded neckpiece and a printed stole for an absolute regal charisma. You can either opt for fine-drawn sherwani with a traditional printed stole or just follow a single hue and give it a vibrant tinge with colored jewelry. Royal Pakistani sherwanis are best suited for palatial and farmhouse weddings. The colors whirl mainly around the shades of beige, white, and cream that never fail to add a touch of glamour.
Related Articles:-
Categories: Oxidized Jewelry, Pakistani Wedding Collection, Pakistani Wedding Outfits Aricles, PRINTED SHERWANIS, ROYAL SHERWANIS COLLECTION, Uncategorized
Sorry, comments are closed for this item.