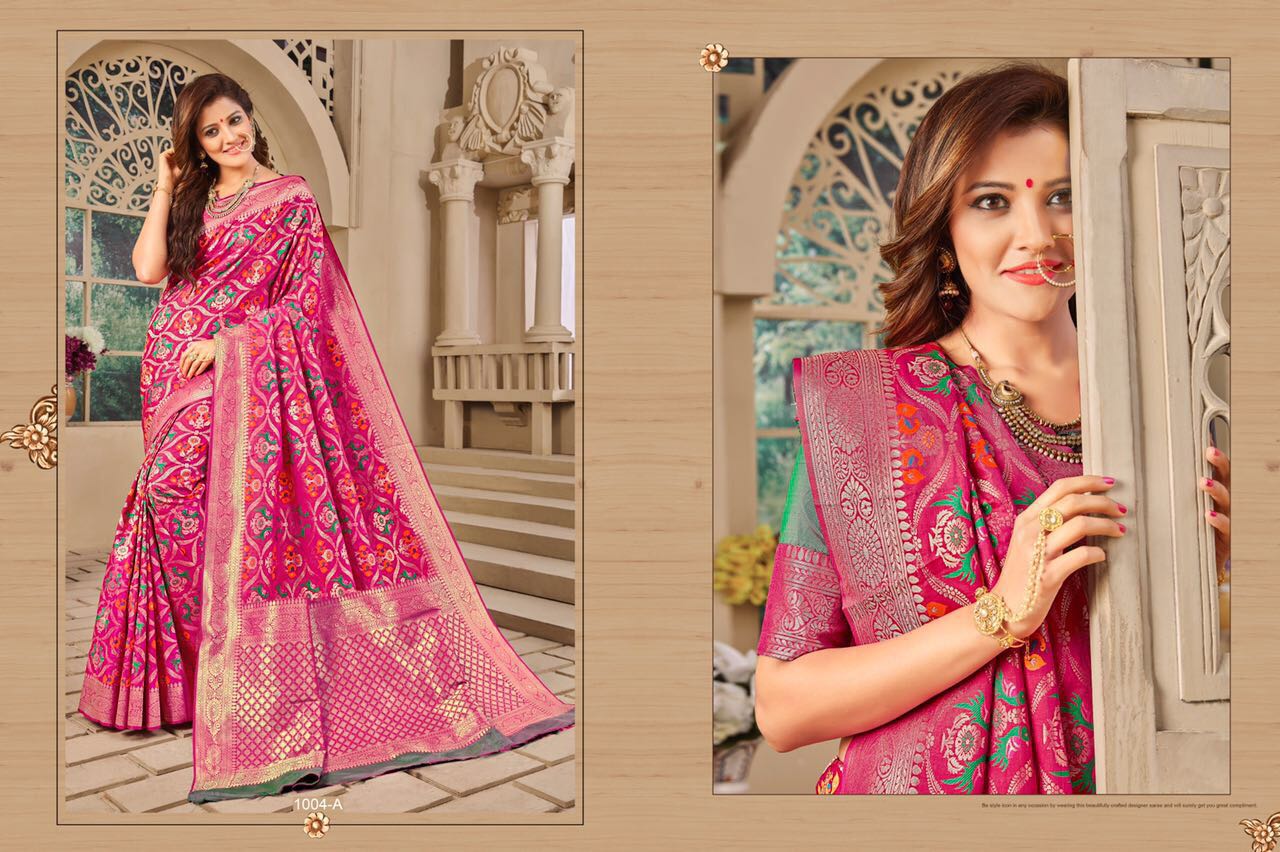 Pride of India – Silk Sarees
Sarees are captivating for the eye of the onlooker and there is no doubt about saying that Indian sarees are the best way to portray the beauty of an Indian girl. Though there are so many other dress categories like lehenga, salwar kameez, palazzo-suits, and more, there is no beating for the Indian saree collection. Starting from Cotton to Silk, the collection is a vast range of fabric, colors, designs, work, patterns, draping style, and more.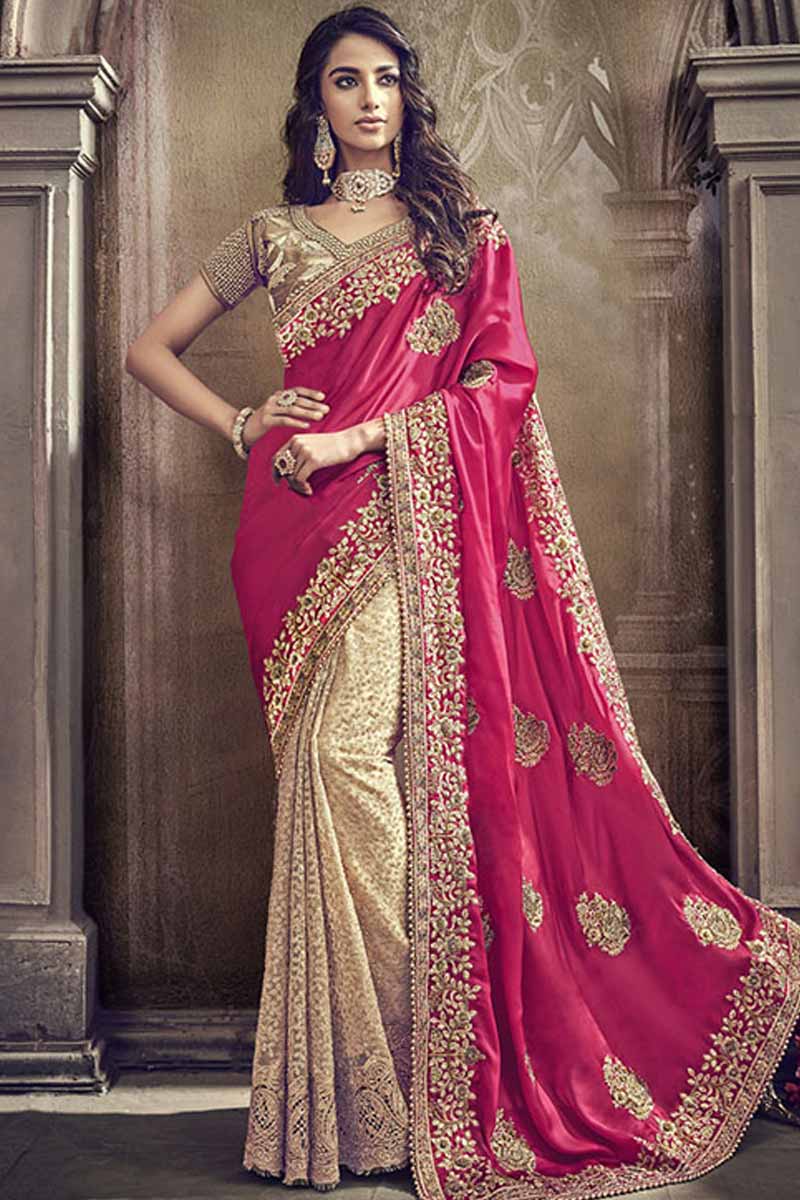 In Bengali, Marathi, and South Indian culture, the bride is seen wearing silk wedding sarees with heavy work and gold-colored patterns. It is the best attire for the bride and the silk wedding saree makes the bride look elegant, sober, and all ready for the upcoming change of her life. Silk wedding sarees come in various shades of red – bright red, maroon, sparkle red, tomato red, and more.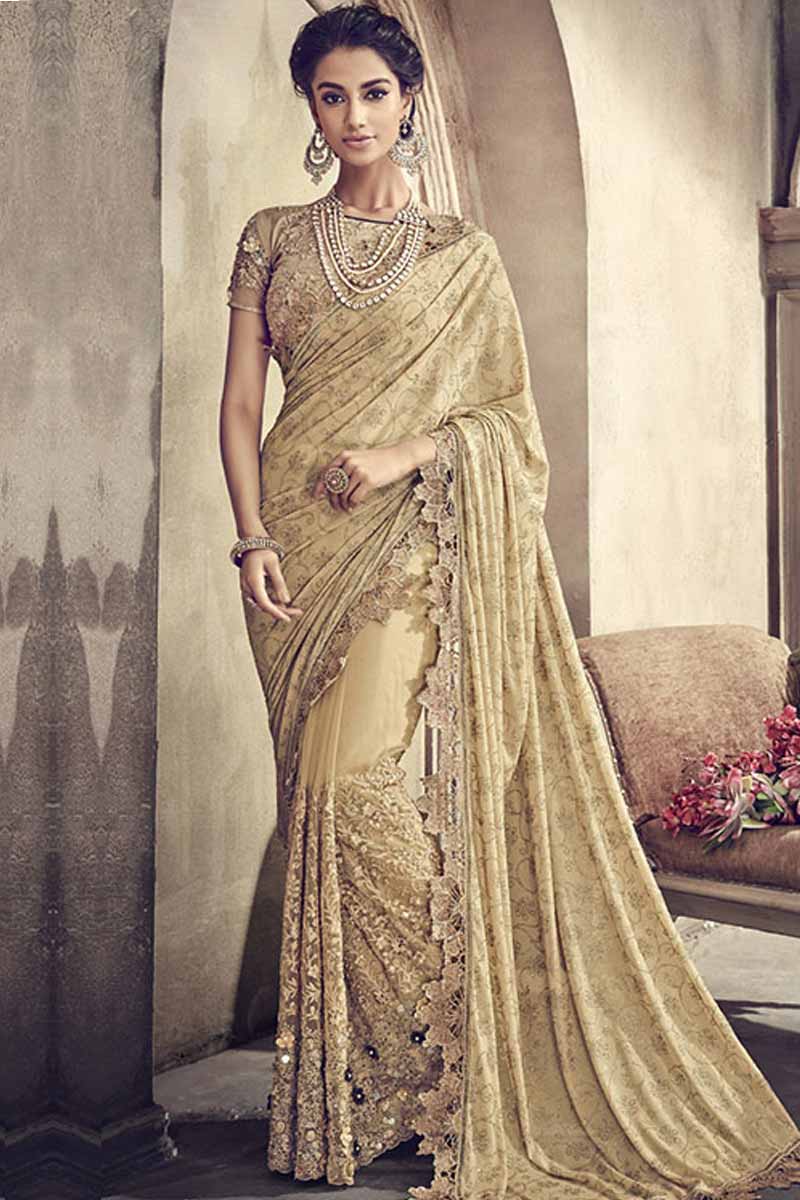 However, it has been noticed this wedding season that shades of pink and orange are also in demand. Pink, being a girly color looks pretty and young on girls; whereas, orange silk wedding sarees give a tangy twist to the would-be bride's look. You can also select from shaded colors with a combination of pink-orange, red-pink, and more.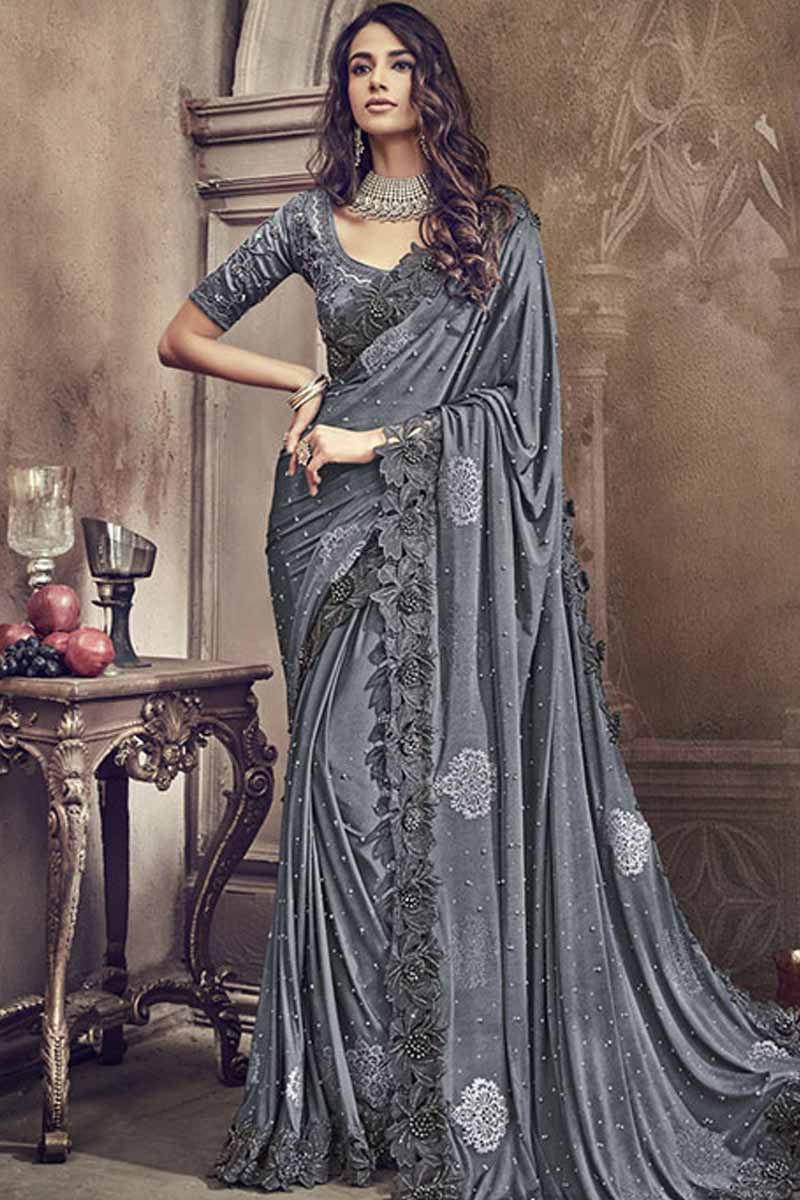 The best part about silk wedding sarees is that they are easy to drape and maintain. Using safety pins, you can keep the saree in its place without losing the folds. Also, for a longer activity, silk sarees remain as it is. They don't wrinkle easily and look perfect even if you are wearing them for the whole day.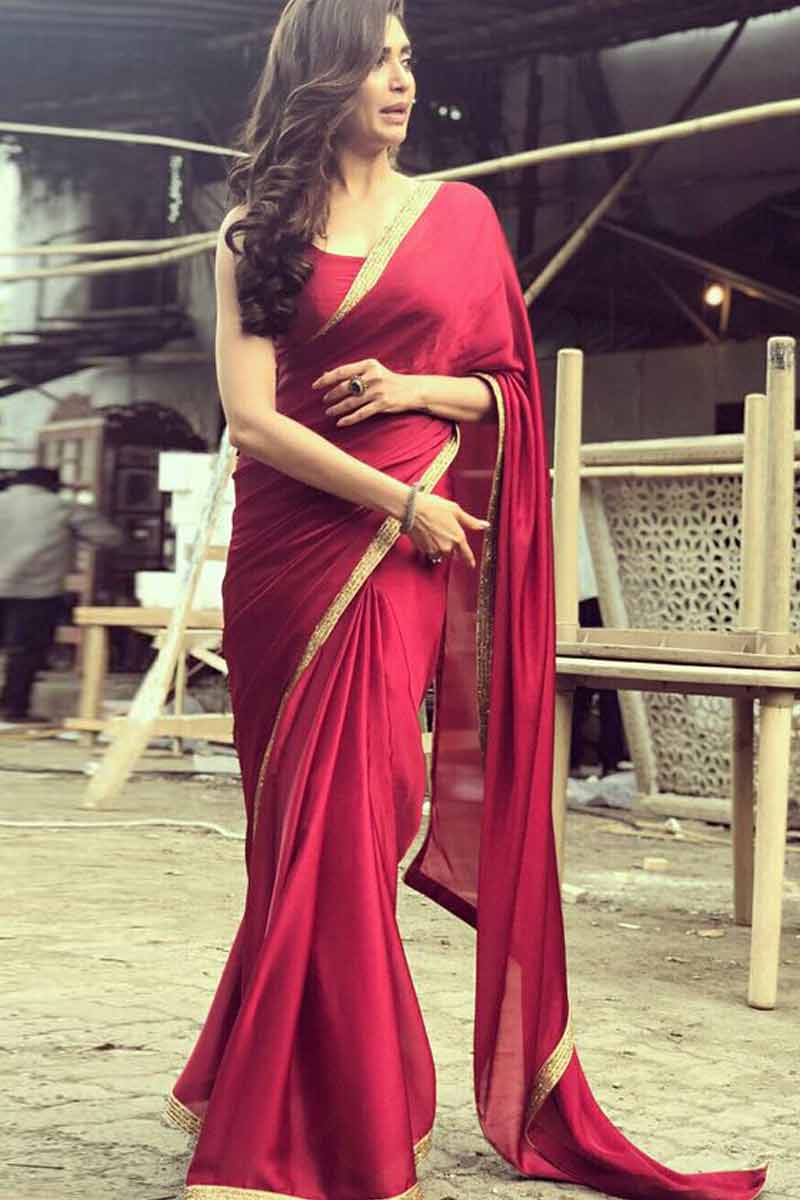 The Indian saree collection is empty without a combination of Indian jewelry designs. Gold, silver, diamond or mix, sarees look really beautiful with jewelry. A neckpiece, earrings, bangles are the least that you need to team with a saree. You can select from a vast range of designs and materials to suit your saree's pattern. Gold and metallic pieces of jewelry look pretty with silk party wear sarees. Also, nowadays, colorful pieces of jewelry are in fashion. Opting out the same will make you more fashionable while keeping you sober and elite.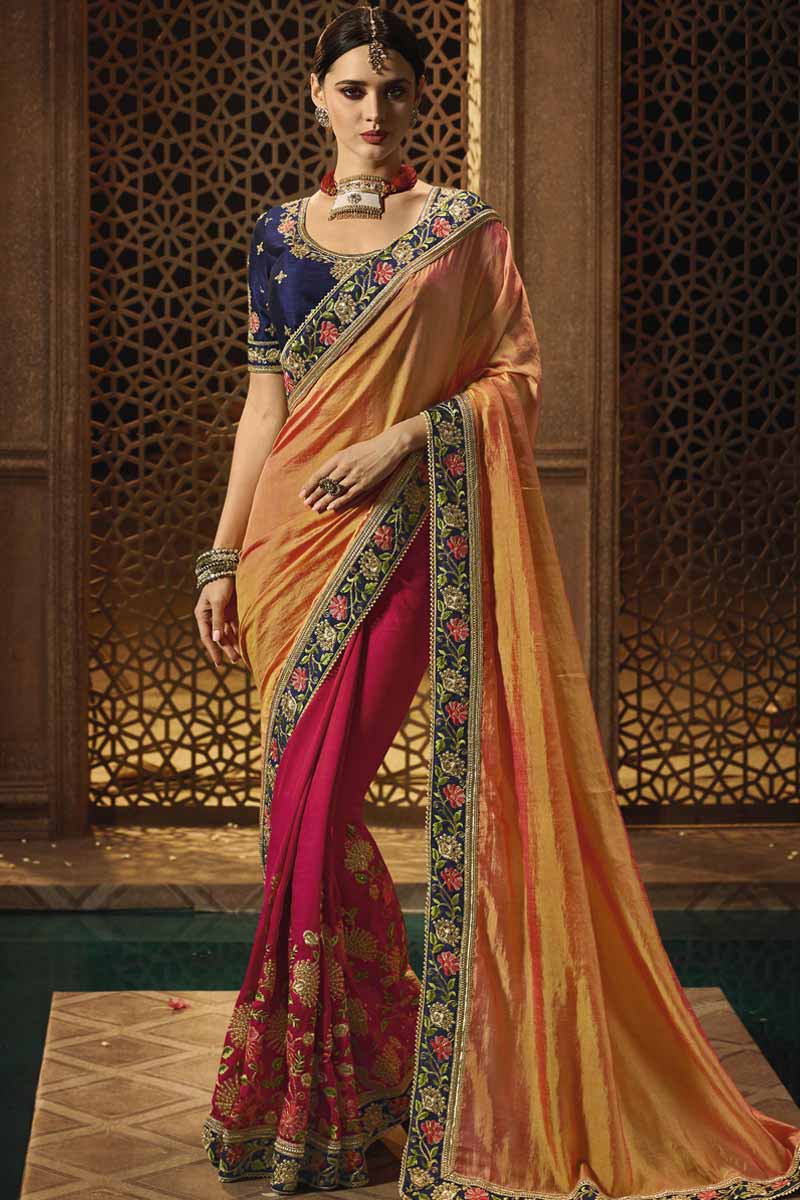 If nothing suits you better, go for big earrings and a bun as a hairstyle to look the best. Earrings play a vital role when it comes to looking pretty in a saree. They give your entire look a complete finish, even if you don't wear heavy jewelry and make-up. Silk party wear sarees often have a gold hint in them; either in the saree fall, border, or overall, so choosing gold patterned earrings is the safest option. However, you can also look out for color-matching earrings to compliment your silk saree.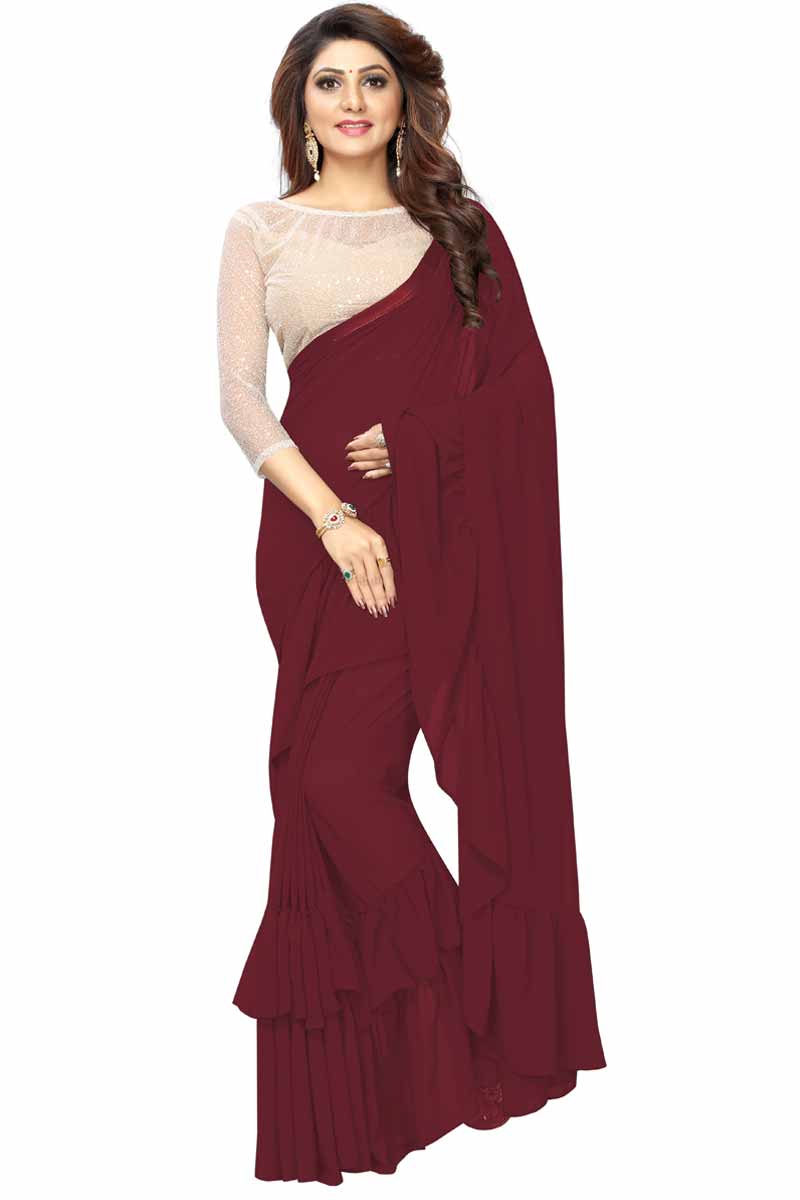 As we know that silk sarees are more elegant than glittery, you can have a designer blouse to make you overall look more appealing. Have a deep neck, or patterned blouse design to look just perfect. Add some stones to the blouse design to stand out in the crowd, while looking just the way you really wanted to look!
CHECK OUT OUR LATEST COLLECTION @ SILK SAREES ONLINE STORE USA, AUSTRALIA, UAE, CANADA
Categories: Silk Sarees Online Articles