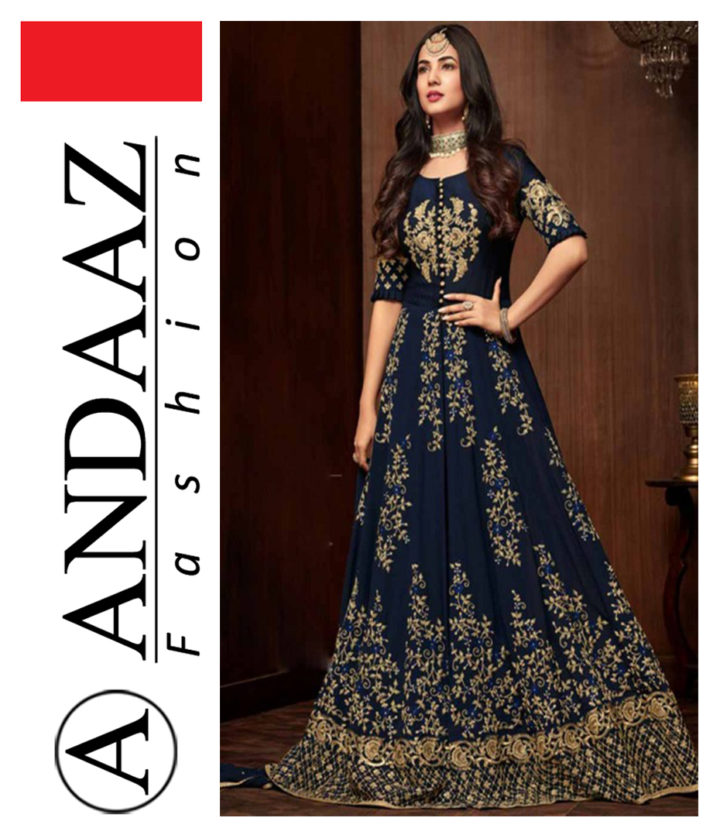 Beautiful Collection of Designer Sangeet Dresses
Wedding is one of the most important parts of everyone's life. Be it a boy or girl, wedding is the most exciting phase of life where two different persons move together in a new phase of life and start a beginning together. In Hindu wedding, many rituals are performed with a great passion and dedication to accomplish it.
As everyone waits eagerly to meet his or her soul mate, the wedding becomes an ultimate platform where two different kinds of persons meet and start an exciting phase of life together. The wedding dress, jewelry, decoration and arrangement, everything must be perfect for your special day. Marriage is associated with a lot of importance and marriage is considered the most important duty of every men.
In Hindus, wedding is celebrated just like a festival. It takes many days to come on the wedding day. There are so many pre-wedding rituals that are performed to accomplish a wedding. The rituals are sangeet, haldi and mehendi. These rituals make a Hindu wedding a grand and rich wedding.

Sangeet is the most important pre- wedding ritual. This takes place two or three days before wedding. This is performed to celebrate the coming together of two person and their families. Sangeet is a Punjabi ceremony. In sangeet women come together with dholaks and spoons, surround the bride and sing traditional wedding songs. The songs are about the coming change in the life of bride after marriage.
The groom is referred as Banna and the bride as Banno in the songs. The popular traditional songs are Mehendi Ni Mehendi, Kala Doriya, Lathe di Chadar, and so on. Sangeet consist dancing as well. The sangeet ceremony is the most important ritual of Punjabi and Gujarati. In Punjabi wedding, there are performances of Bhangra and Gidda songs, whereas in Gujarati, there is Garba performance.

In the old days, sangeet is only reserved for women only but these days many couples decide to have a common sangeet ceremony for men and women and in many sangeet ceremonies, the wedding couple performs at the stage. The sangeet ceremony is all about singing, dancing, celebrating and joking together. Sometimes there is a set of theme for the ceremony. Nowadays, sangeet is celebrated by both bride and groom's family together at a common venue. Sangeet ceremony adds a lot of fun and color to marriage ceremony.

A bride prepares many things for her wedding day that is the most special days for her. The bride would have had tones of preparation for every ceremony. As we know, Indian outfits and Indian women make a perfect blend. A bride plans many things for her outfit. Obviously, you must have so many doubts what to wear at your sangeet ceremony? We are here to ease everything for you.
We are sharing some worthy tips to ease everything for you this wedding season.
You must wear something that is very comfortable as you are going to dance at your sangeet ceremony. Opt for something light weighted, in which you can dance in twirl and which would not weigh you down. Opt for light colors. As light colors is so much in trend these days. Add something that takes your look to a level beyond so that your sangeet becomes the most memorable wedding memory.
It is essentially your day dear, so get the best one for you that makes you look the star of the night. Here are some best options for your sangeet ceremony that will make you look irresistible. Indian outfits are known for its rich fabric and embellishment.
Saree is the most special and stunning outfit for a women. In India, saree is the most essential part of every celebration. When it comes to wedding ceremonies then saree has a unique position that no other outfit enjoys. If you yearn to look extremely beautiful and stunning then saree is the best outfit for sangeet ceremony. For sangeet saree, you can choose dark colors such as, maroon, blue, black and so on. At Andaaz Fashion, you can get an exquisite saree collection for sangeet ceremony.
There is so much variety in saree in terms of fabric, color, design and pattern. We have an exclusive range of designer sarees that are perfect for your sangeet ceremony and can make you look elegant and stunning. Get the best saree for you and ready to look different from others because this is your day dear.

Salwar kameez is another best option for you to wear at sangeet. If you want something light weighted then go for a salwar kameez. As you need something that makes you look stunning and beautiful as well as make you dance with a twirl. This is your day, you must enjoy this day at the fullest.
There are so many variants of salwar kameez; anarkali suit, Patiala suit, churidar suit, palazzo suit, trouser suit and so on. You can choose the best one for you and get ready to twirl like a diva. At Andaaz Fashion, you can get an immense collection of every type of salwar kameez in many colors and design patterns. Be it a anarkali, Patiala suit, palazzo suit or trouser suit, Andaaz Fashion is the perfect platform where you can get whatever you want for sangeet.

Lehenga is the best outfit if you want a regal and rich look. Lehenga can make you look blissfully beautiful at you sangeet ceremony. You are the bride, and then your outfit must be different from others. Choose a light weighted and elegant lehenga for you for your special day. Make you sangeet ceremony the most memorable day of your life then your choice must be outstanding.
At Andaaz fashion, you can get an exclusive collection of lehenga that is perfectly designed to match your purpose. You can get from a heavy lehenga to elegant lightweight lehenga in many colors and designed patterns.The last but the most preferable outfit for sangeet is gown. Gown is an indo western blend that is perfect for your sangeet ceremony.
Choose dark colors like, maroon, green, blue, and so on. At Andaaz Fashion, you can get a wide range of gowns that are perfectly designed to match your sangeet purpose. You can choose fabrics such as, art silk, velvet and satin for your lavish purpose. A satin, velvet and silk gown is perfect for such occasions.

At Andaaz Fashion you can get a variety of outfit for your sangeet. Choose a perfect outfit for your sangeet from Andaaz fashion and become the most beautiful bride ever. We have also bollywood collection that will help you to choose the best one for you and make your sangeet the most memorable day of your life.
As we know, without jewelry no outfit can make you look beautiful. So, choose the perfect accessories to adore yourself. We at Andaaz, know the importance of the sangeet for you. That is why; we are here to provide the best outfit with the perfect accessories for your sangeet ceremony. Choose the best one for you and get ready to rock your sangeet ceremony.
We at Andaaz fashion ensure you the best quality of the product with timely delivery. We provide you a qualitative shopping experience so that you can enjoy your sangeet without any hustle. Shop at Andaaz Fashion and enjoy great deals and discount.
CLICK HERE TO SEE MORE COLLECTION @ SANGEET DRESSES ONLINE STORE USA, AUSTRALIA, UAE, CANADA
Categories: Sangeet Dresses Articles