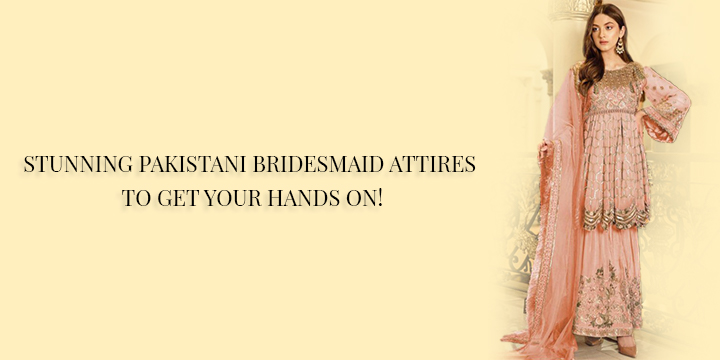 STUNNING PAKISTANI BRIDESMAID ATTIRES TO GET YOUR HANDS ON!
Choosing a bridesmaid outfit is not an easy piece of work. You've to stand beside the bride, so you will be getting a humongous share of the spotlight. Amid thousands of styles, silhouettes, and colors, it can be tiresome to hand-pick one exquisite attire and then blend it with the ongoing trends, budget, body type, and so forth. It does not end here. Once you've chosen the finery, you have to search for complimentary makeup, hairstyle, and accessories. Creating an elegant as well as sophisticated Pakistani bridesmaid ensemble can be challenging unless you've got the brief of every factor to consider in one place. Thus, to keep you out from the extra tiring research, listed below are some of the trending bridesmaids wear outfits you should definitely check out;
1. PASTEL ANARKALI  SUITS
Pastel color palette is known to be very soothing and comforting to the eyes. It protrudes the flounce of the attires, and the resulting prominence is a sight to behold. For this reason, Anarkali suits are a great match with such tones as the light colors exaggerate the flares and make the folds appear relatively more smooth and gentle. You can set it together with either a soft printed or a contrasting net embroidered dupatta for a refined touch. Heavy embroideries like zardozi would astonishingly tone with pastel hues. Coming to the Anarkali cuts, here are some of the timeless picks;
Paneled Cut: It has full-length fitted panels with no empire line. The straight lines can make you look slimmer as well as taller.
Empire Cut: It gives a circular flare to the outfit down from the underbust.
Tiered and Layered Cuts: These cuts help in making the garment appear more voluminous. Tiered anarkalis have panels joined together, whereas, in layered cuts, all panels are joined to the waistline.
2. ELEGANT WHITE  LEHENGAS
The color white signifies calmness, cleanliness, innocence, and purity. It makes you appear more fresh and energetic. White is a common option when it comes to Pakistani weddings because of its sophisticated and elegant charm. As a bridesmaid, you can go for off-white a-line lehenga cholis embellished with the threads of zari or white lehengas decorated with same-hued embroidery. To accessorize it, go for heavy gold jewels as they can highlight the white tone in the most dignified way. If you want a pop of color, then you can also pick out multi-colored jewelry.
3. LONG-CHOLI LEHENGAS
Long cholis are in absolute trend right now. If you are looking for the finery that would shelter you in fashion, then plump for long flattering blouse cuts. There is an immense variety when it comes to such blouses, and some of that are given below;
Peplum Long Choli: Peplums look amazing in hourglass body types. It's a normal blouse with a frill affixed to it. You can style it with gathered lehengas to obtain a generous volume.
Asymmetrical Long Choli: Uneven silhouette is a majestic way to get those heads to turn at the wedding. You can find asymmetry in hemlines with a high-low blouse or sleeves like off-shoulder or differing necklines.
Straight Long Choli: For a subtle drape, go for straight cuts. They will go best with diamond or pear-shaped frameworks by making them appear slimmer.
4. FLORAL PRINTED LEHENGAS
If embroideries do not entice your flair, then you can always opt for prints. Prints are your best bet for summer destination weddings. Do not go for loud and extremely contrasting prints as they won't compliment your role. Pastel base with aesthetically pleasing floral patterns and light stonework would completely change the game. Coming to the fabrics, mulberry and satin silks will be a suitable companion for such soft imprints. Print-on-print is also a magnificent option, and it is trending as well, but it's better to not overdo it. Floral prints themselves have distinct varieties some of which are;
Vintage Florals: These florals have a prominent resemblance to antique flower patterns.
Abstract Florals: These prints are an amalgamation of natural and man-made designs.
Tropical Florals: These are flower designs that can be easily found in a tropical environment.
5. PEACH SHARARA SUITS
Sharara suits are the pride of Pakistan. Country's most popular styles whirl around the silhouettes of these trousers. They are quite versatile and holds a unique composition of gentle drapes, balanced styles, and symmetric gathers. They have the power to blend with almost every fabric and can match with just about every blouse. As a bridesmaid, to bring forth the sense of joy, warmth, and comfort, you should undoubtedly go for the shades of peach. The shade is certainly in vogue these days and neatly reveals the fold of shararas. You can reshape the basic kurtas by going for dramatic necklines, sleeves, and cuts, followed by matching jewelry. Fabrics such as nets, georgettes, and chiffons ornamented with rich stones and shimmer threads will help in elevating the bridesmaid ensemble.
Related Articles:-
Categories: Bridal Makeup, Decorative Jewellery, Mehendi Dresses Articles, Newarrival Sarees Articles, Pakistani dresses Articles, Pakistani Wedding Collection, Pakistani Wedding Outfits Aricles, Party Gowns Articles, Partywear Sarees Articles, Pink Wedding Dresses Articles, Royal Hijabs, Sharara suits Articles, Uncategorized
Sorry, comments are closed for this item.