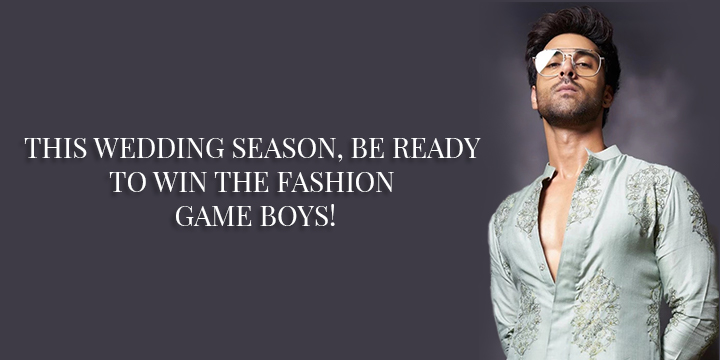 THIS WEDDING SEASON, BE READY TO WIN THE FASHION GAME BOYS!
THIS WEDDING SEASON, BE READY TO WIN THE FASHION GAME BOYS!
Indian wedding is a sight to behold. It's the most joyous and sumptuous occasion loaded with rich culture, delicious food, and ostentatious outfits. While women have plenty of choices when it comes to what to wear, men certainly can make the most out of what they have. Some proficient and skilled designers are going out of the ordinary to widen the scope of men's ethnic wear nevertheless, it primordially ranges from casual and subtle attires like kurta-pyjamas to rich and regal embroidered sherwanis.
WHAT TO WEAR TO AN INDIAN WEDDING ACCORDING TO THE OCCASION
1. HALDI
Haldi is an occasion where turmeric paste is applied to the skin of the bride and groom as the spice is known to remove dead cells from the body by detoxifying the skin. It is a very vibrant and messy occasion. It's best to not wear anything shimmery and embroidered as the garment will most probably get stained.
As a male guest, go for subtle yet elegant ethnic wear. Earth color palette would be well-suited for this occasion. It's better to put on a casual kurta or a shirt in yellow to blend with the overall theme.
2. MEHENDI
Mehendi or henna ceremony is a lot more inclined towards women than men. Avoid getting shimmery again as it revolves around the ladies. Stay low-key by picking out a pathani suit with riveting buttons or a kerchief. Pathani or Afghani suits are very comfortable and will surely make you look great. If you want to go a little more vibrant, then cotton printed kurtas with plain churidars will work well to get a modest look.
3. SANGEET
Sangeet is when you can stop being simple and welcome those much-awaited snappy outfits. It's a melodious night filled with dance performances and foot-tapping so, it's all about the outfits that will let you flaunt those dance moves with ease. Instead of hefty embellished jackets or sherwanis, go for rich fabrics like brocade and alluring silhouettes. You can even tune it down elegantly by choosing a printed cravat with a plain jacket or a shirt. To get a decent yet vogue looks, match a designer light-shaded kurta with a bright printed waistcoat. 
4. ENGAGEMENT
The scale of engagement ceremonies varies according to the family background and culture. It can be anywhere between a huge lavish ceremony or a narrowed homey one. Go for a neutral outfit that can fit either scale. If your flair calls for uniqueness, add some eccentricity to the cuts of your kurta. You can go for an asymmetrical or cowl hemline and pair it with a Nehru jacket followed by a churidar or a Patiala.
5. BARAAT
Baraat is one of the most joyous parts of the whole wedding. It's a pretty loud and delightful occasion where the groom, atop a horse, reaches the venue with his friends and family. If you're from the groom's side, then be prepared to dance on the highest notes. It's best to wear something that won't restrict your moves. Regular-fitted ethnic kurtas in lively colors will look astonishing. Moreover, choose footwear that won't hurt your feet as there will be a lot of jigs and rollick. If you want to keep your garb semi-formal, pick out shirts and trousers. Steer clear of contoured jackets and kurtas.
6. WEDDING
It was finally the day for which everyone was restless and excited. For the wed-lock ceremony, keep yourself away from casual garments like T-shirts and jeans. Men might have fewer options than women but, styling is always a smart approach if you know how to do it right. Here are some of the ensembles you can opt for to wear to an Indian wedding;
Sherwanis To Look Rich And Regal: Although sherwanis, in themselves, are segregated based on region, the best picks are; refined Jodhpuri Sherwani with embroidered placket and collar to look extremely royal, Pakistani Sherwani with churidar to get that extra charm, Achkan Sherwani with dhoti pants to stand out from the crowd, and Angrakha Sherwani to get a touch of Mughal era.
Bandhgala With Jodhpuri Pants: To swoon everyone away at the wedding, wear a bandhgala in white, beige, or even pastel shades. Pair it with jodhpuri trousers and be your debonair self.
Cowl Cut Kurta With Nehru Jacket: If it's a winter wedding, a cowl neckline will be your best bet but, it will appear better without the additional layering. Another way is to go for a cowl silhouette or cowl hemline with a Nehru jacket. Go easy on the prints to get a neat and modish look.
7. RECEPTION
Reception is more of a western ceremony than the wonted traditional one. To blend with the formal ceremony, pick out your best-fitted suits. If you've decided on full-fledged formals, do not forget to complete it with a bow tie, cuff links, and, a tiepin. A classy tuxedo in the shades of black, wine, violet, the navy will do wonders for you.
Categories: Indian Wedding Collection Articles, Indian Wedding Outfits Articles, Indian Wedding Season Articles, Indian Wedding Shopping Tips Articles, Kurta Payjama for Men Articles, Men's Kurta Payjama Articles, Mens Traditional Wear Articles, Pakistani dresses Articles
Sorry, comments are closed for this item.