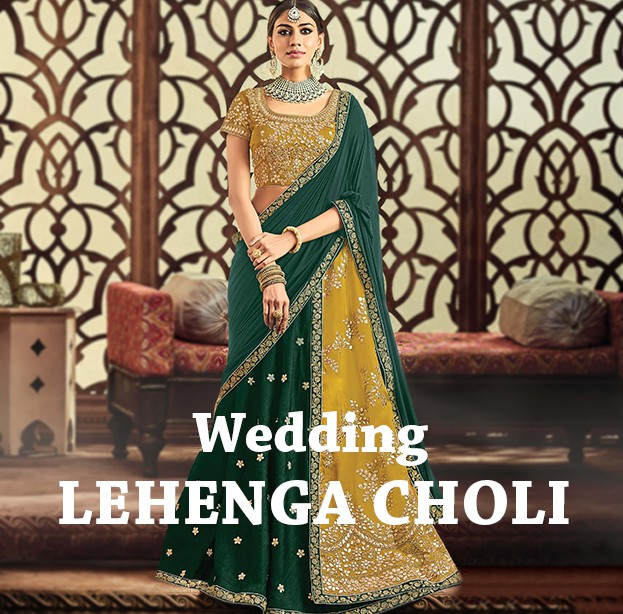 Tips for Wedding Dress Shopping
Wedding can be one of the most important yet so tiring tasks of your entire life. Involvement of so many guests, food, decor, shopping can lead you to unnecessary stress and fatigue which is why it is recommended to keep things well planned. This special day is of course means a lot to many people but before anyone it means way more to you than to them. You have been waiting eagerly for this day since your entire life which is why it shouldn't be you who is under a lot of pressure and stress. Prior planning helps you keep off the stress of work and shopping which is why you should start planning your wedding outfit at least two to three months before the wedding. This step will help you discover more options and variety available in your budget and your surroundings. The Indian market provides you with a plethora of lehengas and sarees for the wedding season which makes you confused which is why the next tip from me would be doing research work. If you already have a frame of design in your mind, that is if you know what kind of an attire are you looking for then it will be easier and quicker to pick from the available options. But make a note that you need to keep your mind flexible regarding this step because it isn't necessary that you might find a xerox copy of a design. Be open to suggestions made by your bridal consultant, friends and family. Worst case scenario, you try on a dress your grandmother found on sale, you see yourself in the mirror, laugh it off and keep looking. Once you know what you exactly want for your day, then the next step is to finalize the budget and start the hunting process. Looking out for the best store around your area can reduce the burden. Also, you should pick the right person to go along and shop with you. Having a second opinion about some of the most important decisions can make a world of difference. Make sure that the person you take along is familiar with your choice and taste so that it becomes easier for you to pick the outfit. Once you are done picking up for your outfit, it's trial and editing becomes the next step. Make sure that it is completely flawless and do not make the mistake of going for the alteration way too earlier before the marriage because you might lose or gain some weight during this period which is why it is recommended to start the alteration process a week or two weeks before your wedding day. Pick the color of your outfit according to your skin tone. The neutral ones can go for both light and dark shades. The dusky ones should choose a bright pop color while the wheatish ones can go for a darker shade of nude for themselves. The next step is to pick up the correct jewelry and shoes to pair it with. Kundan and swarovski jewels are the latest ones therefore you can pick up an elegant piece of necklace with matching earrings. Talking of jewelry, the next big things are maang tika and nose ring as well. Pick both these items according to your face cut, someone with a small round face should pick a smaller sized one while the one with an oval and longer face can pick a big round nose ring. The churha(bangles for the brides) should also be matched well to the color of the outfit. If the detailing and embroidery is way too heavy then keep the make up and jewelry minimal. Footwear might hardly be visible under the lehenga which is why you can pick a pair of nice wedges so that you look taller and have the appropriate amount of comfort too. Your makeup can create a world of difference, it might make you look completely washed down in spite of having a super stunning outfit or it might glam up the entire look a hundred times. Therefore keeping a check on the make up becomes another necessary step in the ongoing process. When a bride cannot compromise on the outfit then how can one expect her to do so for her make up there fore it is very crucial to take make up trials according to your attire and then pick a make up style. Experimenting 3-4 hours before the event can be very risky which is why it is suggested to take prior appointment at your salon so that things are well organized and sorted. Wedding day is the fairy day of your life and you must enjoy it to the core. Stressing yourself over such pity things can be a spoiler for that one magical day you have waited ll your life. Do not let anything take control of you and your life, all you need to do is be a more systematic and make things pre-organized for yourself.
Categories: Indian Wedding Dresses 2017 Articles, Indian Wedding Jewellery Articles, Indian Wedding Shopping Tips Articles, Party Gowns Articles, Sangeet Dresses Articles