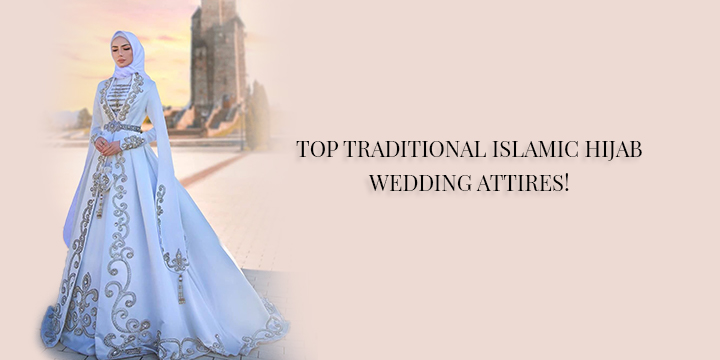 TOP TRADITIONAL ISLAMIC HIJAB WEDDING ATTIRES!
TOP TRADITIONAL ISLAMIC HIJAB WEDDING ATTIRES!
Islamic weddings are devoutly religious and deeply sophisticated. They are a unique composition of elegance, refinement, and class. One of the most beautiful things to capture at those weddings is bridal attire. The traditional Hijab outfit is undoubtedly one of a kind. Hijab is a headscarf or a veil worn by some Islamic groups. There are tons of choices when it comes to wedding Hijabs, some of which are;
Saree-style Hijabs: It's a conventional way of draping a Headscarf.
Hooded Hijabs: They are outer garments worn like a cloak.
Bridal Hijabs: These Hijabs are attached to the bridal attires.
Reference Link – A GUIDE TO HIJAB STYLES FOR ISLAMIC BRIDES
When it comes to Hijab weddings, there is always a conundrum regarding what kind of bridal attire would work best in accordance with the season, trends, and framework. Moreover, which Hijab style would complement it the most. To save you from that dilemma, listed below are some of the prettiest Islamic Hijab outfits of all time.
1. AN ELEGANT WHITE FLARED GOWN
The flared white gown is more or less a western concept that gives a touch of dignity to the whole attire. Furthermore, the ivory white shade gives it a natural freshness and glow. You can go for lace and pearl embellishments to elevate the white base. If white-on-white isn't your flair, then let the golden or silver embroidery flatter the base color for you. To get a ball gown puffy effect, go for stiff fabrics like organza or put ample ken-ken lining and balance it with a smooth satin Hijab. You can also upraise the sleeves and neckline by simply going for illusion necks. Coming to the makeup, you can oscillate between as dewy as blush and as bold as red as both of them works astonishingly well with white.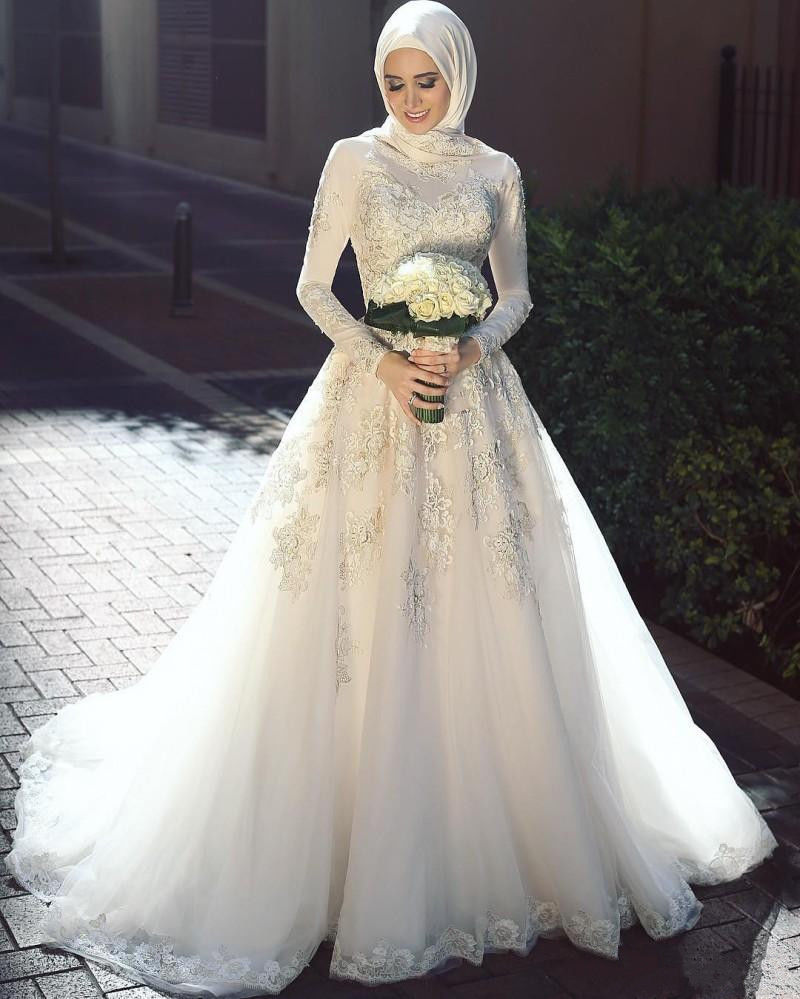 2. A MERMAID-CUT LACE GOWN
Mermaid or fish-cut gowns are an amazing way to show off that absolutely stunning framework of yours and that too with utter sophistication and worldliness. It is sheath-fitted from the torso till the knees and then flares out after that. The trail can go as long as you want. Lace material suits optimally with such cuts. You can plump for muted pastels like sage green, dusty pink, and dull turquoise as they bring out the lacework really well. Floral or botanical motifs would beguilingly complement the unsaturated tones of the fabric. For a more contemporary ensemble, choose the scattered placement of motifs instead of going out and out with them. For makeup, smokey eyes along with nude lips will keep the saturation of the look intact gracefully.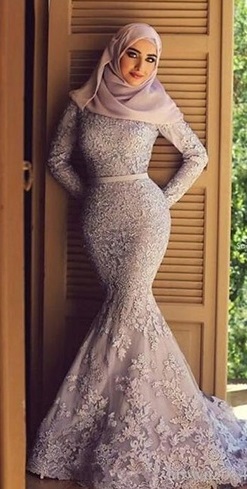 3. TRADITIONAL RED LEHENGA CHOLI
If you are someone who is into dark and bold color palettes, then this is for you. Lehenga cholis are a quintessential way of staying abreast with the ongoing trends as there is a huge range of silhouettes lined up when it comes to lehenga flares and blouse cuts. Some timeless cuts pertaining to lehengas are paneled-cut, A-line, mermaid-cut, trail-cut, layered-cut, and so on. Coming to the blouse, for an utmost polished look, go for long-cholis or front-slits. You can also pick out contrasting colors to pop up the look. As it is completely traditional, heavy gold jewelry will be best suited for this one together with gold zari embroidery or gotta Patti work. Jeweled Hijabs can also be a beautiful addition to the ensemble.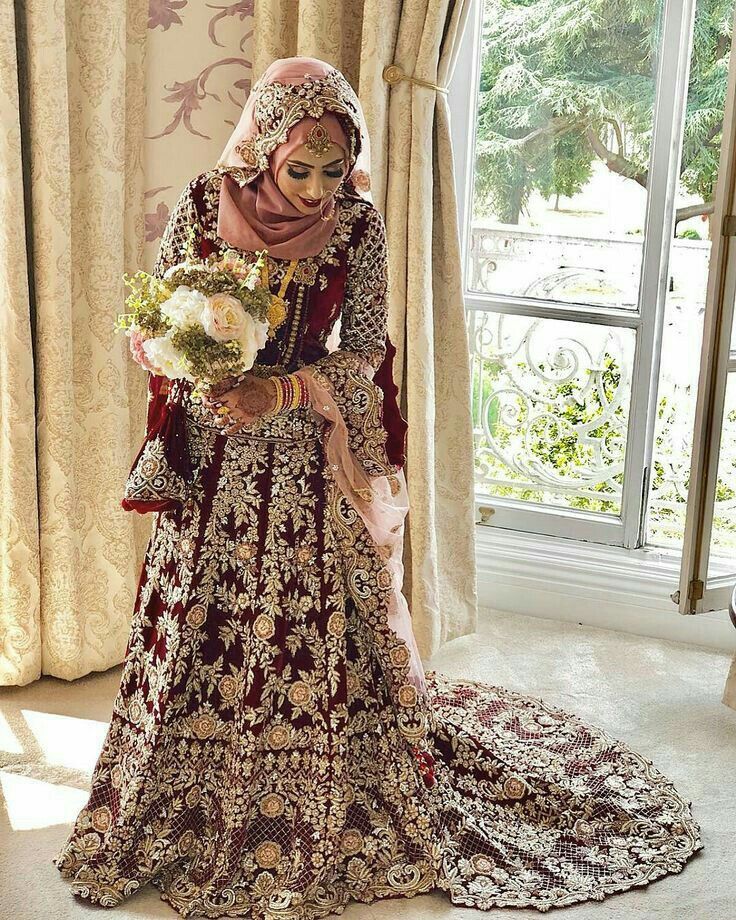 4. PALE-TONED PEPLUM–STYLE LEHENGA
To whisk the flavor of modern with traditional thread, pick out peplum-cut blouses. It is a medium-sized, circular-cut segment sewed to the hemline of a basic blouse. The style started in the 19th century and has become a common part of this generation as well. To blend it with the indo-western wedlock theme, amplify the ordinary peplum blouse with a high-low hem, pearl finish, cut-work, white thread work, and so forth. Pale tones such as tan yellow, sage green, mauve pink, and light cedar are popular in traditional clothing. Turban-style Hijab is a contemporary approach toward fusion attires. You can embellish the trio with embroidered dupatta in a different color. To make it a bit vibrant, choose pigmented embroidery or heavy make-up. For jewelry, mang tikkas are a popular choice with turban Hijabs.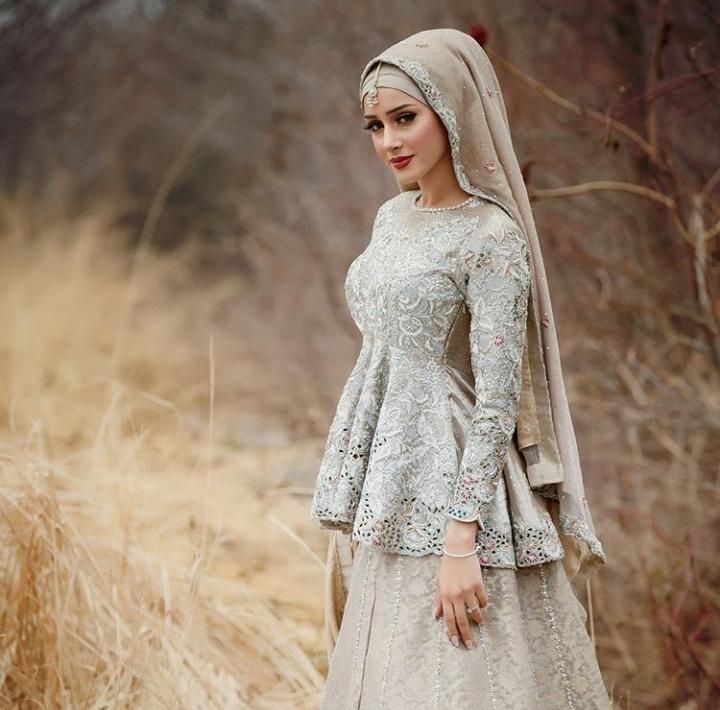 5. JACKET-STYLE GOWN
It is the most urban way of carrying a bridal ensemble. Jacket-style gowns are quite noteworthy and versatile. The duo can definitely attract a bucket full of attention. Thick fabrics like Scooba will help in building a duly-finished, roomy gown. If you want golden embroidery then shades like ivory, white, cream, and gray will unquestionably assist you in bringing out the adornment. To accessorize the look go for dainty statement add-ons like a belt, tassels, and an ostentatious pouch. Get an extremely authoritative appearance with cape sleeves, a designer collar, and a floor-length jacket. If the outfit is heavily embellished, warm nude shades will help in creating a sense of unity in the garb.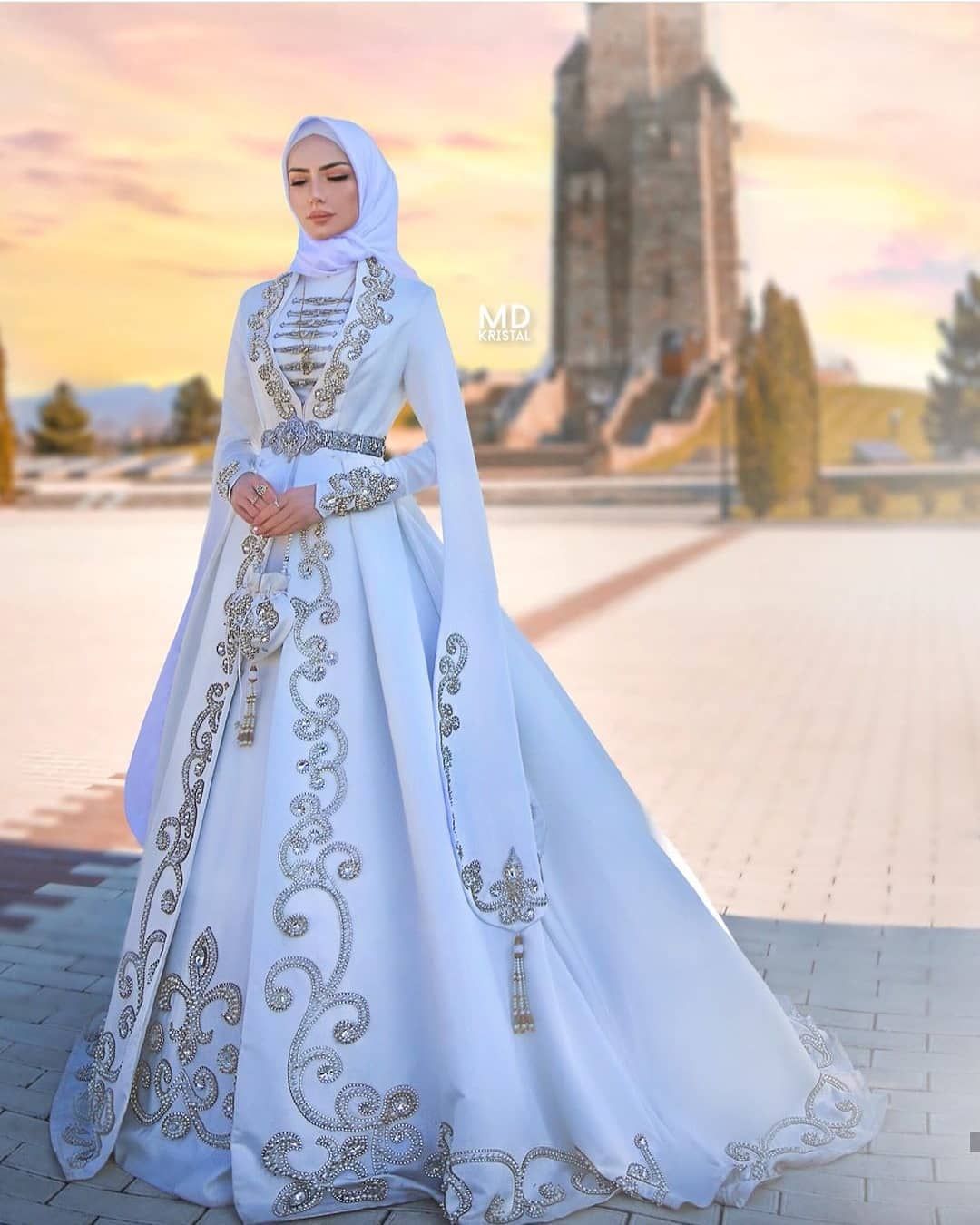 Related Articles:-
Categories: BRIDAL HIJABS, Bridal Makeup, Decorative Jewellery, HIJAB STYLES, Lehenga Choli for Weddings & Parties Articles, Oxidized Jewelry, Pakistani Wedding Collection, Pakistani Wedding Outfits Aricles, Royal Hijabs
Sorry, comments are closed for this item.