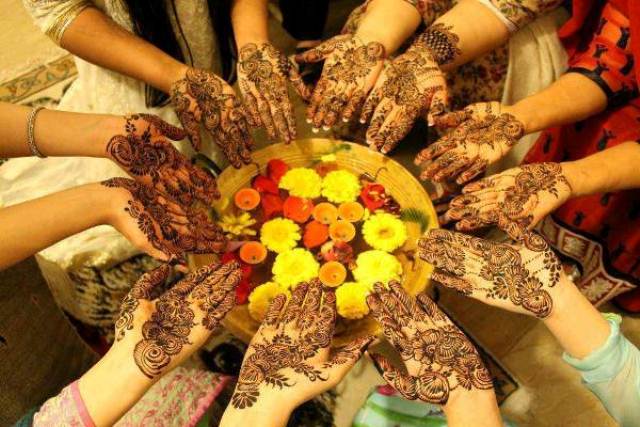 Traditional Indian Wedding Celebrations
Traditional Indian Wedding Celebrations
India is a land of great diversity and religious beliefs. It serves you with a variety of cultures and traditions which is why one can notice the immense amount of celebrations throughout their weddings. In fact, their dresses are also according to the religion they belong to.
Celebration of the same festival might be absolutely different in north India as compared to south India. Weddings and the occasion of marriage sets a different mood altogether among the Indians. In north India, the big fat Indian wedding can extend up to several days whereas in South it's just a matter of one or two days.
The timings and other rituals followed throughout the wedding are also different. Colors hold true importance of their own at weddings. Red, is not just a color during this period but instead is considered as a slovenlier for the whole belief of marriage.
It is a symbol of passion, love, and marital bliss.
In fact, wearing white at an Indian wedding can be scandalous. Bright colors are one of the favorites among Indians when it comes to marriages. Christian weddings might include the white or ivory shade in the bride's outfit but Hindus are strictly against wearing white during the wedding period.
But in recent times, bright shades of reds, oranges, and pinks have also been noticed in Christian weddings. The long celebration of the haldi and Mehendi ceremony also have been given themed colors.
Lehenga is widely worn and accepted by Indian brides for their wedding day whereas, in the south, brides are mostly seen wearing their traditional sarees which look absolutely stunning and gorgeous. Red color holds such importance in Hindu weddings that it is included in the ceremony and rituals too.

For example, On the wedding day and even after the wedding, the bride is seen wearing a red and white bangle set in both her hands which is called a chudha. This set remarks happiness and prosperity for both bride as well as the groom in their future life.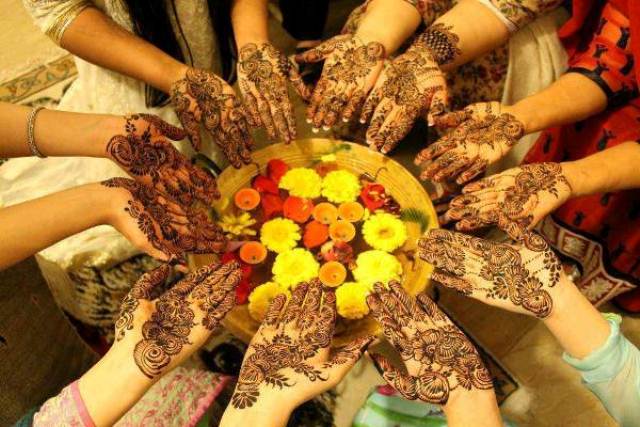 The next ritual is putting the 'sindoor at the partition of hair around the forehead by the groom into the bride's hair is also red in color. In fact, putting sindoor is a daily routine for a lot of brides after the wedding day.
It is an indication of a woman being married. It is also known as kumkuma powder which is also used as a tilak during various festivals of India such as Navratri, Rakshabandhan, Diwali, Bhai dooj, etc.
Pure kumkuma powder is made from either turmeric powder treated with slaked lime or sometimes from pure sandalwood paste.
Liquid bindi or sticker-like bindi is used often in place of sindoor in regular wear by Indian women.
These sticker bindis are supposed to be put on the forehead, right in the center above the brows. They come in various colors and patterns and designs which accentuate the whole face of the bride and make her look prettier
Although red, pinks and oranges are the staple wear of Indian brides but in recent times they have been seen wearing blues and greens paired with ivory and golden shades which are absolutely mesmerizing.
Coming to one f the famous and most important rituals of an Indian wedding is the Mehendi ceremony. Mehendi is actually a herb that is crushed and mixed with natural ingredients to form a liquid paste.
This paste is rolled in paper and then it is used just like a pen. This is further used to decorate the bride's hands and feet. After washing the Mehendi, your hands are left with a beautiful tattoo-like ink whose color ranges from orange to dark brown.
The mehndi ceremony has great cultural importance in Indian weddings and the belief is that the bright and deep color represents the success and happiness of the marriage.
Since the henna or mehndi powder is green in color, various weddings have been following the theme of wearing green shade throughout this day.
The next major event is the haldi ceremony which has a theme for itself as well which is yellow in color. Why yellow? because this ritual follows the process of mixing turmeric (haldi) and besan (chickpea flour) along with milk and forming a paste.
This paste is used to apply to the bride as well as the groom one or two days before the wedding. Turmeric itself is considered a natural antioxidant for the skin which helps to remove any marks, making it look completely flawless.
It's basically a natural antioxidant for your skin. Putting on haldi makes the bride, as well as the groom, look good. The decor in Indian weddings is completely unmatched and is at a grand level. The use of fairy lights, flowers, carpets, chandeliers, etc is the basics of Indian wedding decor.

The marriage ceremony between the bride and groom is completed only when they exchange garlands made out of flowers like roses, jasmine, marigold, etc. It is a symbol of the bride and groom tied up together for the rest of their lives. Green-colored garlands are also famous since they are made out of sacred leaves.
CHECK OUT OUR LATEST COLLECTION OF INDIAN CLOTHES FOR WEDDINGS ONLINE STORE USA, AUSTRALIA, UAE, CANADA
Categories: Indian Wedding Dresses 2020 Articles, Indian Wedding Jewellery Articles, Indian Wedding Shopping Tips Articles, Party Gowns Articles, Punjabi Salwar Kameez Articles, Salwar Kameez Articles, Sangeet Dresses Articles, Traditional Indian Dresses Articles