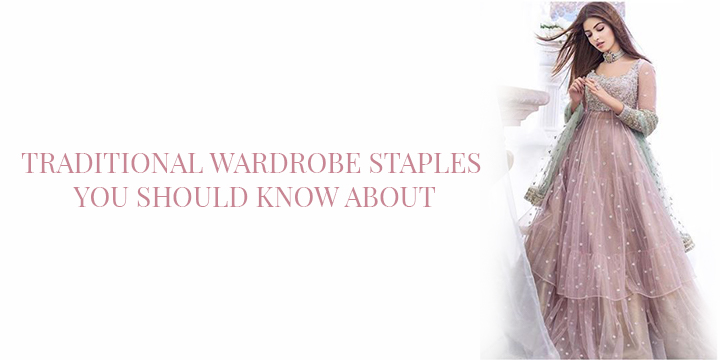 TRADITIONAL WARDROBE STAPLES YOU SHOULD KNOW ABOUT
TRADITIONAL WARDROBE STAPLES YOU SHOULD KNOW ABOUT
The Indian traditional garb is a prime key to your happy wardrobe. In a world swayed by novelty-oriented fads and contemporary clothing, timeless ethnic finery is the one that outright it. Most of the traditional attires are resourceful and multiskilled, so you don't have to lay out money on Indian wear every time. Just invest in some of the basic Indian staples that would change their framework according to your creativity. The amalgamation of elegance, grace, and comfort is what makes Indian clothing an unbounded set of fashion that is easy on the eye.
Here is the list of ethnic wear must-haves that would assist you in the long term;
1. DUPATTAS
Dupattas are undoubted, a wardrobe staple as they have the ability to take any basic outfit up a notch. A gentle smooth drape of a dupatta can be used in different ways. For instance, you can tuck it from the front to make it a dolman-sleeved shrug or pin it down from the side to get a one-shoulder flair. Dupattas have many variants, but as we're talking about the must-haves so, some of the essential ones are as follows;
Net Dupatta: These dupattas can modify a solid kurta or an Anarkali in a subtle way. Net dupattas can be embellished by pearl or stonework, appealing laces, dangling tassels, and a lot more.  
Handcrafted Dupatta: Never underestimate the skills of a local artisan. Indigenous embroideries and prints like phulkari, bandhani, zardozi, and so forth are all quite fetching. If you're short on heavily embellished suits or don't desire to carry a hefty attire, then these dupattas will come in handy for you.
2. BASIC TROUSER SUITS
Your wardrobe is incomplete without a few sets of trouser suits. Some solid cotton kurtas with block printed trousers, Plain salwar with asymmetrical kurtas, and a white narrow-fitted trouser paired with floral printed Kurti will add a tang of ethnicity to your closet. Prints as simple as ikat, bagh, or batik on cotton or linen fabrics set together with matching trousers and silver jhumkas will elevate your ethnic game. Where Kurtis can stay basic, there are few trousers such as palazzo pants, dhoti pants, and traditional skirts you should beyond question invest in as all of them can be used with your ethnic as well as western garments. To urbanize the above-mentioned trousers, you can coordinate them with waistcoats, corsets, shirts, and wrap-around.
3. LEHENGA CHOLI
Lehenga choli is the epitome of Indian wear. With unique silhouettes, fancy drapes, and a graceful aura, it is gaining an edge over its competitors. Starting during the 10th century by catering to the needs of the royals, the demand for lehenga choli is self-same. Now, skilled and proficient designers refashion lehengas in alignment with their finesse to give out eccentric options. If you're into offbeat silhouettes and vibrant colors, put your money into layered teal green lehengas with a blouse having dramatic sleeves, whereas if your heart is still stuck with run-of-the-mill styles, paneled cut lehengas in pastel shades embellished with the fine thread of zari and Resham might entice your taste.
4. SAREES
A saree is a timeless piece of clothing. It's an evergreen and versatile part of Indian garb. Sarees are 6 to 9 yards meter long material that is absolutely unstitched. You can unveil your creativity by creating unique ensembles out of a saree. For instance, you can drape it around in a dhoti-pant style or put all the pleats in one corner and pair it with your regular jeans for an indo-western fusion. There are myriad ways to revamp the conventional drape of the saree in line with your fashion palette. Just like dupattas, sarees also have multiple variants, however, if you want to fit in only the essential sarees, then those are;
Net: For a touch of modernity, pick out the net sarees as they bring out the vivid embroideries and lacework in the most elegant way. Put it together with sequins or shimmer blouses to get those heads turned.
Banarasi: One light, woven wedding-wear saree is a must. Banarasi silk sarees represent the ultra-fine composition of zari. It will give you the traditional grace and refinement.
5. TRADITIONAL ACCESSORIES
You cannot expect an out-and-out quintessential ethnic look without a set of beautiful jewelry. It is undoubtedly, a grace, an ostentatious display of an Indian woman. To elevate your monotonous wedlock wear, you can make splendid use of heavily embellished jewelry. The Ethnic must-have accessories list does not end here. You would also need a matching pair of traditional jutis or mojris as they are a perfect combination of comfort and beauty. If wearing flats is not your style, there are now traditional wedges and heels on the market as well. Another accessory which you should not forget is traditional bags. Pockets in ethnic wear finery are only adopted by a few designers till now, and that's when potli and other embroidered bags come to the rescue. They lay out enough ease while fitting in remarkably with the overall look.
Related Articles:-
Categories: Decorative Jewellery, Diwali Collection, Festival Season, Footwears Articles, Indian Wedding Jewellery Articles, Indian Wedding Lehenga Choli Articles, Indian Wedding Outfits Articles, Indo western clothing, Kurtis & Tunis for Girls & Women Articles, Lehenga Choli for Weddings & Parties Articles, Newarrival Sarees Articles, Pink Wedding Dresses Articles, Silk Sarees for Wedding Articles, Traditional Indian Dresses Articles
Sorry, comments are closed for this item.