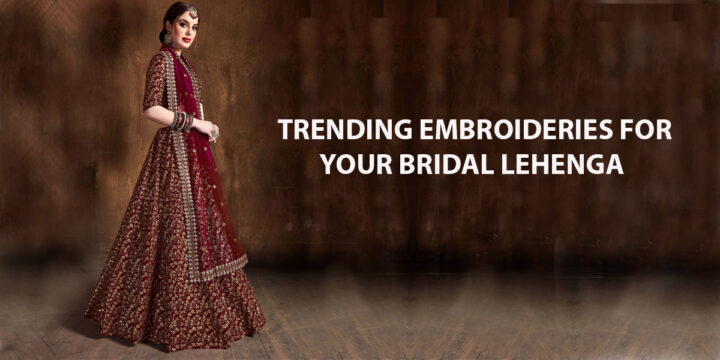 TRENDING EMBROIDERIES FOR YOUR BRIDAL LEHENGA
Embroidery is a kind of embellishment that communicates to the beholders how creative and unique you are. The genre you will be picking out for your bridal lehenga will be the supreme part of your wedding ensemble. In the midst of ample varieties, it's quite difficult to discern one. Apart from that, not every woman can keep an understanding of how to distinguish one embroidery from the other and blend it with the ongoing trends. As it's your wedding, you will have all the spotlight so, make it worth a while. We've made this easy for you by drawing attention to some offbeat trending embroideries to choose from;
1. ZARI
The art of Zari is an impeccable form of thread work. Surat, the state in Gujarat is known for being the world's largest producer of Zari threads, borders, fringes, and so forth. Zari is a detailed work done with the help of ultra-fine gold and silver threads. It brings out the richness and regality of beautiful motifs with its radiating and intricate fibers. It used to be done on silk fabrics, but nowadays, with its economical setup, Zari can be done on fluid fabrics, like chiffons and georgettes as well. Moreover, it unfolds the bridal color palettes perfectly. Mina work, Kamdani, and gota work are all a part of Zari.
2. RESHAM
Resham embroidery is known for the vibrancy and vitality it gives to a material. In this, the thread of Resham is used to form maze-line raveled designs. Be it paisleys or florals, Resham can make any motif bring to life with its pigmented silk threads. If you are into colorful and heavily embellished work, then this is the embroidery for you as it underlines the intricacy of motifs through varied colors thereby, making it appear neatly exaggerated and heftier.
3. ZARDOZI
People usually perceive zardozi as another name for Zari which is not correct. Zardozi is a more complex, elegant, and detailed form. It's a composition of gold & silver threads, sequins, Gota Patti, stones, and whatnot. Zari is just a part of zardozi. Zardozi is divided into two art forms; (a) Kora, which is a bland and dull form (b) Chikna, which is a more elaborated and polished form. This embroidery is usually preferred when the bride is captivated by heavy elaboration and extravagant designs on her lehenga choli.
4. CHIKANKARI
Chikankari is one of the most elegant and regal kinds of embroidery. Originated from Lucknow, it holds richness wherever it goes. It is also identified as shadow work. Chikankari requires some time and patience to turn into the final product as the needlework is quite complicated and detailed. It can be done on several fabrics such as cotton, chiffon, linen, silk, net, and so on. This embroidery speaks artistry and royalty. If you don't want to play with the hues, you should undoubtedly go for chikankari, as just with the help of a solitary color, it can do more than enough justice to your bridal attire.
5. GOTA PATTI
The Gota Patti handcraft has been here for centuries. It used to be royalty's possession, but now it has become a crucial part of many bridal attires. It's a lace built with the help of metal-coated weft yarns. It's then elaborated with Zari threads. Gota Patti is a Rajasthani flair for embellishing monotonous outfits and providing the bride with a rich glow. This embroidery complements stunningly well with silks, velvets, and georgettes. 
6. SEQUINS
Sequins are an aesthetically pleasing decorative trim for any bridal finery. It's usually paired with two or more other embroideries for a heftier appearance. They are usually a disk or diamond-shaped mirror-like objects with a hole. Sequins now come in various shapes, sizes, and colors. It's a prepossessing way of making a garment high-end and strikingly beautiful.
Related Articles:-
Categories: Bridal Makeup, Festival Season, Indian Wedding Jewellery Articles, Indian Wedding Lehenga Choli Articles, Lehenga Choli for Weddings & Parties Articles, Pink Wedding Dresses Articles, Traditional Indian Dresses Articles, Uncategorized
Sorry, comments are closed for this item.