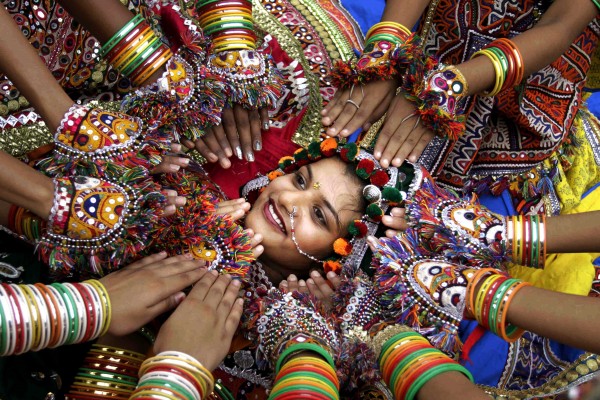 Navratri Jewellery Online Store
Jewelry is not only a way to enhance a woman's beauty but also reflecting the rich culture and tradition of India. Jewelry is considered the soul of any attire and when it comes to Indian ethnic wear, jewelry becomes the most important aspect of the whole attire. Adoring with jewelry is a very old tradition in India.
The Indian women and jewelry have always formed a perfect combination. With time, it becomes more vigorous. India is famous for the art of making beautiful ornaments with delicacy and acumen. In India, jewelry is designed to match the outfit and to enhance its beauty. The design, theme, work, and color are the matter of concern while adoring. Gold and silver jewelry is an integral part of Indian culture. Indian jewelry symbolizes prosperity and purity.

Navratri is one of the most celebrated festivals in India. The dandiya, fasting, colorful clothes, and beauty all around bring the atmosphere of carnival delight. So with the perfect outfit, you must have the perfect jewelry to accessorize yourself that will surely give you a mesmerizing look at this Navratri.

To look different from others on this Navratri, pick out a perfect outfit with suitable jewelry. Here are some tips that will help you while choosing perfect jewelry and to enhance your beauty:
Kundan jewelry is the purest form of gold and expensive too. Various types of precious stones and gems are used to design Kundan jewelry to give it a stunning look. Kundan jewelry is originated in the Mughal period and that's the reason it gives you a royal and rich look. So, this Navratri, to make yourself feel royal and rich a Kundan necklace with Kundan jhumka is the perfect choice for you.

Meenakari jewelry is the best choice if you want to look colorful and bright. As Navratri is a very colorful festival meenakari necklace is the best one for you. Meenakari jewelry is originated in Rajasthan but now it becomes the most popular jewelry type in the world. For the Navratri celebration, you will need extremely traditional designs such as peacocks, fish, flowers, or paisley. So choose a meenakari necklace to look like a traditional diva.

Diamond jewelry is every woman's first choice. Be it necklace, earrings, bangles or any other jewelry go perfectly with every outfit. It looks classy, sophisticated, and elegant at the same time. So, this Navratri goes for diamond jewelry to add some extra spark to your charm. It will suit any outfit you pick for this Navratri whether it is saree, chaniya choli, or any type of salwar kameez. Add a diamond to your beauty and glam up this Navratri.

Tassel jewelry is designed especially for the purpose of Navratri. It looks quite trendy and stylish. Once you buy tassel jewelry you will surely love it. So, add tassel jewelry to your jewelry collection and make yourself feel like a queen.
Oxidized jewelry sets a perfect theme for Navratri's function. Oxidized jewelry is so much in trend these days. This gives you a simple and elegant look. Pick out the oxidized necklace, earrings, and bangles to glam up this Navratri.

Temple jewelry is the true reflection of Indian culture and is perfect for Navratri's grand celebration. If you yearn to flaunt a completely astonishing look then a temple necklace with earrings is perfect for you. Temple jewelry gives you a regal look that will make you stand out in the crowd. It will not only add to your glamour but also becomes a status symbol a temple jewelry cannot be owned by everyone as it is quite expensive.
There are various types of earrings that will surely suit your outfit and add some extra charm to your appearance:
Jhumka earring has great importance in Indian jewelry because it goes perfect with a saree or any type of salwar kameez. It looks amazing in hue, metal, and style.
Stud earrings give you a simple and elegant look and look perfect with any type of salwar kameez.

Chandelier earrings have a royal look that will give you a lavish look.
Threaded earrings are so much in trend these days. They look perfect with any type of salwar suit.
Chand Baalis are perfect choice for Navratri. If you don't want a heavy earring then balis are the one for you that can make you look elegant and stunning without any hustle.

Kaan chain looks very royal in its appearance and can give you a rich and regal look exactly what you are looking for. It comes with a long chain that gets hooked on to your hair. These are perfect for this Navratri.
Drop earrings look gorgeous on a saree. They can be short and gives you an elegant look.


Andaaz is here to cater to all your needs from ethnic outfits to further accessories. You can find an exclusive range of ethnic jewelry and make this year Navratri delightful and unforgettable for you. We are celebrating Navratri with you by bringing the latest trends and special deals and discounts. So ladies, go and get the best one for you and make yourself look exceptionally beautiful and stunning.

CHECK OUT OUR LATEST COLLECTION @ DESIGNER JEWELLERY ONLINE STORE USA, AUSTRALIA, UAE, CANADA
Categories: Uncategorized