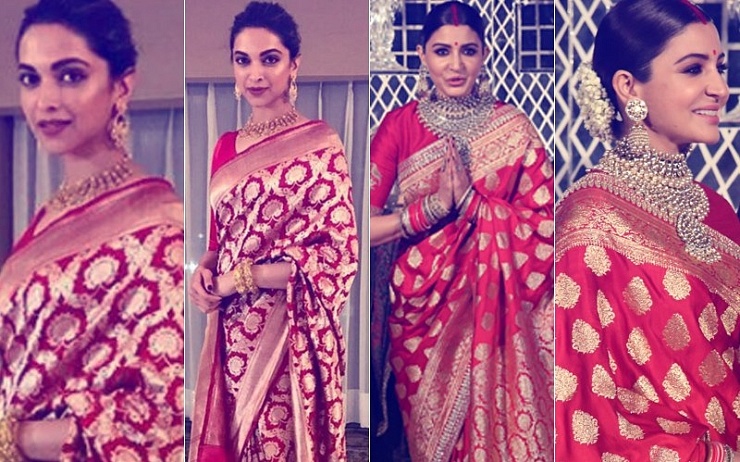 Designer Banarasi Sarees for Wedding
Indian sarees are the best way to portray the beauty of an Indian girl. The richness of Indian sarees cannot be replaced with any other dress categories like lehengas, salwar kameez, palazzo suits, and more. Starting from a vast range of fabric, Indian sarees can make anybody look beautiful within minutes. From Cotton to Silk, the collection is a huge assortment of fabric, colors, designs, work, patterns, draping style, and more. While more and more people are looking at this trend, the collection of Indian sarees is unending and therefore gives a real fight for the buyer to decide, what will look the best!
If we are talking about Indian sarees, then we cannot overlook wedding sarees. A wedding saree is considered to be an ethnic yet chic outfit. It can be complemented with designer patterns, prints, and colors. Teaming them up with designer jewelry, clutch bags and heels will give you our overall outlook a hit of glamour. In wedding sarees, you can choose from heavy sarees, embroidered sarees, readymade sarees, light-weight sarees, and more. The colors that are commonly used for a wedding saree are red, pink, orange, peach, and hues of pastel. These sarees generally come with golden work in the borders or in the overall saree body, however, you can always choose from simple tones as well
Going next from wedding sarees is party wear sarees. Ranging from heavy border to heavy pallu, or lightweight sarees, these Banarasi party wear sarees are just the way to go. Partywear sarees are easy to drape and make you feel comfortable in minutes. From celebrities to your friends, you must have seen many girls wearing party wear sarees as they offer a chic design, bold outlook, and elegance.
Thus, from Vidya Balan to Dia Mirza, Deepika Padukone to Rakhi, Anushka Sharma; almost every celebrity is seen wearing these party wear sarees. The twist is that these sarees are not old school. These sarees can be modern or contemporary, depending upon your taste. As sarees never go out of fashion, you can keep these for years and wear them as and when you want to.
In many Indian cultures, the bride and bride's maids are seen wearing silk sarees with heavy work and gold-colored patterns. It is the best attire for the bride and the silk saree makes the bride look elegant, graceful, and all ready for the upcoming change of her life. Silk sarees come in various shades of red – bright red, maroon, sparkle red, tomato red, and more for the bride.
While the bride's maids can look for shades of pink and orange as they are in high demand. In fact, it has been noticed this wedding season that these shades of pink, orange, peach, and purple are also demanded by the bride herself. Pink, being a girly color looks pretty and young on girls; whereas, orange silk wedding sarees give a tangy twist to the would-be bride's look. You can also select from shaded colors with a combination of pink-orange, red, gold, pink, and more.
Categories: Uncategorized