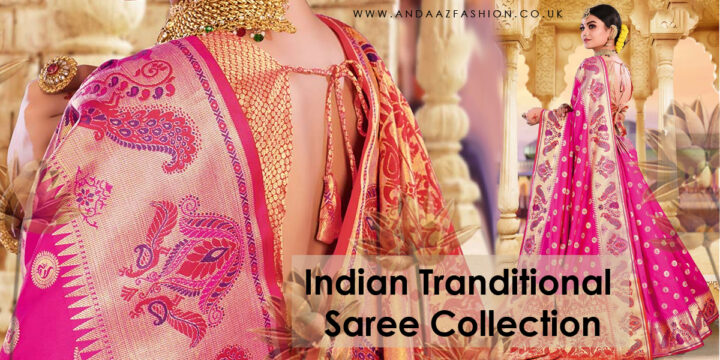 Indian Tranditional Saree Collection
Indian Traditional Saree Collection
The Indian traditional sarees have not remained unswayed with trending fashion. The trend in color, fabric, pattern, and designs is being loved. There is a shift in the style of traditional clothes. Indian saris have continued to be the increasing style dress for ladies when there is a choice between the Western and Indian dresses. Indian traditional saris have always been the first choice of women.
The ardent love for saris could be seen everywhere. From celebrities to the common people, it is ubiquitous in India. The main reason for the importance of Indian saris is Indian cinema and television. In the clothes market saris have been sharing more than 50% shares of women's clothing. In the market different types of saris both original as well as a duplicate of originals are available, be it Kanjivaram or any Banarasi sari.
The bridal Banarasi saris: Varanasi in Uttar Pradesh is the hub for the production of the Banarasi saree. This style began in India with the advent of the Mughals. Earlier this art of embroidery was used for making sherwanis, overcoats, and dupattas. A long time back, pure gold was used in the saris but now there is merely the use of gold instead dramatic shining zari is used. The range of Banarasi sarees increases with the quality and embroidery work, but then there is a high risk of getting fake Banarasi sari due to their increasing demand in the market.
The Indo-western sarees give that sassy Bollywood look and make you ready for a cocktail party.
Even today the Banarasi sarees and Kanjivaram saris catch the heart of women due to their special status and grace attached to them. The kanjivaram sarees are one of the best sarees made in India. The embroidery or zari used is of silk with an outer layer of gold. Though the duplicate Kanjivaram sarees are available at a very cheap rate these have very little zari work in them. Also, many of the original kanjivaram sarees have embroideries of golden thread because of which their prices rise up to lakhs.
In today's world, copying the original is not a big deal the copied and originals are so much identical that it is very difficult to identify the real ones and the fake ones from the consumer. There is a huge risk of buying a fake saree even after paying a huge amount of money so quite a keen observation is needed when purchasing a saree. Sarees can never be taken away from the heart of India and the Indian woman. India being a land of diversity serves you with a variety of regional sarees which is inspired by the history of India. These saris are a representation of the culture of India as well as its traditions which are being followed for centuries by the people of India. Keeping in mind that I will city of cultures we bring you everything and anything you could ever imagine relating to Saris. Go ahead and check out the collection of regional saris which will steal your heart in one go at Andaaz Fashion
Categories: Uncategorized