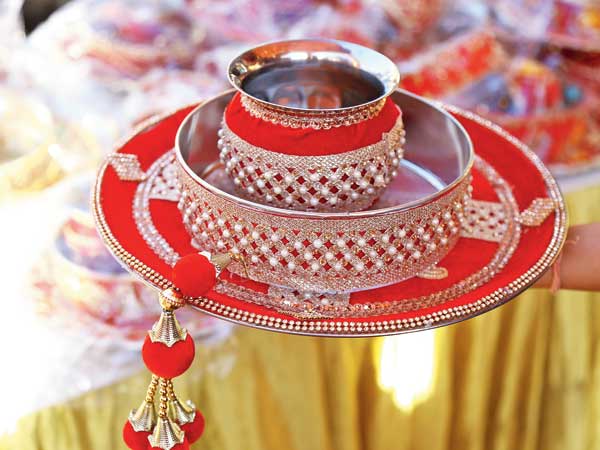 Special Dress Designs to Wear On Karwa Chauth
Karwachauth is one of the main Hindu festivals. It is a fasting ritual performed by all Hindu married women who seeks longevity, prosperity and well-being of their husbands. Every married Hindu woman celebrates this day with a great dedication. This is very famous in northern and western parts of India mainly in Punjab, Haryana, Gujarat, Rajasthan and Uttar Pradesh. On this day, women adorn bridal makeup and dress up beautifully mostly in bridal colours.
So, it is obvious to look extremely beautiful on this day. Women also need to ensure that their appearance is perfect from head to toe. Karwachauth is all about looking and feeling good. So, it is important to pick out your outfit with proper accessories too. I know ladies; you are so confused with what to wear that will make look exceptionally beautiful like a bride.
On Karwachauth, mostly women prefer to wear saree and the saree must be extraordinary that has potential to make you look like a beautiful bride. The traditional saree will work perfectly with your look on this auspicious day. So ladies, make this year Karwachauth more special by choosing an innovative saree and colour combination. Here are some ideas that will make your Karwachauth extremely special.
Traditional colours are important for Karwachauth. Give your traditional red a new style by blending it with glittery saree. This will help you to retain your traditional quest and become the star of the day as well.
Pick out a saree with heavy work that will give you a shimmery and rich look.
Make good combination such as red or pink. Pink makes you pretty while red keeps the suhaagan charm going on. These two colours together never go wrong and makes you look elegant.
Avoid the traditional colours such as red and maroon this year, choose the colours that are trending presently. You can try some different colours such as hot pink, glacier grey, aquamarine blue, Lucite green or toasty almond, peach, orange, baby pink or bright yellow.
Do experiments with colours so that you can look different from others. A cream saree with pink can do wonder. A saree like this will make you look like a diva.
Choose a pure net saree. No matter what colour you choose, you will steal the show.
Choose an exquisite embroidered saree and wear it with pearl jewellery and avoid do much If you want to look completely different then you can go for a lehenga or a beautifully embellished anarkali suit. Karwachauth has much importance among Indian married women and a woman want to look extremely beautiful and stunning. Here are some trending style and colours that would help you to pick the best one for yourself.
Velvet lehenga will be perfect for this occasion. As we know, velvet is considered the most elegant fabric. These types of lehengas are heavy so pair it up with glittering accessories and jewellery.
The next but not the least one is lehenga saree. Lehenga saree is suitably perfect for Karwachauth. As a lehenga saree is bright enough to put dazzle onto a lady's glamour. Pair it up with catchy bling earrings and a choker necklace to show off the best of you.
A lehenga suit is a perfect mash up of lehenga and suit. If you want to try something different then this is perfectly designed for you. A lehenga suit consists of traditional skirt or simple lehenga which can be combined with long or short straight Kurtis. These are available in various styles, designs and patterns. Club this type of ethnic wear with gold earrings and embellished sandals or heels.
You can go for layered anarkali suit as it always remains in trend. Wear lavish jewellery such as jhumkas or hanging earrings with it to look gorgeous.
Pakistani dresses are so much in trend. Chicken and thread work will definitely make you look extraordinary.
Here are also some ethnic gowns that can make you look different from others as well as extremely beautiful. You can pair it with light earrings and choker necklace.
Karwachauth is all about celebrating in good mood and nothing can make women feel better than dressing well, especially while doing something special for their husbands. Be it clothes, jewellery or makeup, everything adds to the feel-good factor on this day. So, keep these tips in mind, and feel gorgeous like never before this Karwachauth.
Categories: Uncategorized