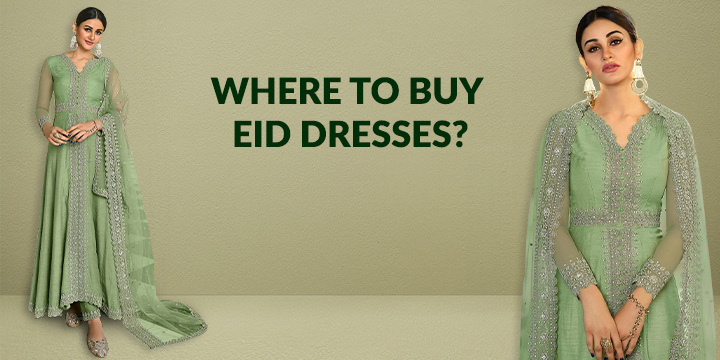 Where to buy Eid Dresses?
Shh! Don't Let Anyone Else Know About this Ultimate Shop for Eid Dresses
With Eid just around the corner, it's about time that you rush to get your festive wardrobe ready. Celebrating with your friends and family means you need to put your most fashionable foot forward. But how do you find gorgeous Eid outfits when you don't have the time to go out?
Fear not! We're here to tell you all about some stunning outfits that you can grab online. Once you see these outfits, you'll know exactly what you should be shopping for. 
A one-stop-shop for all your ethnic wear needs!
Online shopping is a boon in a fast-paced world. Now, you can find trendy Salwar Suits for Eid, without the need to step out of your home. But, when you don't have the time to search every shop out there, how do you find a platform that has it all?
At Andaaz Fashion, we know that your time is precious. So, we've curated a gorgeous Eid collection where you can find outfits for women, men, and even kids! Where else would you need to go when you can fulfil all your ethnic wear needs in just one place? Shop from Andaaz Fashion for a seamless experience and get your outfits delivered to your doorstep in days.
Finding gorgeous outfits made easy with our Eid Collection 2023
Can't choose among the numerous styles we offer? We're here with a few outfit ideas and tips to help you make the most of your online shopping experience. Ready to look your best this Eid? Let's get started!
Anarkali Dresses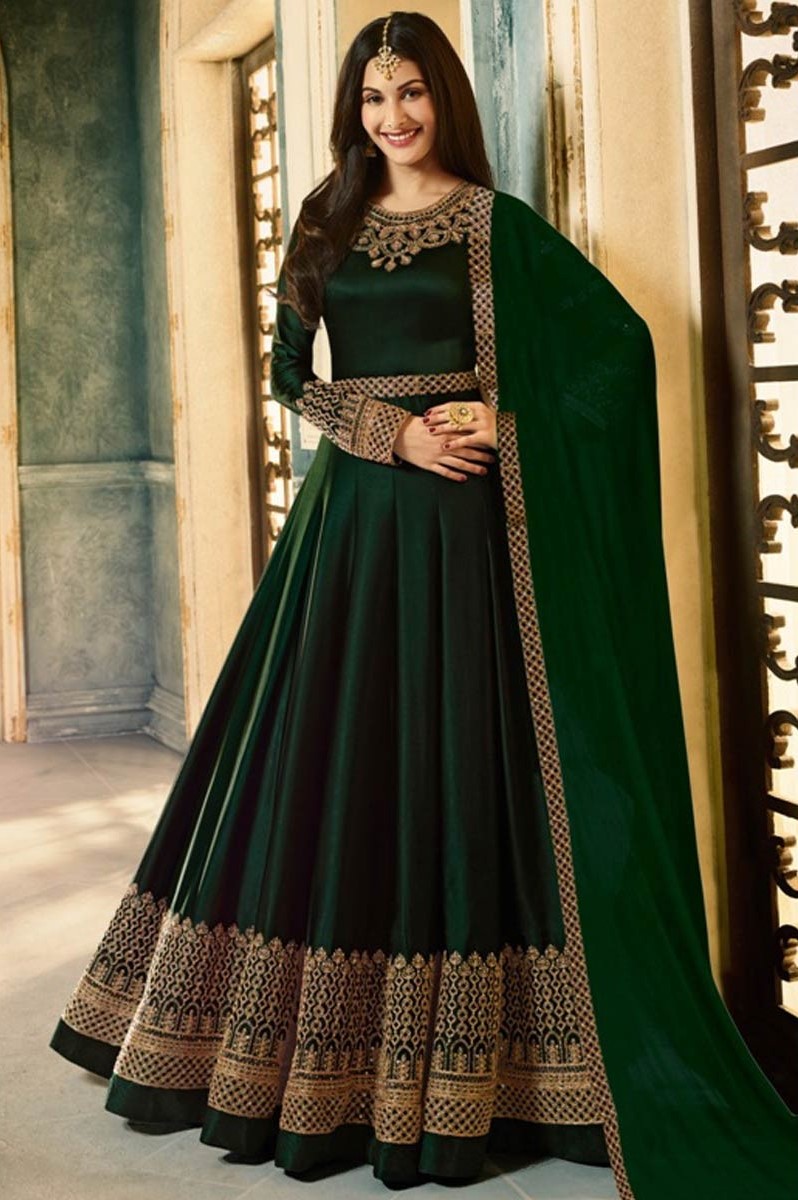 Embrace the festive season in this stunning embroidered Dark Green Silk Anarkali
Who can disagree that Anarkali dresses are evergreen? Comfortable and flowy, they are the perfect fit for any celebration. Finding a gorgeous Anarkali for Eid is easy, search platforms that allow you to filter by sleeve length, material, and color to find your perfect match. Our Dark Green embroidered Anarkali comes in auspicious green with full-length sleeves. What could be better than this?
Sharara Suits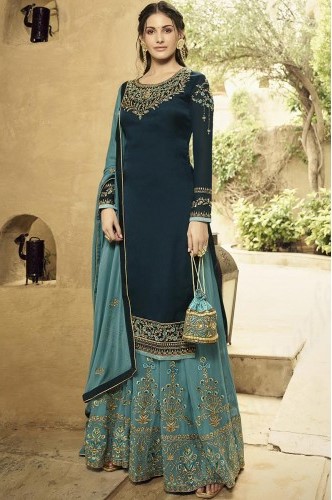 Steal the spotlight in our Prussian Blue Sharara Suit
Want to pay homage to your culture, but stand out at the same time? Our Prussian Blue Sharara Suit is the perfect choice for you. With a to-die-for design and a unique color, this sharara suit takes the cake when it comes to stunning outfits for Eid. For sharara suits that truly stand out, filter by designs with Resham or stone work. 
Patiala Suits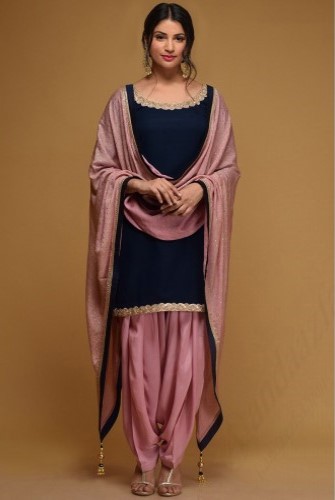 Go for an elegant look with our beautiful Navy Blue Patiala Suit
Make a style statement with a gorgeous Patiala Suit that lets you embrace your femininity while staying comfortable. Our Navy Blue and Pink Patiala Suit are perfect for evening wear and a highlight in our Eid Collection 2023. In a sea of the go-to Eid colors, the blush pink dupatta and Patiala pants will make you stand out. For a unique look, opt for contrasting colors.
Pathani Suits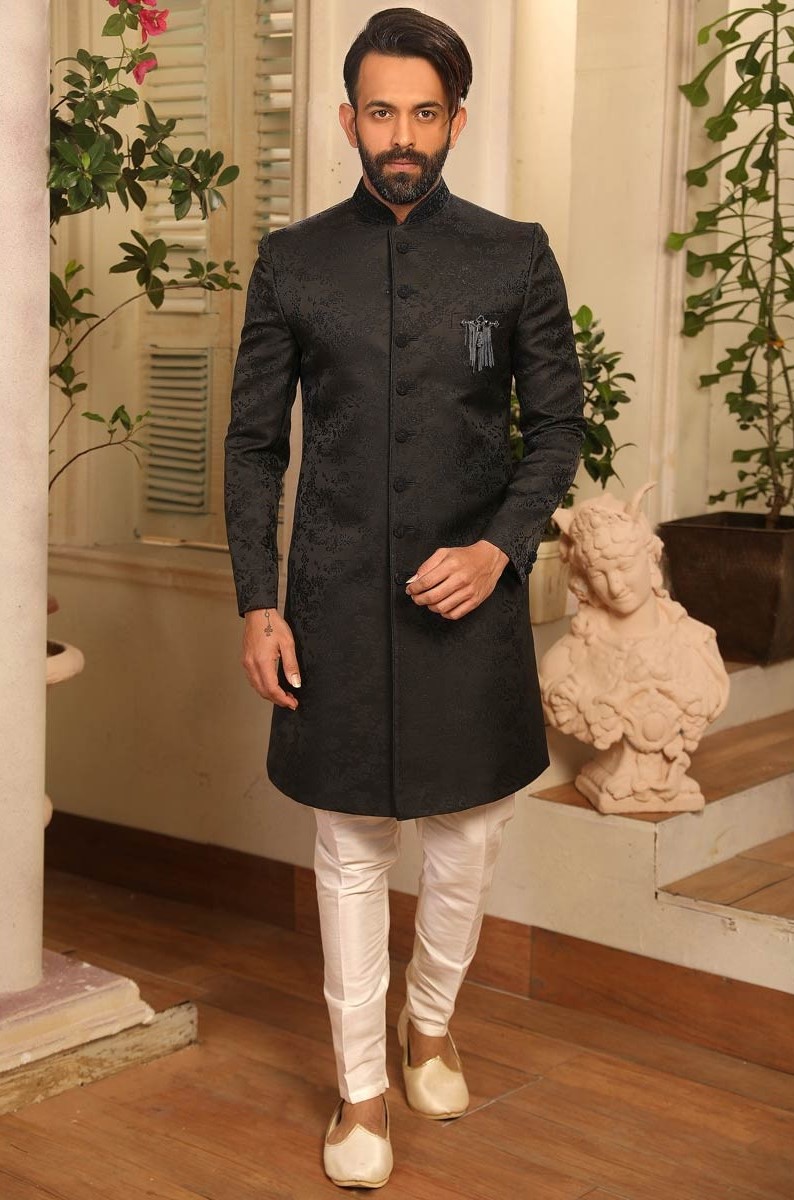 Our Black Designer Sherwani is perfect for a classic look
Why should girls have all the fun when it comes to Eid outfits? You will find some beautiful pieces in our Men's Eid Clothes collection. While some are vibrant and trendy, others, like this classic Pathani Suit, are for those who want to look elegant but not loud. 
Excited to find your pick? Our Eid Collection 2023 has some hits that you'll want to grab right away. Go on, find the Eid outfit of your dreams, only on Andaaz Fashion.
Related Articles:
Categories: Uncategorized
Sorry, comments are closed for this item.