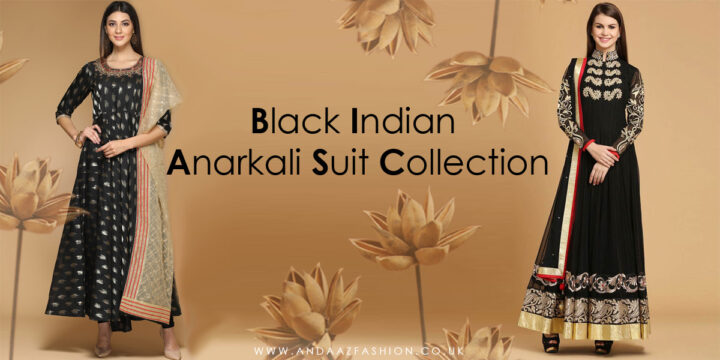 Black Indian Anarkali Suit Collection
Anarkali suits are one of the most trending and fashionable forms of Indian salwar kameez One can get it in several colors and designs. It is often considered a comfortable yet heavy outfit that fits in almost every function. These Anarkali suits look amazing in a single color and even if we combine them with other colors. Like black and red or black and yellow. Black color is considered a universal color for combinations.
The trend of the Black Indian Anarkali suits is very much in vogue these days. It's a never-ending kind of fashion Black color is never out of style and even after years you wear a black Anarkali that you bought years ago, it will be still in trend and very much fresh.
One has the liberty to buy the Anarkali combination as per one's discretion. Black is a color that adds so much grace and charm to anyone. Thus shopping is always a wonderful experience, be it online or from a store. Black Anarkali can be worn with a dupatta or even without one. One can also buy a floor-length design or up to the ankle. There is an immense number of designs available for a woman to buy and Andaaz Fashion has the most trendy and amazing collection of Black party wear Anarkali suits. The Indian market is full of designs, patterns, and variety for shopping for these suits. The Anarkali suits that are made in Georgette or crepe add grace and flow to the dress.
CHECK OUT THE LATEST COLLECTION @ BLACK ANARKALI DRESSES ONLINE STORE USA, AUSTRALIA, UAE, CANADA
Related Articles:-
Categories: Indian Wedding Collection Articles, Indian Wedding Dresses 2020 Articles, Indian Wedding Outfits Articles, Indian Wedding Season Articles, Indian Wedding Shopping Tips Articles, Mehendi Dresses Articles, New Year Celebration Articles, Pakistani dresses Articles, Party Gowns Articles, Punjabi Salwar Kameez Articles, Salwar Kameez Articles, Sangeet Dresses Articles, Sangeet Gowns, Traditional Indian Dresses Articles
Sorry, comments are closed for this item.