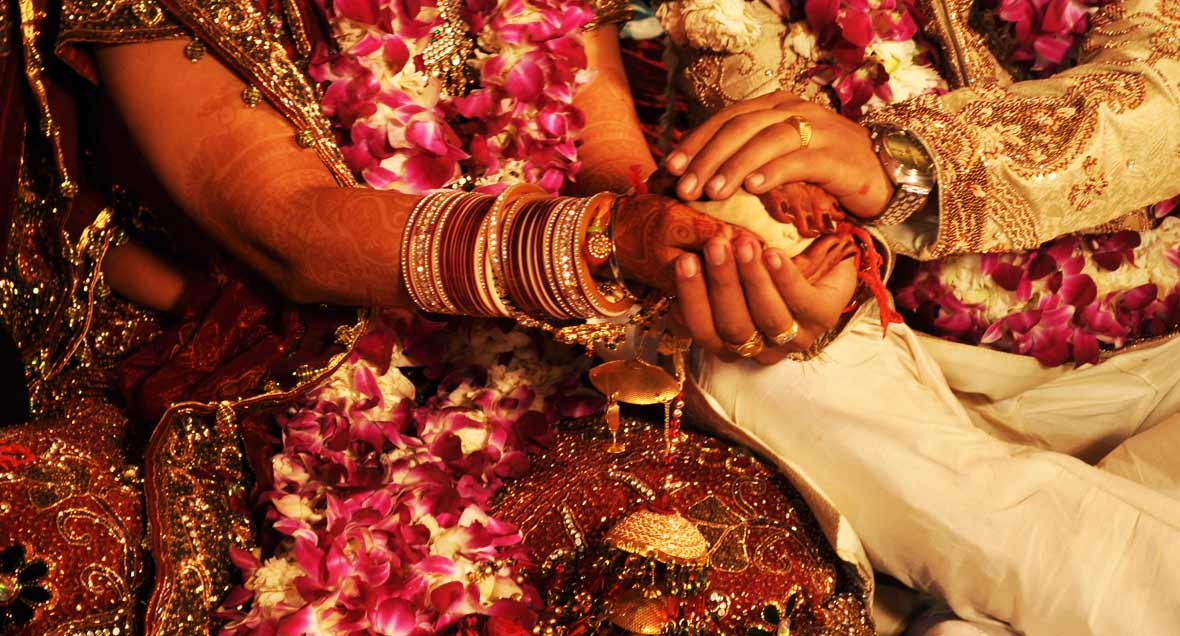 Pink Indian Wedding Dresses Collection Online USA
An Indian wedding is a grand celebration which is very colorful and lavish with a lot of pomp and solemnity. The celebration of an Indian wedding begins at least a week in advance. The wedding in India is celebrated like a festival. Wedding is India is not a silent affair but an extravagant cluster of various rituals.
Wedding is one of the most crucial affairs in everyone's life. An Indian wedding is just like a festival, festivities and celebrations all around create an aura of joy and excitement. There are various pre wedding ceremonies that are performed with great dedication and passion. All the rituals and ceremonies are religious in nature and they bind not only two people but also two families together in a strong bond.
Wedding in India vary religion to religion and place to place. Wedding in India is a joyous occasion with a plenty of music, dance, partying and celebration. Marriage is considered a great even in our Indian society. It is all about establish a strong bond between two individuals and their families. The preparation of wedding in India begins with the day of the finalizing the date of marriage.
If your wedding is about to come and you need to prepare many things. Start with the outfit that you are going to wear on your big day. You must be looking extremely gorgeous on your wedding day. You must choose something that can make you the most brides ever. Indian wedding is incomplete without Indian outfits. Indian outfits reflect the rich culture and tradition of India.
Indian outfits bind us with the ethnicity of our country. Indian dresses are famous across the world for its rich fabric and embellishment. Indian bride prefer an ethnic outfit for her wedding day. A girl spends a plenty of time to decide an outfit to wear on her wedding day. Many brides opt for the traditional red color for their bridal dress. But nowadays, brides want something different and yearn to experiment with colors as they are getting a lot of inspiration from western bridal trends.
But so many options often leave them confused. To make the things slighter easy for you, we are giving you some advice that would help you to decide the color of your dress quickly. You should select the color of your wedding outfit according to your skin tone. A right color always complements your complexion while the wrong one will ruin the entire look.

The pink color represents caring, compassion and love. Pink color stands for unconditional love and understanding. Pink color is a combination of red and white. Pink color is extremely romantic and intimate color. Pink color shows tenderness and kindness. If you are opting for a pink dress for your wedding then you will look definitely stunning and gorgeous on your special day.
You have so many options to wear such as lehenga, saree and salwar kameez. Indian outfits are famous across the world for its gleam appearance. A bride must be looking exceptionally beautiful and gorgeous. We are here to help you in choosing the right outfit for you. If you want something elegant and stunning then a saree is the best choice for you.
saree is the most preferred outfit among the brides to wear on their wedding day. A pink saree will create a magic to your entire look. You must choose a pink color saree, if you want an extremely elegant and stunning look. Pink color comes in various shades that look good on everyone. A saree in any pink shade can make you look extraordinary on your bid day.
You can choose from various fabric materials such as, art silk, chiffon, georgette and so on. You can choose from various types of sarees. you can choose a Banarasi silk saree if you want a regal and rich look. A banarasi silk saree is full of richness. Banarasi silk looks brilliant on every bride. A pink color banarasi silk saree can create magic and make you the most beautiful bride ever. The next and most preferred is kanjivaram saree.
A kanjivaram saree is the most alluring one among all saree types, if you want to look the most alluring on your wedding day. The next one is sambalpuri sarees. Sambalpuri sarees give you beautiful patterns and saree ornamentation. Sambalpuri sarees come in both silk and cotton. If you want the traditional Maharashtrian style then nauvari saree is the best choice ever.
Beauty is tapped inside 9 yards of cloth is known as Nauvari saree. You can opt for Nauvari saree, if you want to look extremely beautiful. At Andaaz Fashion, you can find an exquisite collection of various types of sarees in various fabric materials. You can choose your best one from various shades of pink and glam up your big day.If you want something royal and regal then must go for a hot pink shimmering glittered lehenga.
Lehenga is the most beautiful Indian attire and preferred by most of the bride. Ditch the traditional red color and go for some different colors such as hot pink or any shade of pink. In India, lehenga enjoys a special position in Indian outfits and most of the brides in India prefer lehenga choli as their wedding dress. Lehenga is a bridal outfits due to its mesmerizing look and embellishment. As this is your wedding dear, so everything must be perfect and you need to look exceptionally enchanting and appealing.
It is obvious to look extremely beautiful and captivating on the most special day of your life. You must need an outfit that must have that potential to make you stand out in the crowd and a lehenga is that one, which can add glitter to your entire appearance and make you stand at the stage confidently beautiful. If you want to give a regal and lavish look to your appearance then must go for the velvet fabric as velvet is rich in texture and a shining fabric material which can add an extra spark to your appearance.
Choose a heavily embellished hot pink lehenga with matching heavy accessories to further accessorize yourself and make your wedding the most memorable day of your life. At Andaaz Fashion, you can choose the best one from an exclusive range of sensational bridal lehengas that are especially designed to enhance your beauty.

In Sikh weddings, brides prefer Patiala suit as their wedding day. If you want something light that you can wear again after your wedding then a Patiala suit is the best choice for your wedding dress. You can choose pink color if you want an elegant and stunning look. A pink Patiala suit is the perfect one to give you a perfect Punjabi look. It suits on every body type and light in weight as well.
These attributes make it the most favorable bridal dress among the women. A Patiala suit with perfect matching accessories can create magic. At Andaaz fashion, you can choose from a wide range of bridal Patiala suit. You can choose from various fabric materials such as, velvet, art silk, georgette, chiffon, net and so on. Choose the best Patiala suit and make your wedding day one of the most beautiful day of your life.

Andaaz Fashion is celebrating this wedding season with you by bringing the widest collection of Indian wedding dresses in specific colors such as all shades of pink. Andaaz fashion has brought bollywood collection you also so that you can look exactly like your favorite celebrity. You can choose the best wedding dress from various fabric materials such as, velvet, art silk, net, crepe, chiffon, georgette and so on.
At Andaaz fashion, you choose from various shades of pink. At Andaaz Fashion, we have the latest bridal jewelry collection too that can complete your entire look. Add glitter to your entire appearance by shopping at Andaaz fashion.
Andaaz Fashion ensures you the best quality shopping experience and timely delivery at your doorstep so that you can enjoy your wedding without any hassle. Andaaz Fashion is an ultimate platform that gives you an opportunity to identify your style quotient and make your wedding one of the most memorable days of your life.

CLICK HERE TO SEE MORE COLLECTION @ PINK ETHNIC WEAR ONLINE STORE USA, AUSTRALIA, UAE, CANADA
Categories: Pink Wedding Dresses Articles