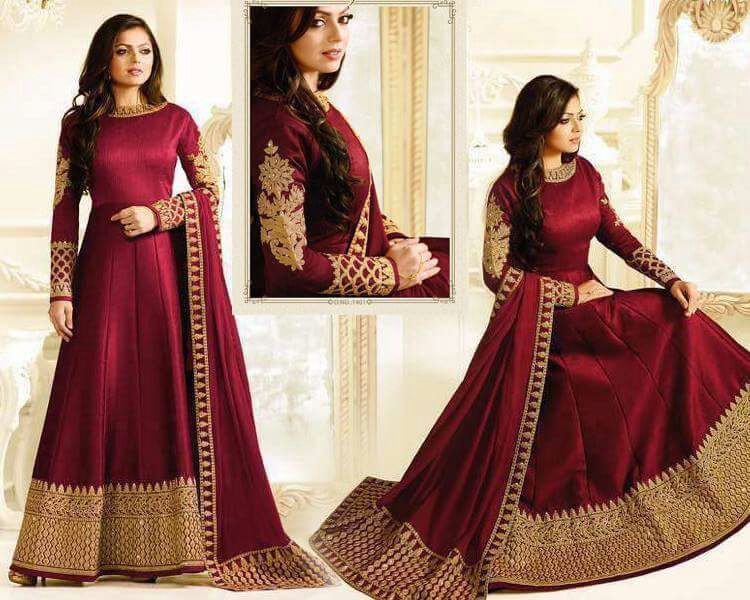 Indian Attires Online
Indian culture is the Indian's way of life. There is an enormous variety in Indian culture. There are different types of festivals celebrated in India with joy and happiness. When it comes to festivals or wedding occasions in India, clothing becomes an important aspect of the discussion. Traditional clothes are an essential part of every woman's wardrobe. The way you dress up is important especially when you are going to attend any family function or a social gathering.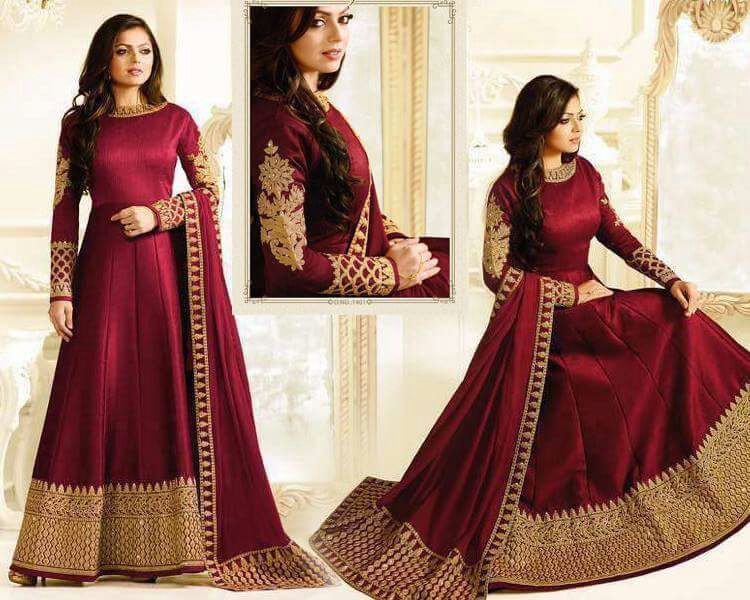 Traditional dresses are like a ticket to your beautiful appearance. It gives you an exceptionally beautiful look. Traditional outfits reflect Indian culture and values. Ethnic clothes suit every occasion you attend. It gives you a rich and royal look that makes you stand you in the crowd. Ethnic outfits are known for their heavy and rich embellishment of zari, stones, sequins, and embroidered embroidery.

At Andaaz, we have an exclusive collection of ethnic outfits and jewelry to further accessorize your appearance. We consider that traditional clothes have a unique aesthetic appeal that makes you fashionable for sure. At Andaaz, you can find designer sarees, salwar kameez, lehenga, Kurti, and gowns. And look stunning and beautiful at the party. We take care of your complete attire matching your occasion whether it is formal or informal.

As we know, traditional outfits are an important part of every occasion. Here are some tips that will definitely help you to pick out the best outfit to look like a traditional diva. When you don't want to wear a heavy outfit but want a beautiful ethnic look without any hustle then salwar kameez is best for you. At Andaaz fashion, you can find enormous variety in terms of style, type, color, design, patterns, etc:

The most trending and stylish is the sharara suit which is the perfect outfit for a wedding occasion. A sharer suit is a three-piece outfit with flared loose pants. The outline below the knee is heavily flared like an umbrella. A sharara is of floor length and paired with a short kameez or kurti and a dupatta.
A sharara suit is usually heavily embellished with zari, stone, sequins, beads, etc. a sharara resembles ghagra. The Sharara suit originated in Mughal Empire and become popular in India too. It gives a royal touch to your appearance. This is specially designed for ceremonial occasions such as weddings. A sharara suit is the favorite of every Muslim bride. But nowadays, the sharara suit is getting popular and trending very much.

Palazzo suits are very much in trend these days. It is paired with medium length kameez. These suits are available in various colors, patterns and embroidery, thread work, sequined work, patchwork, border work, and much more. Palazzo suits are very much in demand. You can wear this palazzo suit with high heels to look glamorous. A palazzo suit is the best choice for any occasion.

Patiala suit, originated from the city of Patiala is so much in demand. Patiala Salwar is loose salwar with many folds. Patiala Salwar can be worn with different types of kameez like shorts, long. Nowadays some girls even mix it with a T-shirt to give a traditional look with a fusion of western. However, the most popular and traditional is short kameez with this salwar. Due to its baggy silhouettes, it offers freedom to the wearer. If you want to look beautiful and free too then a Patiala suit is best for you. It gives a rich look. A Patiala sit is perfect for festive occasions or any wedding.

Churidar suit is perfect for you if you want an elegant look. This is the simplest form of salwar kameez. In this outfit, there is a tightly fitted salwar or pants. This is one of the perfect outfits for your toned legs and bottom. There are different types of churidar salwar that you can choose to look perfectly glamorous. But before choosing a churidar outfit you must take some important points in your mind as I am here to will tell you some tips.
It must be fitted according to your body type. You must choose a perfect correlation of colors to match your color and complexion. If you are slim then you should go for pastel colours bit if you are healthier than go with the dark colors as the dark colors will highlight your curves and draw the attention of the people. The height matters too, as you are short then avoid long length salwar kameez as it doesn't look good. But if you are tall then go for a long salwar kameez style. So follow these tips to get an elegant look.

Anarkali suit is the most trending type of salwar kameez. The Anarkali Salwar Suits add special attributes to a woman. It has a great influence on the fashion industry. Today various prominent fashion designers are experimenting with Indian traditional outfits. This outfit was famous among the queens of the Mughal emperor as they prefer Anarkali suits over any other outfits. It gives tremendously a royal and very elegant look.
This comes in a very large variety of casual, formal, and semi-formal occasions. Ethnic outfits add richness to the culture of India. You can wear it at any festival, wedding or formal occasion. It adds a very rich imperial quality to an occasion. You can buy an Anarkali outfit from Andaaz fashion. We have a wide range of varieties in this collection. At Andaaz fashion, you can find ethnic outfits in zari works and Kundan work. Team up it with the attractive diamond and Kundan jewelry and you are ready to sizzle.

Pant Suit also known as trouser suits outside the United State, it is women's suit of clothing consisting of trouser and a matching or coordinating coat or jacket. The more recent adaptation is the women's Trouser Salwar Suit, essentially an item of clothing worn from the waist to the ankles, covering both legs separately. Today women team it with a long kurta which gives it a fusion of western and traditional clothing altogether.


Saree is also a favorite of women when we talk about parties. Saree is very sensual attire of Indian women. At Andaaz, we have brought an exclusive range of party wear sarees that you can uy and look like you have ever dreamed of.
For wedding functions weddings and other related occasions like haldi, mehandi or sangeet you would like to dress in a traditional ethnic outfit. Red sarees are chosen for wedding functions, while yellow is perfect for the haldi ceremony and grace is best for the mehndi function. While heavy embroideries are becoming popular is sarees, the ceremonial ones like mysore silk, sambalpuri sarees, Banarsi sarees and kanjeevaram sarees are captivating many people.

For festive Occasion India is a country of festive season and a perfect outfit makes it more perfect. Here, you go for a designer saree. I would recommend you to choose the Andaaz Fashion store for your perfect outfit. At Andaaz Fashion store you will find a huge variety of designer ethnic sarees. That would double up your festive mood and make you look captivating to very eye.

Gowns are also the most trending outfit these days. A gown is the most graceful attire that gives you a stunning and beautiful look. These features make indo western gown one of the most favored outfits among women. A gown is a perfect blend of the Indian and western style of clothing. You can choose fabrics such as silk, georgette, chiffon, or even velvet if you wish to make a retro look. Designers are experimenting with the indo-western style of clothing. Planning for a red carpet event or a date, you can attract everyone with these glamorous gowns. It gives a stunning and fabulous look to your appearance.

You can find an exclusive range of beautiful ethnic outfits in Andaaz fashion. So girls, take a look and pick a perfect dress to look amazing and mesmerizing. Today, women are not scared to try out something new and different. At Andaaz, we ensure that you will find the latest designer party wear dresses at our fashion store at exciting prices. So girls, what are you waiting for? Browse Andaaz fashion and choose from an exquisite list of latest designed dress of your choice.
Categories: Uncategorized