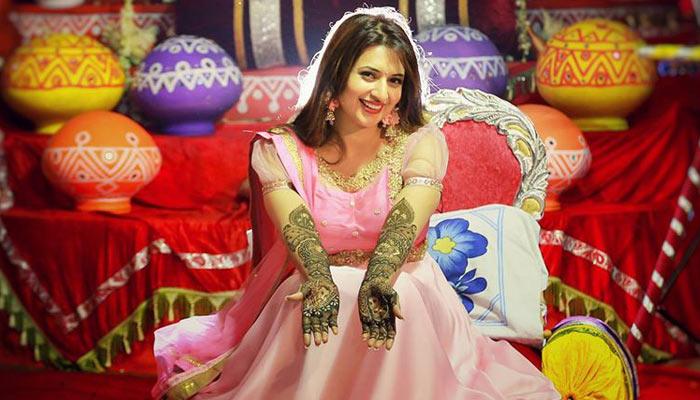 Latest Designer Mehendi Sarees Collection
In India, every ritual is celebrated with a great passion and dedication. Wedding is one of the most important parts of everyone's life, so every ritual associated with it must be performed with the equal care and passion. Mehendi ceremony is one of the most important pre wedding rituals in India.
In this ceremony, would be bride is dressed in ethnic outfit and blessings are showered by the family members and relatives. Mehendi ceremony is not only a vital part of Hindu wedding but Muslim wedding too. In India, Weddings are considered to be a sanctified ritual and a lot of pre wedding rituals are performed on for nearly a week's time.
Mehendi ceremony is considered as one of the most important pre-wedding rituals in Indian wedding. Mehendi has its distinctive ways of celebrations and every religion celebrates it as per their customs and culture. The mehendi ceremony is all about the beauty and elegance. Mehendi is considered one of the sixteen adornments of the bride.
The beauty and appearance of a bride is considered incomplete without mehendi. The mehendi ceremony is held at bride's place and all the close relatives and friends are invited to shower their blessings. In this ceremony, mehendi is applied on the hands and feet of the bride.
Significance of mehendi is not only limited to the aesthetic values but it also has a great connotation on the eve of the wedding. Mehendi reflects the bond of love between would be married couple. it is believed that the deeper the color of mehendi, happier will her married life be. Mehendi is applied to the palms of the hands of the bride which cools down the body and gives the bride an ornamental effect.
We have seen that mehendi ceremony has a vital position in the whole wedding process. So the outfit of the bride must be extraordinary that can make her look like a princess on her wedding ceremony. As this is your day dear, you can choose whatever outfit in whatever color you want. What to wear on the mehendi ceremony is a tricky question and confusing as well.
As we very well know with the fact that Indian outfits are the ticket to look exceptionally beautiful. Indian outfits are rich in fabric and embellishment and famous across the world for its attributes. Indian wedding and Indian outfits makes a perfect blend together and are chosen by women across the world.
Any celebration in India demands a beautiful ethnic look which is reflect by Indian outfits only. So, for your mehendi ceremony too, you need to dress in an ethnic outfit. You have various choices in the variants of Indian outfits such as, saree, lehenga, salwar kameez, and gown.
You must have chosen a designer saree if you want to look like a diva. Sarees are an all time favorite of Indian women. Saree is a comfortable outfit if you have to sit for long hours. It is important to wear something different from others as you must be the center of attraction in the entire mehendi ceremony. A simple can create a magic and make you look like a diva.
You must have chosen the best outfit from your wedding ceremony so the mehendi outfit must be light in weight and comfortable. A saree made of raw silk, Georgette or Crepe fabric, with bright colors like green, orange, yellow or a combination of different shades which makes your look more appealing. You can also choose bollywood replica designer saree which is rich in color and stylish as well.
You can pick out a georgette saree which is light in weight with patches of embroidery on the borders. Georgette saree are easy to wear and comes in various patterns and designs. You can choose a half and half saree. Half and half saree is a saree with two different colors. A Half and half sarees are so much in trend these days. So if you want to look trendy and stylish then opt for a half and half saree with a good color combination.
It will definitely grace your mehendi ceremony. A Net saree is another best choice if you want to look elegant and stylish. Color must be the next concern because color is something that can change your whole appearance. Fabrics like georgette, chiffon and net goes best for the light colors. While darker colors work better with fabrics such as satin and velvet.
After picking out the best saree, the next task is to choose the perfect accessories matching to your saree. Outfit without jewelry is like a song without music. Choose the jewelry which goes your attire during the mehendi ceremony. You can choose a necklace with colorful pearls or pendant which matches the color of your saree.
Choose the necklace according to your neckline. If you want a different look then go for floral jewelry which is perfect for ceremonies like mehendi. They are well crafted designer jewelry made up of flowers that are perfect for bride.
We at Andaaz fashion understands the subtleties involved and therefore we have come up with a collection of wedding attire for every wedding occasion. At Andaaz fashion, you can have the best choice from an exclusive and exquisite collection of designer mehendi sarees with various colors and design patterns. We have bollywood designer saree collection also that can give you a regal and lavish look and will make your sangeet, the most memorable day of your life.
You can choose the best saree from various fabric materials such as, raw silk, art silk, satin, velvet, chiffon, georgette and crepe. At Andaaz Fashion, we have a enormous collection of designer sarees which are richly embellished with zari, gotta, sequins, beads and embroidered embroidery. As we know, without jewelry no outfit can make you look beautiful. So choose the perfect accessories to adore yourself.
We are here to provide you the best outfit with perfect accessories for your mehendi ceremony. Choose the best one and show the best one you on your mehendi ceremony. We at Andaaz fashion ensure you the best quality of the product with timely delivery. We provide you a qualitative shopping experience so that you can enjoy your mehendi ceremony without any hustle. Shop Online at Andaaz Fashion and enjoy great deals and discount.
Categories: Mehendi Dresses Articles, Mehnedi Sarees Articles